Coni Yovaniniz and Rodrigo Vargas are best known for their travel journal webcomic Walking to Do, but it has now been put taken down. Why? Maybe it has something to do with the fact that they have now signed a deal with Houghton Mifflin Harcourt Publishing for a new middle-grade graphic novel with a similar name, The Do-Over and a sequel. The graphic novel will see three friends start a hair salon in an Airstream trailer and navigate the ups and downs of starting a business and friendship. Publication of the first book is scheduled for spring 2022.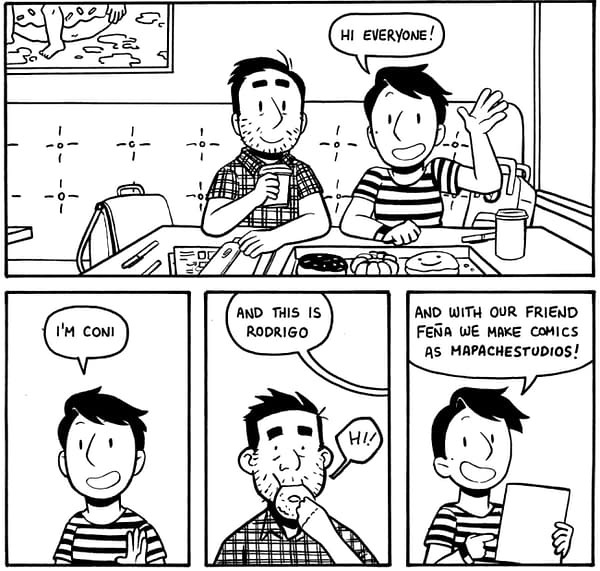 Coni Yovaniniz has previously worked on the Steven Universe colouring book, and Team Avatar Tales for Dark Hoses Comics as well as for comic anthologies like Sweaty Palms and Enough Space for Everyone Else. Their webcomic Postcards in Braille got self-published via Kickstarter in 2018. You can see more of their work right here.
Rodrigo Vargas is a comic book artist and illustrator based in Chile working under the comic book studio name Mapachestudios.  His latest published work is Everything Will Be Okay, written by Matt D. Wilson was published in February and is currently available on Comixology. You can see more of his work right here.
Amy Cloud at Houghton Mifflin Harcourt has bought world rights to The Do-Over and a sequel. Yovaniniz and Vargas both represented themselves in the two-book deal.
Houghton Mifflin Harcourt is a publisher based in Boston's Financial District of textbooks, instructional technology materials, assessments, reference works, and fiction and non-fiction for both young readers and adults. They also have an extensive graphic novel line which can be viewed right here. Feel free to go take a look at this handy link any time you fancy.
Enjoyed this article? Share it!