 The Charlotte Observer has the story of an Indian Trail councilman who resigned in a nerdy style. David Waddell let the mayor know of his intention to resign by sending a letter in Klingon.
Waddell says he wrote the letter to Mayor Michael Alvarez in the language made up by Marc Okrand for the Star Trek television series as an inside joke. Saying, "Folks don't know what to think of me half the time. I might as well have one last laugh".
The mayor didn't see the humor. "It's an embarrassment for Indian Trail, and it's an embarrassment for North Carolina," he said.
The plumber stated his reasons for resigning having to do with frustrations with runaway development in the town of 35,000 and concerns over how requests for public information were being handled. He fells he can do more as a private citizen attending the council meetings and working on a write-in campaign for the Constitution Party as they go after Kay Hagan's senate seat.
Waddell was nice enough to include a translation on his letter… in case the mayor was not up on his Klingon.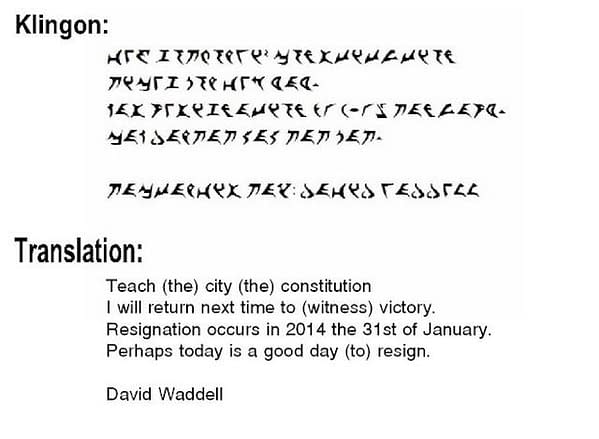 Enjoyed this article? Share it!