Courier is a new Zenescope comic launching in March from the publisher Ralph Tedesco and artist Drew Edward Johnson. A future that has lived through a pandemic that has killed off 99% of the world populstion and mutated half the remaining population into monsters.
The haves and the have nots.
Here's the solicits – and the rest of the Zenescope solicits for March 2017.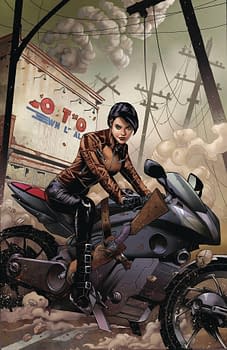 COURIER #1 JOHNSON COVER
(W) Ralph Tedesco (CA) Drew Edward Johnson
In 2033 less than 1% of the population survived a devastating pandemic virus. Half of those who lived were immune while half of the survivors mutated into something disturbingly subhuman.
Now decades later, the world has rebuilt in many ways but has become something else entirely. Strongholds of human survivors have been set up independently of one another across parts of what is formerly the United States. The rich live in highly guarded Utopias where technology and even an economy has been restored.
However, the vast "wasteland" between strongholds is a very dangerous and unforgiving place where the poor are forced to live in areas where gangs, pirates and the mutated roam free.
Couriers are key to the survival of the Strongholds and are paid handsomely to deliver valuables between them.
Eve Harper is one of the best couriers there is, but when she takes a job to find a missing shipment for an extremely dangerous drug dealer named Gillings, Eve is forced to use every trick she's ever learned in order to survive the riskiest job of her life. (STL036955)
32pgs, FC (1 of 5) SRP: $3.99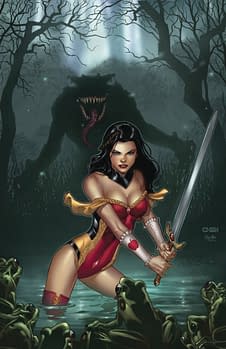 GRIMM FAIRY TALES #4 CHEN COVER
(W) Joe Brusha, Ralph Tedesco (CA) Sean Chen
The Princess and the Frog
In a small town in South Carolina something evil stalks the night taking a reptilian form. The legend of the Lizard Man is well known to the locals and these tales bring Skye to town to solve the mystery. But the truth she finds behind the legend may be more than her powers as the new guardian can overcome. Grimm fairy tales presents a brand new take of the classic fairy tale the Princess and the Frog. (STL036789)
32pgs, FC SRP: $3.99 GRIMM FAIRY TALES: VAN HELSING VS THE MUMMY OF AMUN RA #3 LUIS COVER
(W) Joe Brusha (A) Marc Rosete (CA) Allan Otero
As her battle against the Mummy intensifies, Liesel Van Helsing finds herself on the run from a host of enemies. With no one on her side and people in danger, the famed vampire hunter must think of something quickly, or she will find herself on the losing end of a deadly battle. (STL036785)
32pgs, FC (3 of 5) SRP: $3.99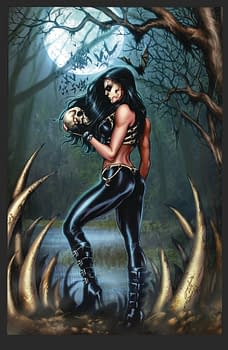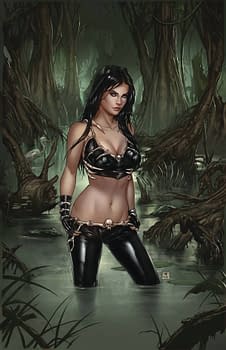 GRIMM FAIRY TALES: DAY OF THE DEAD #3 LUIS COVER
(W) Joe Brusha, Ralph Tedesco (CA) José Luis
Deep in the swamps of the Louisiana Mary and Talisman battles against the Page of Swords and dark voodoo magic. Even as they fight for their lives another woman disappears from the streets of New Orleans. Can Mary survive to uncover the truth behind the abductions? And if she does will she be able to handle her connection to the dark purpose behind them, and the secret sect known as the Order of Tarot. (STL036770)
32pgs, FC (3 of 6) SRP: $3.99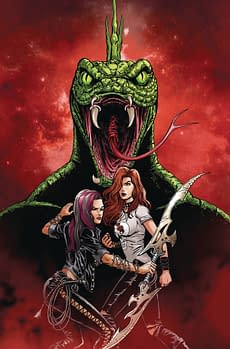 HELLCHILD THE UNHOLY #5 MURTI COVER
(W) Patrick Shand (A) Renzo Rodriquez (CA) Ario Murti
FINAL ISSUE!
It is Devil's Night in New York City. Monsters have come out of the darkness and are tearing the city apart under the leadership of Kevin Nestor, a serial killer imbued with dark magical power. Hellchild is joined by Jezebel in their fight to bring Nestor down, but even if they succeed, will there be anything left of their city to save? (STL036793)
MATURE THEMES
32pgs, FC SRP: $3.99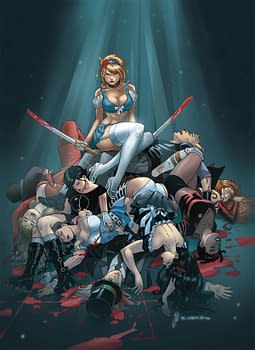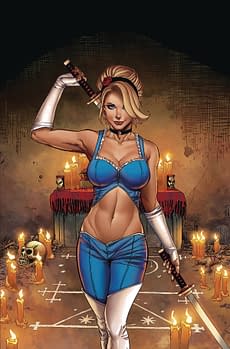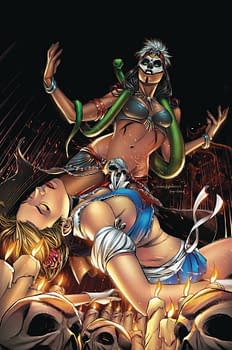 CINDERELLA SERIAL KILLER PRINCESS #4 ORTIZ COVER
(W) Patrick Shand, Joe Brusha (CA) Richard Ortiz
FINAL ISSUE!
This is it! What the entire series has been building to. The final confrontation between Cinderella and Robyn Hood has arrived and only one will walk away from this battle alive.
Be sure to pick up this can't miss finale to one of Zenescope's most twisted stories, as the future of the Grimm Universe is up for grabs in this action packed, revenge driven, Cinderella focused Fairy Tale massacre. (STL036766)
MATURE THEMES
32pgs, FC SRP: $3.99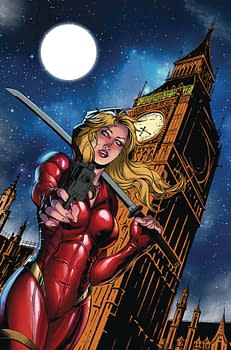 GRIMM FAIRY TALES: RED AGENT HUMAN ORDER #5 RIVEIRO COVER
(W) Lou Iovino (A) Ario Murti (CA) David Lorenzo Riveiro
Ryder, Eve, and General Tate have been killed. Cheyenne Mountain has been leveled and Avril and Ditto are severely injured. Given these harsh realities, it's easy to understand why Britney Waters is devastated and struggling to move forward. But there is one critical thing fueling her desire to continue the work of the Highborn Initiative: Vengeance. And, the first step begins across the pond in London with a mysterious new ally. (STL036777)
MATURE THEMES
32pgs, FC SRP: $3.99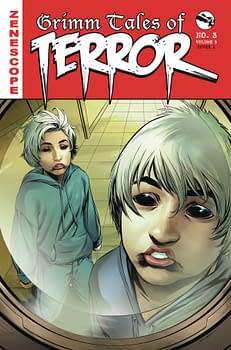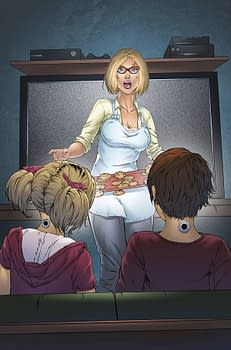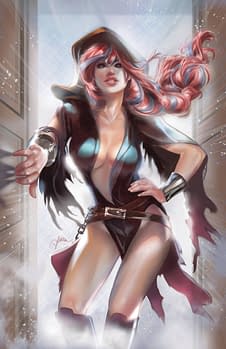 GRIMM FAIRY TALES: GRIMM TALES OF TERROR VOLUME 3 #3 BIFULCO COVER
(W) Ralph Tedesco & Various (CA) Antonio Bifulco
Stories of Black Eyed Children appearing in the dead of night have been told for decades. Most people laugh at these tales, attributing them to over active imaginations or a trick of the light. But it's hard to laugh when the black eyed children show up on your doorstep…most people lose their sense of humor when they are in the grip unexplainable terror and in a fight for their lives. (STL036774)
MATURE THEMES
32pgs, FC SRP: $3.99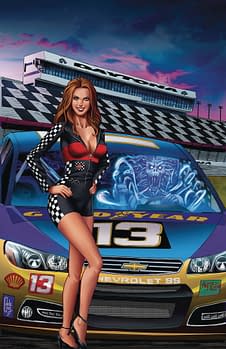 SPIRIT HUNTERS #6 COVER
(W) Joe Brusha, Ralph Tedesco (CA) Harvey Tolibao
In this all-new horrifying tale, the Spirit Hunters investigate a gruesome mystery at a racetrack. As they delve deeper into this haunting, following up on a trail of horrific clues, they suddenly find themselves in a life or death situation. (STL036797)
MATURE THEMES
32pgs, FC (6 of 12) SRP: $3.99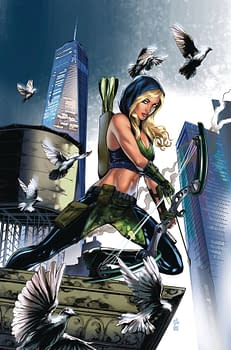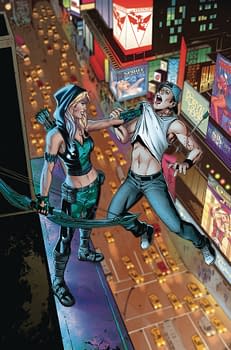 GRIMM FAIRY TALES: ROBYN HOOD: I LOVE NY #10 OTERO COVER
(W) Joe Brusha & Various (A) David Lorenzo Riveiro, Sergio Arino (CA) Allan Otero
New York State of Mind
New York City needs a guardian angel and Robyn has unselfishly answered the call time and time again. But she's starting to wonder if that's what she really wants. Luckily, big questions are sometimes answered in small ways, even in the Big Apple. (STL036781)
MATURE THEMES
32pgs, FC (10 of 12) SRP: $3.99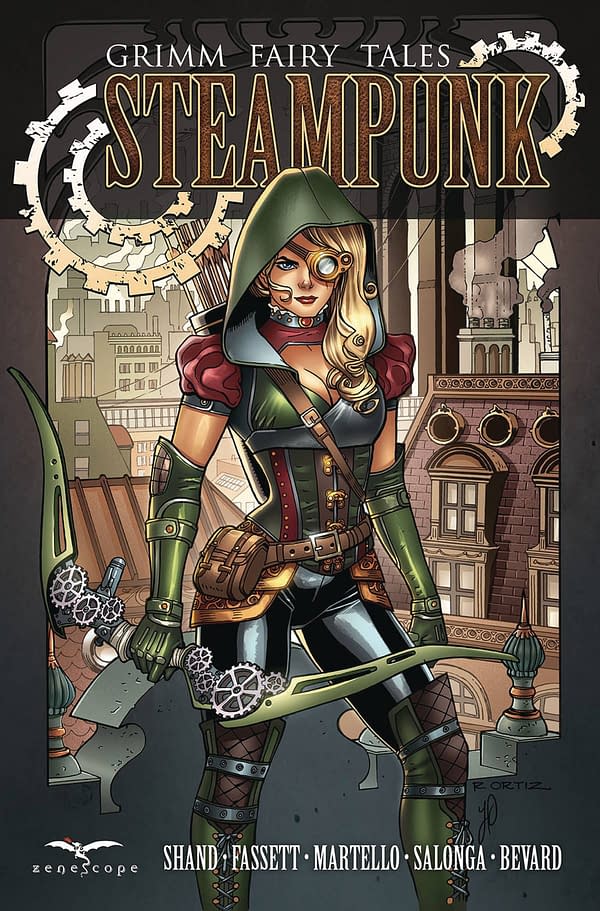 GRIMM FAIRY TALES: STEAMPUNK TP
(W) Patrick Shand, Ryan Fassett (A) Annapaola Martello, Noah Salonga (CA) Robby Bevard
In an alternate Steam Punk reality, Cinderella, Robyn Hood, Calie Liddle, Captain Hook, and many other of the most popular Grimm Universe characters live in a stunning but dangerous world unlike any you've seen before.
When a group of outlaws led by the infamous Robyn Locksley pulls off a major heist, her and her crew are hunted down by the local Sheriff named Shang, an assassin called Cinderella and an extremely dangerous gangster who owns the town: Sela Mathers.
This special Steampunk collection is a must have for any fan of Zenescope's Grimm Universe! (STL037717)
SC, 112pgs, FC SRP: $9.99
Enjoyed this article? Share it!