The Dark Gifts have come to the DC Year Of The Villain. The Offer was made by Lex Luthor, interminably through July, in August we get to see what everyone got.
In Deathstroke, the offer was made to the son, Jericho. And it seems he's getting something that takes his technical trickery and makes it all happen for real. Giving Jericho a sense of…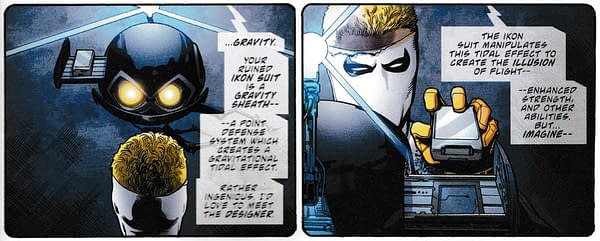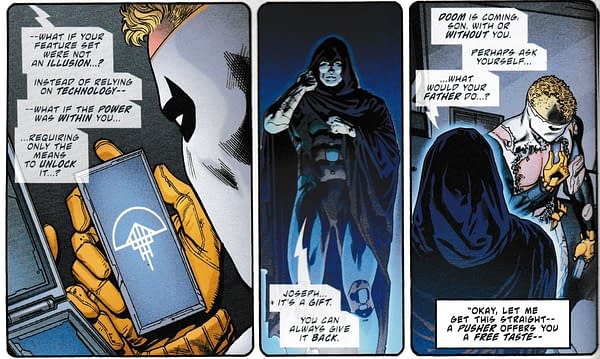 And it goes far further than that, of course. Making the offer even more… attractive.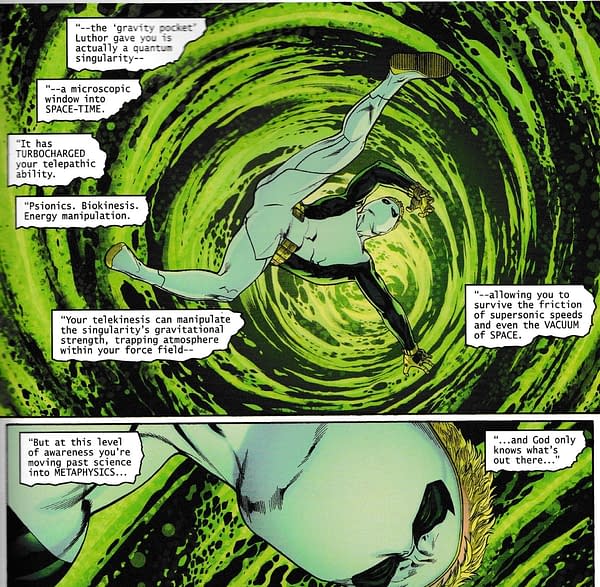 So, big changes to the book and the character. Whereas Harley Quinn's offer is all very meta, occurring on the page of the comic she is reading while visiting her mother dying of cancer. Just for contrast. And with a meta-commentary on the offer within the meta-commentary on the offer…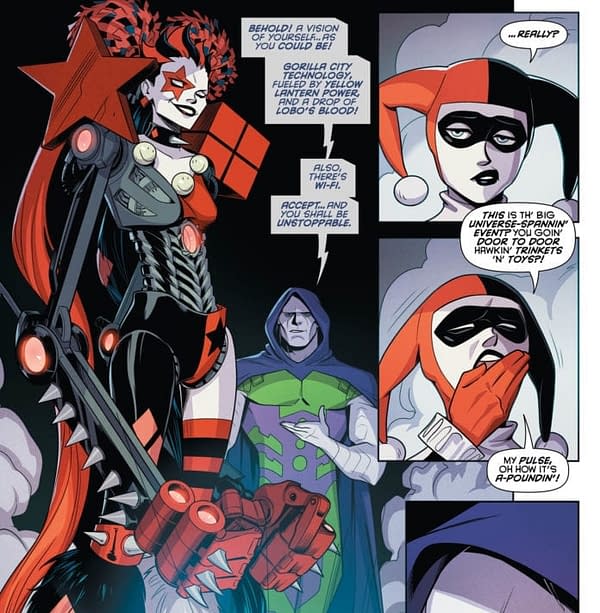 And when that is rejected, going back to an old favourite…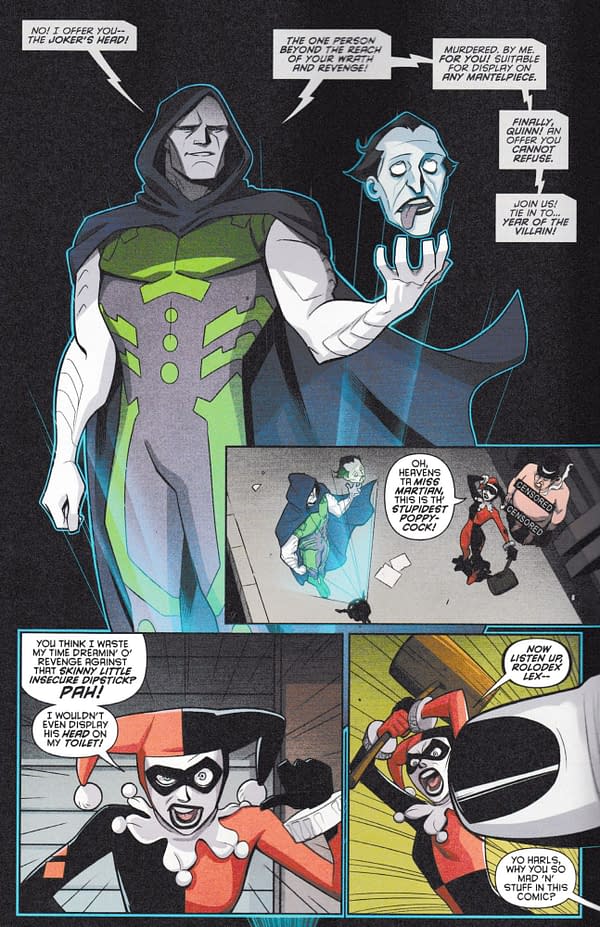 …without realising that Harley Quinn has moved in from that. Something a recent issue of DCeased failed to recognise…
Uh- again, this is becoming exhausting. Research people… Harley Finally Gets Even with The Joker in Tomorrow's DCeased #3 (Previews) (Spoilers) https://t.co/sAXskmgWdP

— Jimmy Palmiotti (@jpalmiotti) July 3, 2019
…which got Jimmy Palmiotti (who wrote a certain Harley Quinn #25) rather narked with Jude Terror the other week. But if these double-meta layers caused you to go cross-eyed, then it was about to get House Of X #3-level. As Luthor made an appeal through one set of pages of a comic to the same person in a comic reading that comic.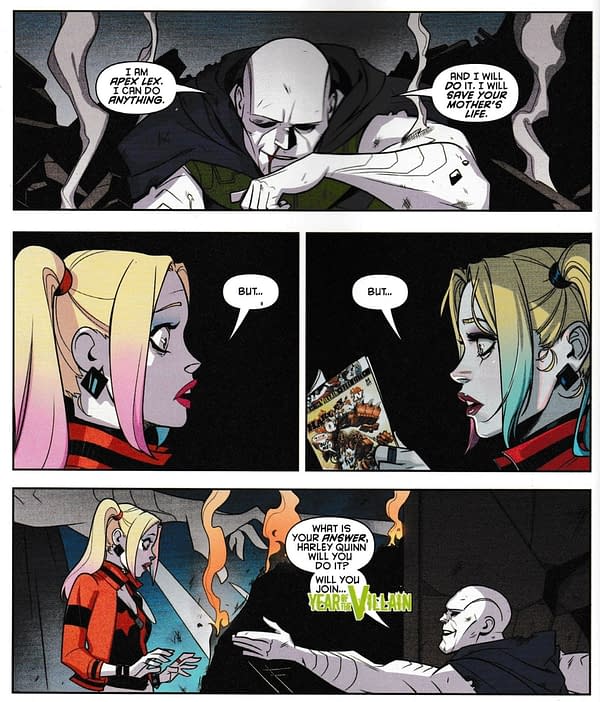 As reality, meta-realty and psuedo-reality all fell together…
In comparison, Justice League finally getting round to naming all but one of the seven new forces unleashed on the Multiverse by the cracking of the Source Wall seemed relatively uncomplicated.
So joining the Speed Force is the Ultraviolet Spectrum, the Still Force, the Tear Of Extinction, the Void Wind, the Black Apple, the Sixth Note and one final unnamed force. Still, plenty of Dark Gifts to go round as a result.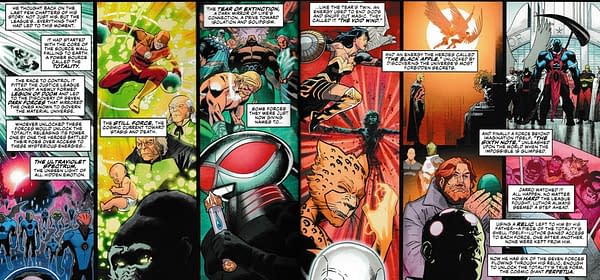 And the Seventh Force on its way very soon, courtesy of Luthor.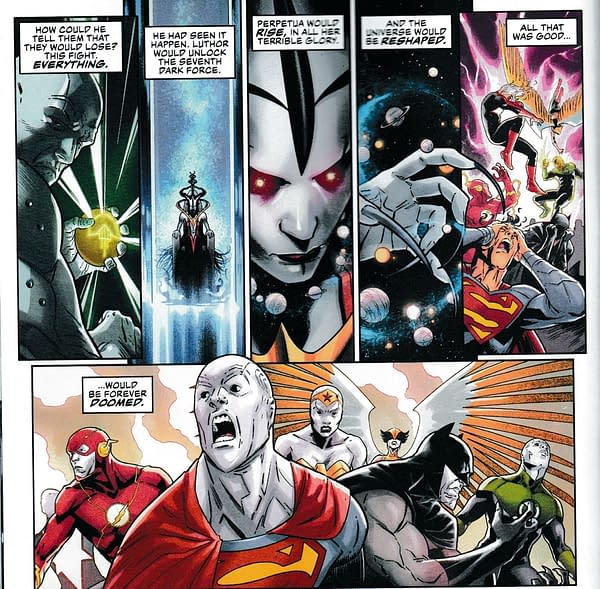 Who was also spending his time in the Sinestro Special, getting Sinestro to unlock the of the Ultraviolet spectrum, and engage in some serious social and political satire, when dealing with giant Paragons from another universe attacking both Luthor and Earth, being made up of huge speeded up societies, constantly repairing them and rebuilding them, unless they can be persuaded otherwise.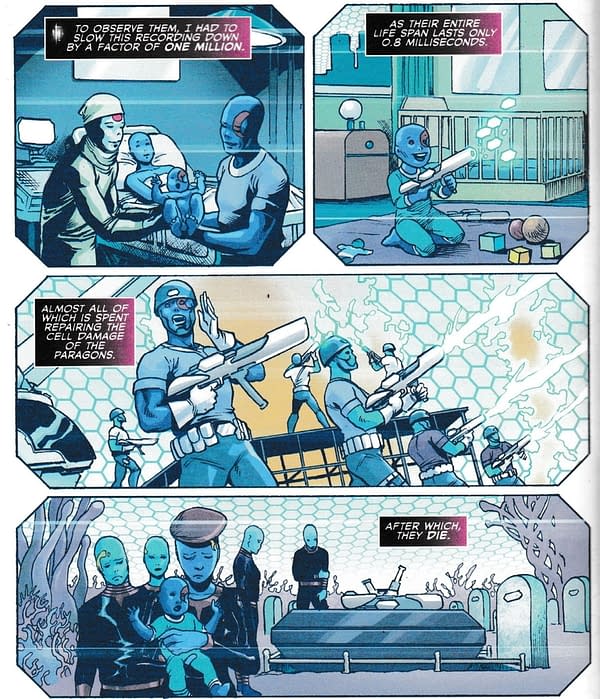 Leading Mark Russell to write the kind of one-shot social satire for which he is well known, that also really, really ties in with an ongoing event comic book, and The Dark Gifts that are meant to be in them.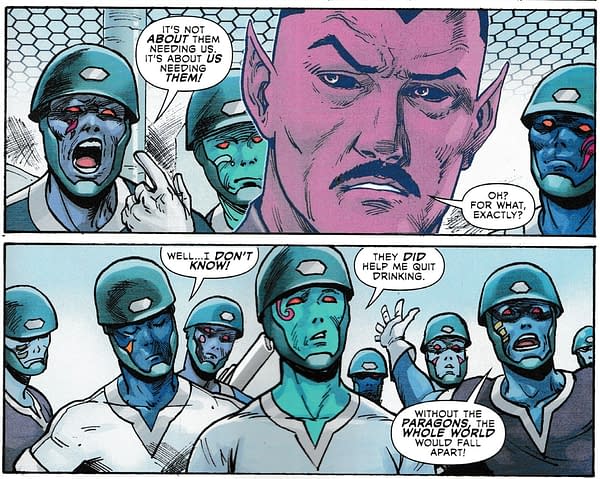 More than, say, Batman #76 does. Which, as we have pointed out, doesn't actually have Bane in it, hardly has Batman in it, and no sign of Luthor either, just the effects of his government dealings with Bane…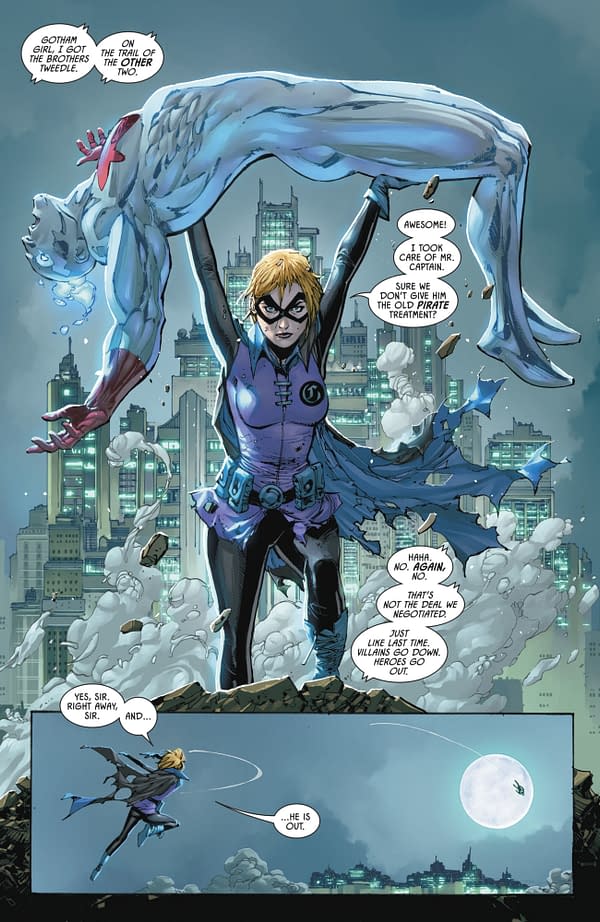 Any other gifts around today?
JUSTICE LEAGUE #29 YOTV DARK GIFTS
(W) Scott Snyder (A) Bruno Redondo (CA) Francis Manapul
Does a Starro dream of an electric Justice League? Sensing the danger to come, Jarro fears for his newfound friends. He ponders each one and their potential fate to decide whether he should mentally block them from going forward into what could be certain destruction…the coming war with the Legion of Doom!
In Shops: Aug 07, 2019
SRP: $3.99
SINESTRO YEAR OF THE VILLAIN #1
(W) Mark Russell (A/CA) Brandon Peterson
As the universe tilts towards doom, great forces awake in an effort to stop Lex Luthor's mad plans. Dispatching Sinestro, Luthor sends the former Green Lantern to bring these old gods under control or destroy them before they reach Earth. Now, wielding the power of the ultraviolet spectrum, Sinestro finds his new foes even more dangerous and perplexing than he expected, when realizes any damage he inflicts is immediately repaired.
In Shops: Aug 07, 2019
SRP: $4.99
HARLEY QUINN #64 YOTV DARK GIFTS
(W) Sam Humphries (A) Otto Schmidt (CA) Guillem March
Harley's tried everything to avoid Lex Luthor and his stupid "Offer"-she's destroyed half a dozen of Lex's drones, she's changed her name, her cell phone number-she even faked her own death! Why won't this bald, pasty-faced weirdo take no for an answer? Harley Quinn takes on the crossover event of the summer in this comic-within-a-comic take on "DC's Year of the Villain"!
In Shops: Aug 07, 2019
SRP: $3.99
DEATHSTROKE #46 YOTV DARK GIFTS
(W) Christopher Priest (A) Fernando Pasarin, Cam Smith (CA) Norm Rapmund, Carlo Pagulayan
It's all-out war between Rose and Jericho in the wake of Deathstroke's murder. Rose is hell-bent on punishing the one responsible for Slade's death, while Jericho will stop at nothing to prevent further bloodshed, even if it means using Lex Luthor's gift-an immense power upgrade-to bend his sister's will. As Jericho takes a dark turn…will the ends justify the means? Or is Jericho's path to villainy only just beginning?
In Shops: Aug 07, 2019
SRP: $3.99
BATMAN #76 YOTV DARK GIFTS
(W) Tom King (A/CA) Tony S. Daniel
"City of Bane" continues! Bane has taken over Gotham City, and Batman is nowhere to be found. At least, not a Batman anyone recognizes. Flashpoint Batman is now patrolling the city, dispensing a violent brand of justice and taking out rogue villains who haven't yet signed on with Bane. It's all building to a rebellion among the bad guys who don't want to play along- and distrust in those who do! Meanwhile, a surprising ally has come to Bruce Wayne's aid, nursing him back to health so that he can get back to his city.
In Shops: Aug 07, 2019
SRP: $3.99
Enjoyed this article? Share it!