When it was first published, New Frontier by Darwyn Cooke seemed like a retrograde step. As the comics industry was lauding the likes of Mark Millar and Bryan Hitch, Marvel's Ultimate Universe and DC Comics' Wildstorm line reinventing the superhero, Darwyn Cooke took a step in the opposite direction, returning to a more classic design and aesthetic, but also stepping out of comic books to reflect other art styles, the popularity of which had recently begun to fade. In doing so he created a new classic of a superhero comic book, that would gain favour and critical acclaim over time.
Fifteen years on, Darwyn Cooke is no longer with us, and the Absolute Edition of New Frontier, using the Scott Dunbier-originated oversized hardcover and slipcase format has been out of print for some time, fetching a pretty penny on the aftermarket.
So, for the 15th anniversary of the comics' first publication, DC Comics are putting it back into print for November. Here's the listing…
ABSOLUTE NEW FRONTIER 15 ANNIV ED HC
(W) Darwyn Cooke (A) Others (A/CA) Darwyn Cooke
Darwyn Cooke's critically acclaimed masterpiece DC: THE NEW FRONTIER is back in this new, expanded Absolute edition featuring new story pages, detailed annotations, alternate sequences and an extensive gallery of sketches, pinups, action figure art and much more!
In the 1950s, Cold War paranoia outlawed the mystery men of the Golden Age. Stalwarts including Batman, Superman and Wonder Woman continued to fight for truth and justice, but as the world hurtled toward an uncertain future, it would take a new breed of hero to define the American Way. DC: THE NEW FRONTIER takes readers on an epic journey from the end of the Golden Age of heroes to the beginnings of the legendary Justice League of America.
This new edition includes supplemental material previously offered in the out-of-print deluxe edition, and collects the original six-issue miniseries, JUSTICE LEAGUE: THE NEW FRONTIER SPECIAL #1 and the story "Triangulation," from SOLO #5.
In Shops: Nov 20, 2019 SRP: $99.99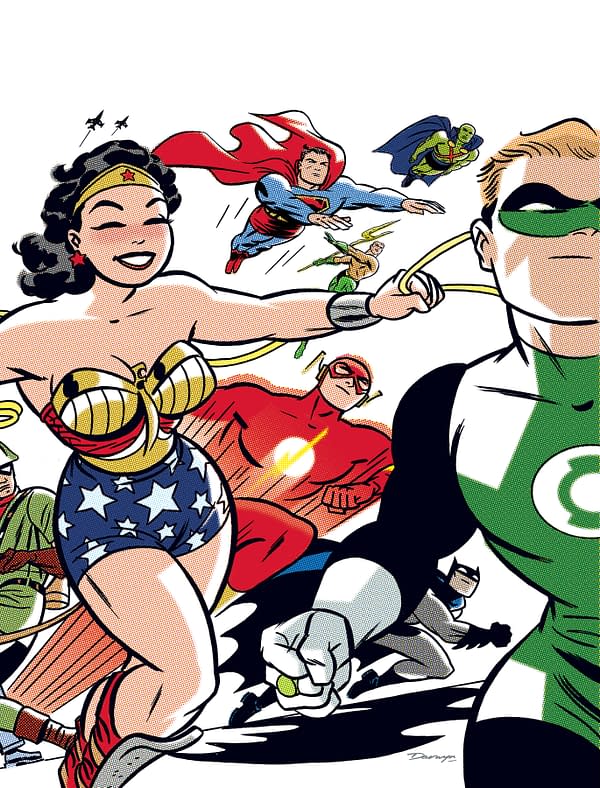 Enjoyed this article? Share it!