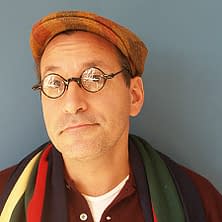 There have been many gay comics panels held at San Diego Comic Con this year, more than ever before it seems. I'd say they were breeding, but, you know…
Anyway, at one of the panels held yesterday evening at San Diego Comic Con, designer and Batmanologist Chip Kidd told the audience that he is working on a Batman comic book for DC. That much of the art has been completed so he expects an announcement sometime soon.
And that the villain who Batman fights is not only gay, but is based on Chip Kidd.
Will Batman still win, even when the villain is the author himself? Of course, Batman always wins….
Enjoyed this article? Share it!