July sees the launch of War Of The Realms spinoff, Punisher Kill Krew. The Frank-ensteined July solicitations state: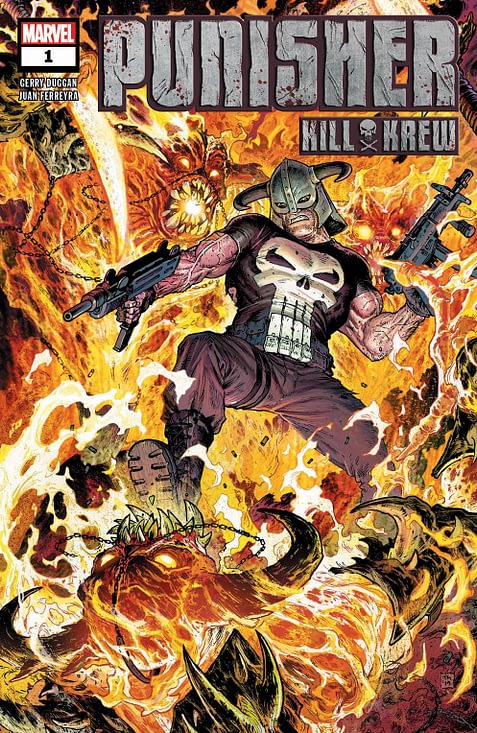 PUNISHER KILL KREW #1
Written by Gerry Duggan, art by Juan Ferreyra, Cover by Tony Moore
ONE MAN. TEN REALMS. TOTAL WAR.

During WAR OF THE REALMS, Frank Castle made a promise of vengeance, and Frank Castle keeps his promises. But a van full of orphans is about to make that promise a lot more complicated… How does a man kill gods and monsters?
It seems to have Punisher acting solo. But then… who are his Kill Krew?
Tomorrow's War Of The Realms: Punisher #1 has a suggestion. We saw the Punisher in War Of The Realms #1 (above) facing down a Frost Giant…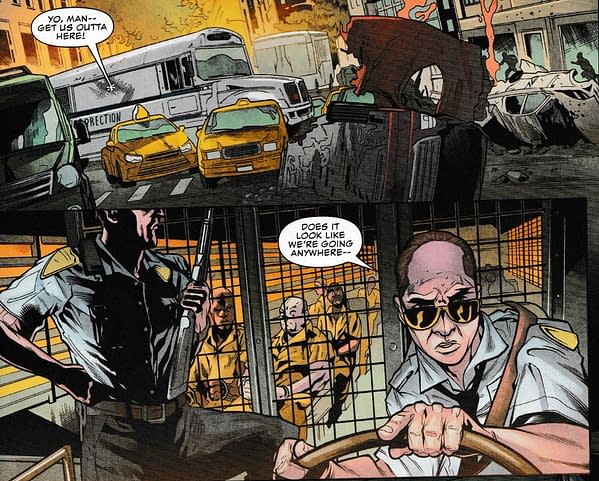 …well tomorrow's comic sees him take very much against a particular Frost Giant which gives him reason to strike out in vengeance. And, in doing so, in such extreme circumstances to change his murderous methods against killers, who he comes across during the pitched battle on the streets of Manhattan.
…and rather than just take his vengeance there and then, no matter the cost, decides for once in his life to be a little more pragmatic.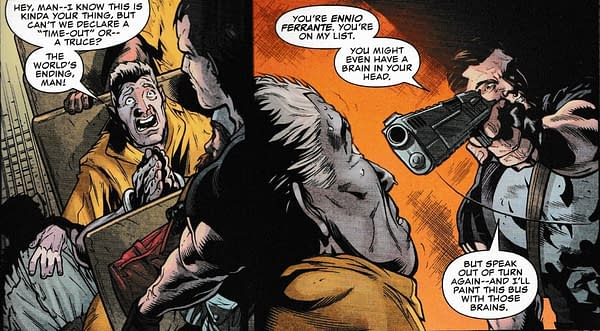 And go along the 'need-a-crook-to-catch-a-Frost-Giant' trope.
Could this be the Punisher Kill Krew? And how long will they last at Frank Castle's hands after they have served their purpose?
War Of The Realms: Punisher #1 is published tomorrow. Advance copy provided by Marvel Comics under embargo.
WAR OF REALMS PUNISHER #1 (OF 3)
(W) Gerry Duggan (A) Marcelo Ferreira
PUNISHER: AVENGER OF MIDGARD!
The War of The Realms has brought monsters to the streets of New York City, but New York has a monster all its own…Frank Castle, A.K.A. THE PUNISHER! And he'll be damned to Hel if he's going to let a bunch of Ten Realms tin-pot tyrants terrorize his town. But given he's one man against an army of monsters, Hel might soon have him! The War of Realms is about to meet Marvel's One Man Army. Expect Punishment!
Rated Parental AdvisoryIn Shops: Apr 17, 2019
SRP: $3.99
Enjoyed this article? Share it!