Does X-Editor Jordan White Want in on the Cyclops/Wolverine/Marvel Girl Threesome?
Bleeding Cool is your primary news source for information about the three-way sex triangle between Wolverine, Cyclops, and Jean Grey. We've long reported that the trio are Marvel's first "throuple," and we've gone into great detail on how it works. Specifically, that Wolverine has two dicks, one for f**king, and one for making love. But what would happen if you threw a fourth person into the mix?
No, we're not talking about Emma.
At the X-Men panel at C2E2 today, all of the X-Men writers were asked which part of Krakoa they would live on. While most writers chose safe answers, like "on a boat,"it didn't go unnoticed that no one mentioned the Summers house. When Tini Howard said she wouldn't want her room connected to anyone else's like the interconnecting rooms shared by Scott, Jean, and Logan where all the magic happens, X-Editor Jordan White replied that he would want to live there, calling it "beautiful". As we know, that's where Wolverine f**ks Cyclops and makes love to Jean with his two dicks. It appears that Jordan White wants to get in on some of that action, but unfortunately, Wolverine only has exactly two dicks. Not one. Not three. So how would that even work?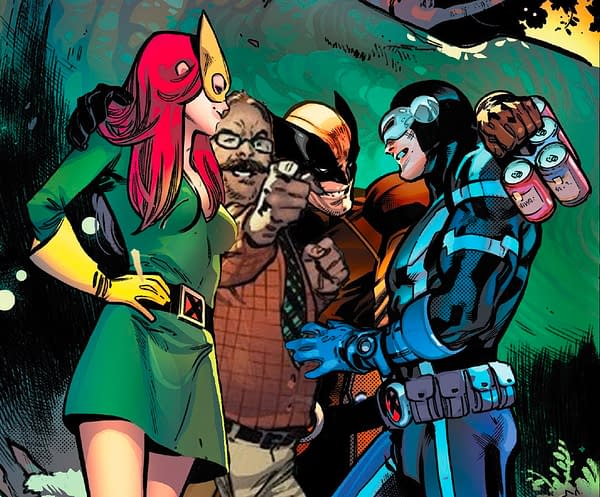 Cheers, Jordan White. You let your freak flag fly. And to be honest, yeah, we'd want one of those connecting rooms too.
Bleeding Cool ace reporter David Pierce is on hand at the Marvel X-Men panel at C2E2, sending us breaking news. Jordan White is hosting the panel with Jonathan Hickman, Gerry Duggan, Tini Howard, Benjamin Percy, Vita Ayala, Leah Williams, and C.B. Cebulski in attendance. Pierce had already nailed the most important story of the weekend, asking several x-writers point-blank about how many dicks Wolverine has. He followed up by bringing us news from the X-Men panel, including about the new Summer X-Men event, X of Swords. Keep an eye on our C2E2 news page for more of the sexiest news in comics!