We've been through the big premier boys, we've been through the wannabe-big premier boys, now it's time for the July Solicitations for the artsy fartsy crowd. You know, the publishers who have been around for a while, who started in the direct market, but who are more and more looking to bookstores for this week's pocket money. You know, the kind of publishers who win awards. Proper awards. Drawn & Quarterly, Fantagraphics, Oni and Top Shelf. Which means new books from Robert Crumb, William Burroughs, Michael Kupperman, the new colour volume of Scott Pilgrim and a new Wasteland volume.
DRAWN & QUARTERLY
AYA: LIFE IN YOP CITY GN
(W) Marguerite Abouet (A/CA) Clement Oubrerie
Ivory Coast, 1978. It's a golden time, and the nation, an oasis of affluence and stability in West Africa, seems fueled by something wondrous. Aya is loosely based upon Marguerite Abouet's youth in Yop City. It is the story of the studious and clear-sighted 19-year old Aya, her easy-going friends Adjoua and Bintou, and their meddling relatives and neighbors. It's wryly funny, breezy account of the simple pleasures and private troubles of everyday life in Yop City. This reworked edition offers readers the chance to immerse themselves in the lively world of Aya and her friends, bringing together the first three volumes of the series in Book One. Drawn & Quarterly will release volumes four through six of the original French series (as yet unpublished in English) in Book Two. (STK467838)
MATURE THEMES
SC, 6X8.5, 384pgs, FC    $24.95
THE MAKING OF HC
(W/A/CA) Brecht Evens
Pieterjan is invited to a small town as an honored guest. From the moment he arrives, things start going wrong, and since no one seems ready to step in, Pieterjan takes over the show. He decides to build a giant garden gnome as a symbol of Flemish identity, but the construction process brings buried tensions to the surface as the other artists become jealous of Pieterjan's authority. In The Making Of, Evens delves deep into the petty tensions, small misunderstandings, and deadpan humor that pervade modern relationships. Sweeping watercolors jump off the page, surrealist scenery intermingles with crowds of people, and small suburban plot homes have never looked so lovely. (STK467839)
MATURE THEMES
HC, 6.7X8.7, 160pgs, FC    $29.95
FANTAGRAPHICS BOOKS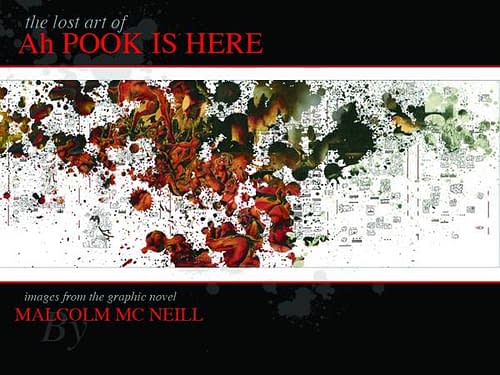 THE LOST ART OF AH POOK IS HERE: IMAGES FROM THE GRAPHIC NOVEL
by Malcolm McNeill
$35.00 / HC / 144 pgs / PC / 11 x 13
The Lost Art Of Ah Pook gathers the visual elements from the legendary unfinished collaboration between William S. Burroughs and artist Malcolm McNeill. Begun in the early 1970's, Ah Pook was to be a meditation on time, power, control and corruption that evoked the Mayan codices and specifically, the Mayan god of death, Ah Pook. Although the work was never completed, Malcolm McNeill created over a hundred paintings, illustrations and sketches for the book, and these are finally seeing the light of day in The Lost Art of Ah Pook. Even in a context divorced from the words (Burroughs' text will not be included), they represent a stunning precursor to the graphic novel form to come. Also included is a historical essay chronicling the long history of Burroughs' and McNeill's work together.
OBSERVED WHILE FALLING: BILL BURROUGHS, AH POOK, AND ME
by Malcolm McNeill
$29.99 / HC / 304 pgs / Prose / 6 x 9
Observed While Falling chronicles the personal and creative interaction that defined the collaboration between the writer William S. Burroughs and the artist Malcolm McNeill on the graphic novel Ah Pook Is Here. Written with insight and humor, and liberally sprinkled with the kind of outré anecdotes one would expect working with a writer as original and eccentric as Burroughs, Observed While Falling presents a unique view of the creative process that will be of interest to artists, writers and general readers alike.
YOUR VIGOR FOR LIFE APPALLS ME
Now In Paperback!
by Robert Crumb
Introduction by Gary Groth
$19.99 / SC / 272 pgs / BW / 6 x 9
ISBN 978-1-60699-560-0
Spanning the most formative era of his life, from the pain of adolescence to the fame and fortune of early adulthood, this collection of personal correspondences sheds light on the artistic development, bitter struggle, and ultimate triumph of the world's greatest living cartoonist. This is Crumb's sketchbook of words and features scores of rare art, including entire letters drawn in cartoon form.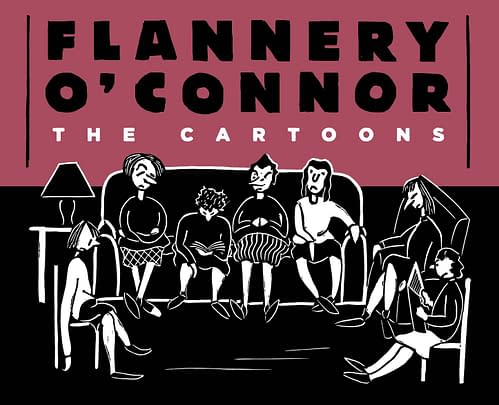 FLANNERY O'CONNOR: THE CARTOONS
by Flannery O'Connor
Edited by Kelly Gerald
$22.99 / HC / 144 pgs / PC / 10 x 8.25
Fantagraphics is honored to bring the little-known early cartoons of one of the greatest writers of the 20th century to a 21st century readership. Flannery O'Connor: The Cartoons reprints all of the cartoons she did for several small newspapers and University publications in the 1940's in which she lampoons student life and the impact of World War II on the home front whilst trying out artistic techniques that were later deployed in her fiction. The Southern Gothic humor and acid observations will be instantly recognizable to all fans of this beloved icon of American literature.
LAURA WARHOLIC: OR, THE SEXUAL INTELLECTUAL
Now In Paperback!
by Alexander Theroux
$24.99 / SC / 824 pgs / Prose / 6.25 x 9.25
ISBN 978-1-60699-549-5
Previous edition ISBN 978-1-56097-798-8
Alexander Theroux's lauded 2007 prose masterpiece Laura Warholic: Or, The Sexual Intellectual returns in a beautiful new soft cover edition. Set in an America that is a garish and dunce-filled Babylon and featuring Theroux's trademark pyrotechnic prose style, Laura Warholic is at once horrifying and hilarious, damning and demanding and is, in its uncompromising power, one of the great novels of this still young century.
TALES DESIGNED TO THRIZZLE #8
by Michael Kupperman
$4.50 / 32 pgs / FC / 6.75 x 9.5
Tales Designed To Thrizzle #8 features history and mystery, with the true story of the 1969 Moon landing and death visiting a weekend house party in "Murder, She Goat." The true story of historical legend "the Scythe" is recounted, transportation expert Red Warren narrates a coloring book of trains and buses, and "Roman Valley Salad Dressing" drags salad consumers into a world of steamy passion.
JEWISH IMAGES IN THE COMICS
by Fredrik Strömberg
$26.99 / HC / 424 pgs / BW / 6 x 6
Jewish Images in the Comics presents more than 150 works from all over the world demonstrating how Jewish culture has historically been depicted in comics. The book is divided into chapters such as "Anti-Semitism", "The Old Testament" and "The Holocaust" and features works from well-known artists like Art Spiegelman and Will Eisner to much more obscure (and in some cases far less savory) cartoonists. Each example is spotlighted via an informative essay and a representative illustration.
ONI PRESS
COURTNEY CRUMRIN #4
(W) Ted Naifeh (A/CA) Ted Naifeh, Warren Wucinich
Courtney's journey to find Holly Hart has taken her deep into the Twilight Kingdom, where the Lord of the Hunt has redoubled his efforts to kill her. Will Courtney survive the wolf pack's chase, and rescue Holly while she's at it? And if she lives, how will she live with the consequences of her actions?
32pgs, FC    $3.99
THE SECRET HISTORY OF D.B. COOPER #5
(W/A/CA) Brian Churilla
C.I.A. assassin Dan Cooper is on the run from his government masters in our world, but in the psychic plane of "The Glut" he still has only one objective — to find his missing daughter! The startling story of the most mysterious airline hijacker in U.S. history concludes in this amazing issue!
32pgs, FC    $3.99
BAD MEDICINE #3
(W) Nunzio DeFilippis, Christina Weir
(A/CA) Christopher Mitten
"KILLING MOON" Part 1 (of 3)—When a bizarre attack rocks a small New England town, Doctor Randal Horne, Detective Joely Huffman, and their special team at the CDC are dispatched to Deer Falls, ME to investigate the condition plaguing the attacker!
32pgs, FC    $3.99
SCOTT PILGRIM COLOR VOLUME 1: SCOTT PILGRIM'S PRECIOUS LITTLE LIFE HC
(W) Bryan Lee O'Malley
(A/CA) Bryan Lee O'Malley, Nathan Fairbairn
Just when you thought you knew all there was to know about Scott Pilgrim comes Scott Pilgrim's Precious Little Life Special Edition HC! The first in a series of brand new hardcover editions, this FULL COLOR, remastered, 6×9" hardcover presents Scott's first "evil ex" battle as you've never seen it before! Plus, previously unpublished extras and bonus materials make this mighty tome one that's required reading for Scottaholics everywhere!
HC, 6×9, 192pgs, FC    $24.99
PENNY ARCADE V8: MAGICAL KIDS IN DANGER TP
(W) Jerry Holkins (A) Mike Krahulik
We understand there are a variety of child rearing techniques, but exposing them to wizardism, or leaving them with phylacteries, lycanthropes, and nosferatu don't seem like sound tactics. Is there a Bureau for Paranormal Children Services? If so they need a call about now, and tell them this collection includes every strip from 2007, handcrafted creator commentary from Jerry Holkins (Tycho Brahe), mystical cover process from Mike Krahulik, and a foreward by Cliff Bleszinski.
MATURE THEMES
SC, 7×9, 112pgs, FC    $14.99
WASTELAND VOLUME 7 TP
(W) Antony Johnston (A) Justin Greenwood
(CA) Chris Mitten
Michael and Abi continue their journey West, through the wasteland — with the
assassin Gerr secretly at their side! But after a mysterious midnight visit in the
desert, they come across the town of Godsholm–but will the townsfolk aid them
in their quest for A-Ree-Yass-I or bring it to a halt?
MATURE THEMES
SC, 7×10, 136pgs, FC    $14.99
TOP SHELF PRODUCTIONS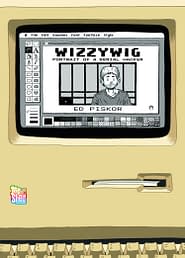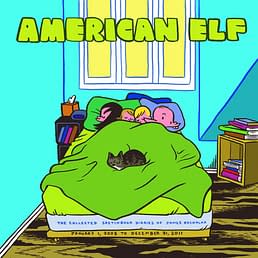 WIZZYWIG HC
(W/A/CA) Ed Piskor
They say "What you see is what you get!" but Kevin "Boingthump" Phenicle could always see more than most people. In the world of phone phreaks, hackers, and scammers, he's a legend. Could he really get free long-distance calls by whistling into a pay phone? Did his video-game piracy scheme accidentally trigger the first computer virus? And did he really dodge the FBI by using their own wiretapping software against them? Inspired by the incredible stories of real-life hackers, Wizzywig is the thrilling tale of a master manipulator — his journey from precocious child scammer to federally-wanted fugitive, and beyond. (STK464884) (C: 0-0-3)
MATURE THEMES
HC, 6.5×9, 288pgs, B&W    $19.95
WORLD WAR 3 ILLUSTRATED #43
(A) Peter Kuper & Various
We have invited artists and writers to address the topics of censorship and repression in all forms, from the most personal to the most political, from the banning of works of art to the busting of demonstrations to the self-censorship of our own thoughts. With stories about Occupy Wall Street, Julian Assange, The Comics Code Authority, Bradley Manning, Art School, David Wojnarowicz, A.R.A., the Arab Spring, and many other controversial subjects. Edited by Seth Tobocman, Ethan Heitner, and Jordan Worley. (STK467016)
MATURE THEMES
Magazine, SC, 7×9, 144pgs, B&W    $7.00
AMERICAN ELF VOLUME 4: THE COLLECTED SKETCHBOOK DIARIES OF JAMES KOCHALKA (2008-2011) TP
(W/A/CA) James Kochalka
It's the long-awaited return of James Kochalka's massively influential and deceptively ambitious autobiography, American Elf. Every day of his life is captured in a single comic strip, sometimes profound and sometimes silly, but always full of the earnest Kochalka passion. In this collection, spanning the years 2008-2011, James becomes Cartoonist Laureate, celebrates American Elf's 10th year, pitches a TV show to Hollywood, considers quitting the strip, plays everything from LEGO Star Wars to Skyrim, and kind of causes himself to have a nervous breakdown. Meanwhile Eli starts elementary school and starts a band, Oliver learns to walk and talk (and sing), James and Amy celebrate 15 years of marriage, and the family adopts a new cat, Nooko! (STK467337) (C: 0-0-3)
MATURE THEMES
SC, 8.5×8.5, 384pgs, FC    $24.95
Enjoyed this article? Share it!