Drew Ford, owner of archive comics publisher It's Alive!, publishing through IDW has… a problem. A problem called international bank fraud. He writes,
A few months ago, I sent several international wire transfers to a printer outside the USA. Initially, they told me everything was fine. But recently, they told me they never received any money. Obviously, I was in shock! I immediately contacted my bank, who confirmed that the funds were sent and received months ago. After taking a closer look, my bank believes the printer has nothing to do with this, and that it is their bank who "lost" my money. I would replace the word "lost" with "stolen", but that's me.

Anyway, my bank has opened an official investigation, but has made it clear that I will probably not get my money back.

Sadly, without recouping at least a portion of these "lost" funds, I don't know if I can keep my business afloat. I have several freelancers who need to be paid for current and upcoming projects, and of course the biggest bill will be the cost to print my books.
Drew Ford has launched a GoFundMe campaign to try and keep him in business in the interim. He wants to point out the number of archive titles he has been involved in getting back into print in the last few years.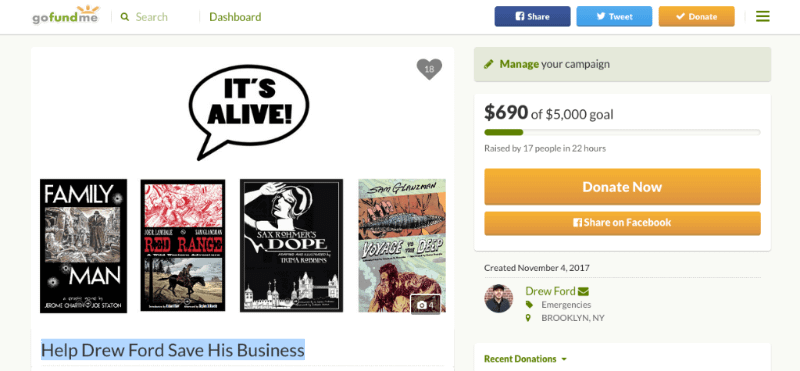 U.S.S. Stevens: The Collected Stories by Sam Glanzman (Eisner nomination)
Murder By Remote Control by Janwillem van de Wetering and Paul Kirchner
Private Beach by David Jerome Hahn
The Bozz Chronicles by David Michelinie and Bret Blevins
Civil War Adventure by Chuck Dixon and Gary Kwapisz
A Sailor's Story by Sam Glanzman
Worry Doll by Matt Coyle
Wandering Star by Teri S. Wood
Little Tulip by Jerome Charyn and Francois Boucq
Seekers into the Mystery by by J. M. Dematteis, Jon J Muth, Glenn Barr, Michael Zulli & Jill Thompson
Fires and Murmur by Lorenzo Mattotti and Jerry Kramsky
The Puma Blues by Stephen Murphy and Michael Zulli (Eisner nomination)
Night and the Enemy by Harlan Ellison and Ken Steacy
World Without End by Jamie Delano and John Higgins
Paleo by Jim Lawson
Lightrunner by Lamar Waldron and Rod Whigham
Last of the Dragons by Carl Potts, Dennis O'Neil, Terry Austin, Marie Severin
Billy Budd, KGB by Jerome Charyn and Francois Boucq
The Boys of Sheriff Street by Jerome Charyn and Jacques de Loustal
Through the Habitrails by Jeff Nicholson
White Collar by Giacomo Patri
ATTU by Sam Glanzman
The Magician's Wife by Jerome Charyn and Francois Boucq
Civil War: Book Two by Chuck Dixon and Gary Kwapisz
The Juggler of Our Lady by R. O. Blechman and Maurice Sendak
Georgie: The Story of a Man, His Dog, and a Pin by R. O. Blechman
Blackjack by Alex Simmons and Joe Bennett
Mercy by J. M. Dematteis and Paul Johnson
Umbra by Stephen Murphy and Mike Hawthorne
My War by Szegedi Szuts
Secret Teachings of a Comic Book Master: The Art of Alfredo Alcala by Heidi MacDonald, Phillip Dana Yeh, Gil Kane, Roy Thomas
Through Hell with Hiprah Hunt by Art Young
Red Range by Joe R. Lansdale & Sam Glanzman
Dope by Trina Robbins
Will there be a lucky 35?
Enjoyed this article? Share it!