The East London Comics Art Festival, Tomorrow. In Terribly Fashionable Shoreditch, Don't You Know.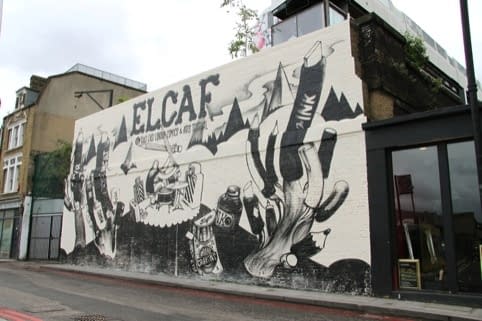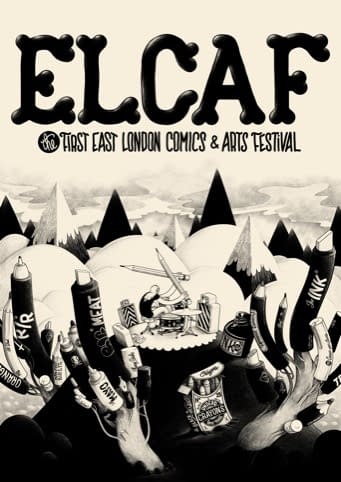 Last month I went to the launch of Dudebox, a new customizable vinyl figure line, at a club in East London. It was the most Nathan Barleyish event I'd ever been to and I used to work in advertising.
Tomorrow that venue will host ELCAF, the East London Comics & Arts Festival. I may have to go back. Already the outside has been transformed by French artist McBess, who will be appearing with his band Dead Pirates.
The event will attempt to capture a flavour of the likes of Angoulême, though on a far smaller scale, as well as comics art festivals held in Toronto and Brooklyn.
Basically you can expect overpriced comics by overdressed fops. I can't wait. The likes of Jonathan Cape, SelfMadeHero, Blank Slate and Nobrow will be exhibiting, and there will also see a drawing relay race called Tac au Tac 2012, twenty artists continuing a story of a scurrying mouse, over twelve feet, a sequel to the original Tac au Tac invented by French creators in the seventies. The Happy Sports Village Drawing Marathon will see Kyle Platts and Matt Bromley from Anorak Magazine hosting an illustration workshop for kids. I'm going to bring Eve, I think.
The Guardian newspaper will be present in the form of Becky Barnicoat, hosting an interview with Simone Lia, Karrie Fransman and Darryl Cunningham (Psychiatric Tales).. Man at the crossroads, Paul Gravett will talk to French cartoonist Blexbolex and his No Man's Land comic. The show will also launch the Nobrow 7 comic.
There will also be portfolio reviews hosted by three of the most respected young illustrators currently working in the UK, Edinburgh Fringe Festival artist Ben Newman, BAFTA illustrator Eda Akaltun, and author of People I've Never met and regular LA Times contributor Nick White.
The show will take place at Village Underground in Shoreditch tomorrow, from 9.30am-9pm. See you there?