Three days ago, Bleeding Cool pointed out that Dr Eve Ewing and Joey Vasquez were lined up for a 'secret Marvel Comics project'. Well, here it is. The return of an old favourite – with a twist.
The Chicago Tribune has the PR scoop that Ewing is adding a new series to the ongoing Ironheart comic and her spot in the final issue of Ms Marvel before it is relaunched, a revival of Marvel Team-Up.
Marvel Team-Up used to be a comic that teamed Spider-Man up with other Marvel Comics characters, and was the third ongoing Spider-Man title ij its day. It was revived again as Ultimate Marvel Team-Up by Brian Bendis.
But a couple of decades on, it is back again.
Ewing will write the first three issues, drawn by Joey Vazquez, featuring Spider-Man and Ms Marvel.
This time, though Spider-Man will appear in the first issue, it appears as if it could also be a new Ms Marvel ongoing series, teaming her up with other members of the Marvel Universe each issue. Could this be her second ongoing comic?
The new Magnificent Ms Marvel series relaunches in March. Marvel Team-Up is out in April.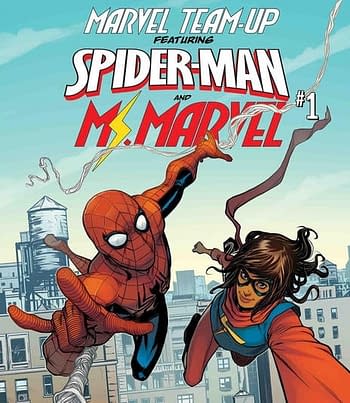 Enjoyed this article? Share it!