Event Leviathan is coming. DC Comics is pushing Brian Bendis and Alex Maleev's big new event kicking off in Action Comics but spilling across into the rest of the DC Universe as part of DC's Year Of The Villain. The big espionage groups of the DC Universe destroyed, consolidated and replaced by a new Leviathan.
And today with the release of Action Comics #1011… eight full-page house ads that we can find running across all DC Comics superhero titles. Here's what's coming… with Leviathan addressing a number of the cast.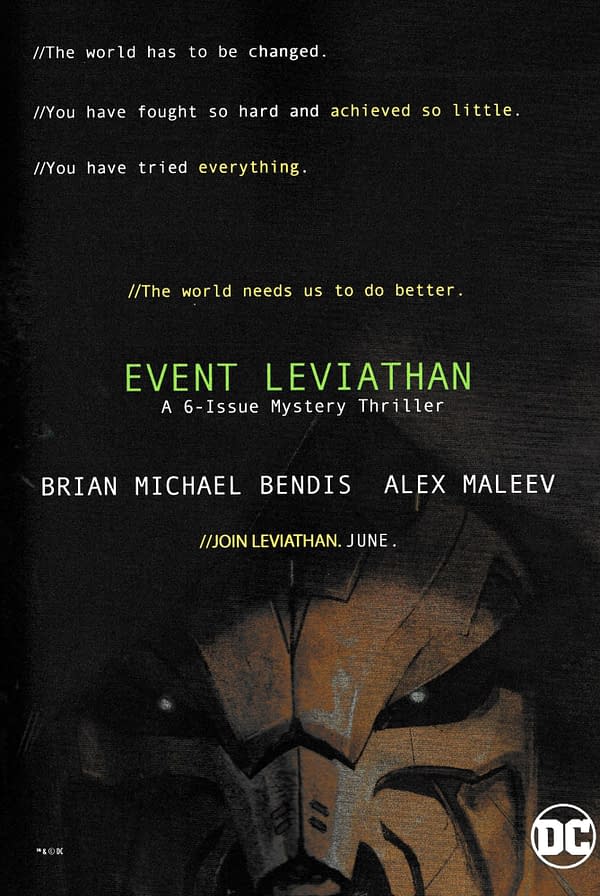 //The world has to be changed.
//You have fought so hard and achieved so little.
//You have tried everything.
//The world needs us to do better.
EVENT LEVIATHAN  A 6-Issue Mystery Thriller BRIAN MICHAEL BENDIS ALEX MALEEV. //JOIN LEVIATHAN. JUNE.
Batman
//Your war on crime accomplishes nothing.
//I've tried it your way.
//The revolving door of criminals always come back.
//There is a better method. My way.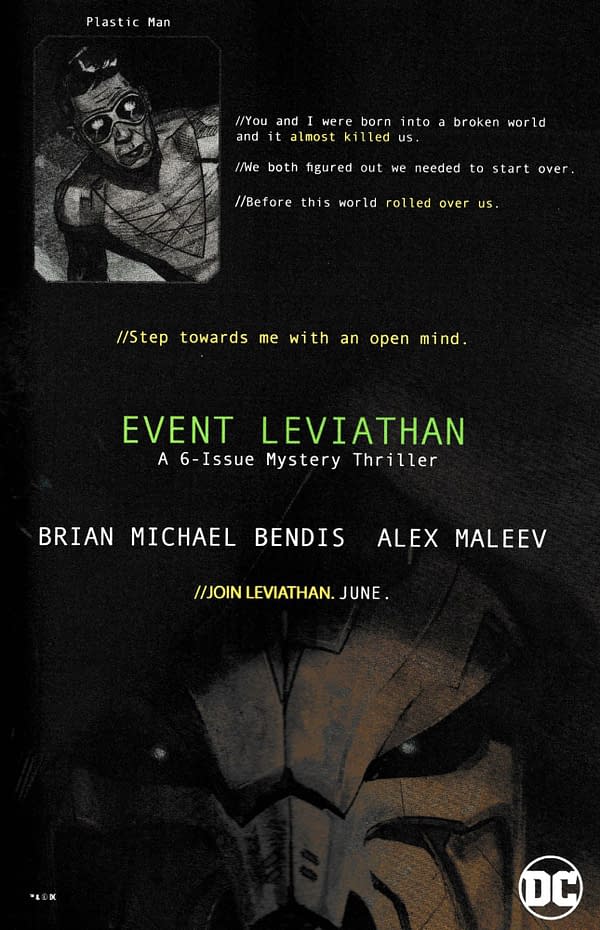 Plastic Man
//You and I were born into a broken world and it almost killed us.
//We both figured out we needed to start over.
//Before this world rolled over us.
//Step towards me with an open mind.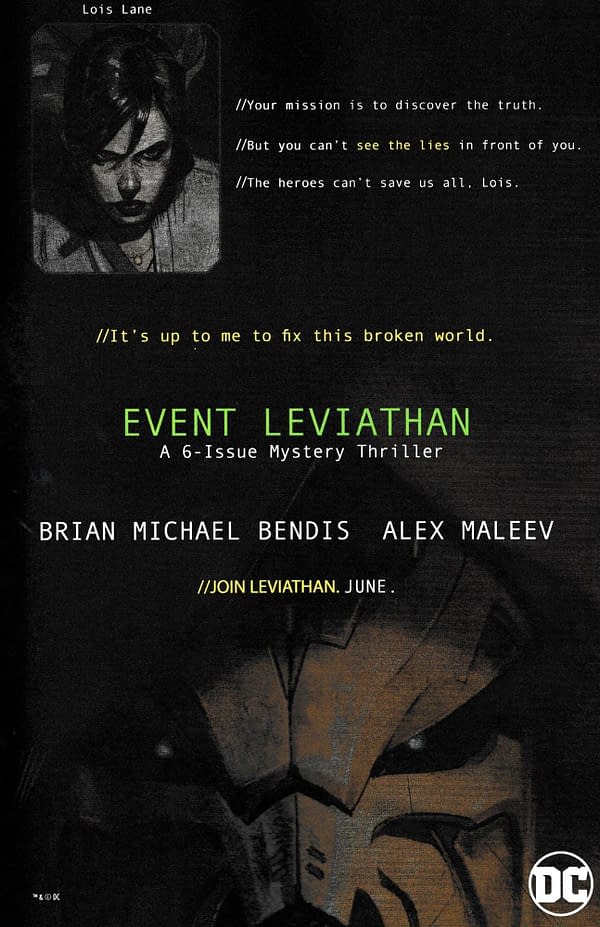 Lois Lane
//Your mission is to discover the truth.
//But you can't see the lies in front of you.
//The heroes can't save us all, Lois.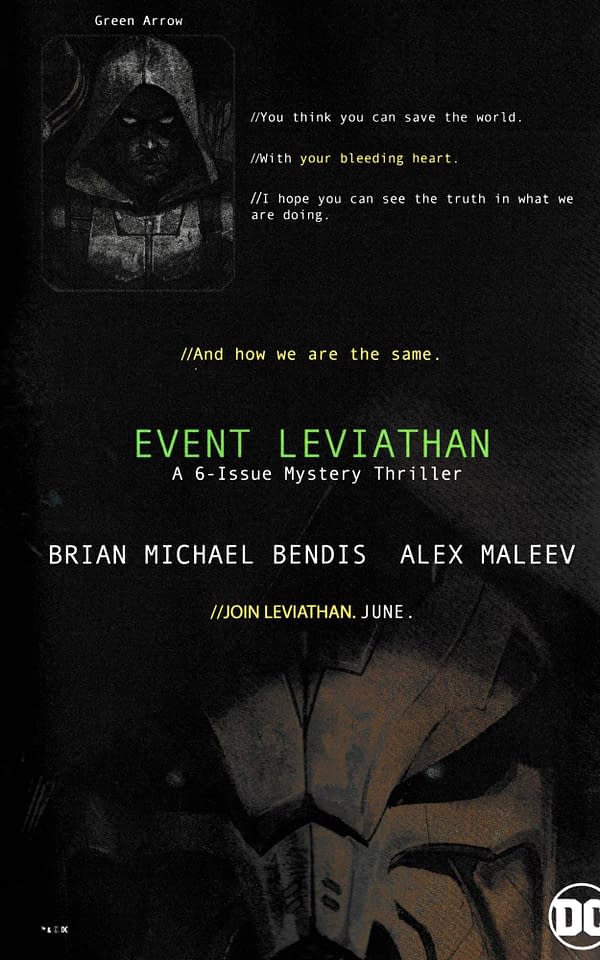 Green Arrow
//You think you can save the world.
//With your bleeding heart.
//I hope you can see the truth in what we are doing.

Manhunter
//Kate Spencer, you now carry the legacy.
//It is a heavy burden to bear.
//You will fare no better than the Manhunters who came before you.
//Your hunt is destined to fail.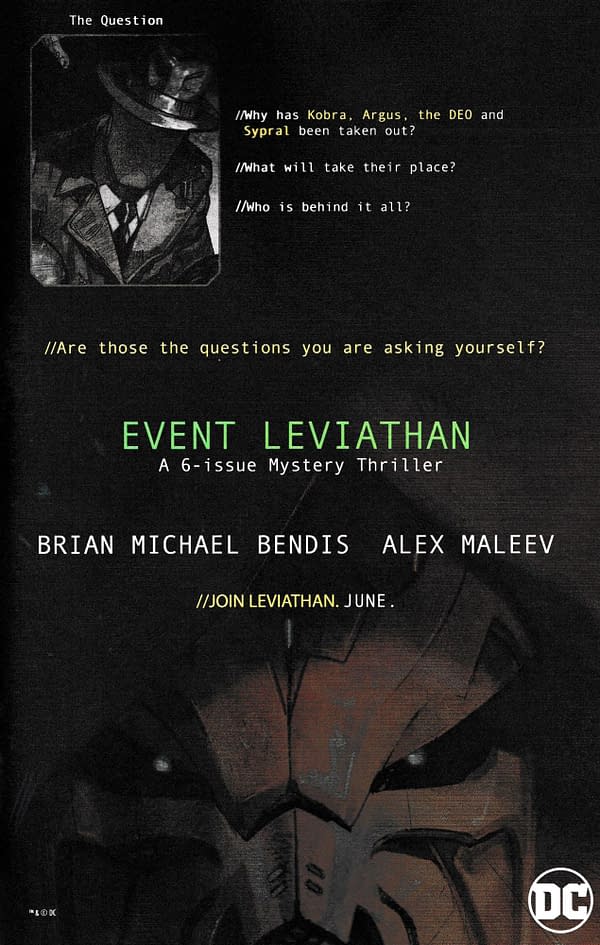 The Question
//Why has Kobra, Argus, the DEO and Sypral been taken out?
//What will take their place?
//Who is behind it all?
//Are those the questions you are asking yourself?
Batgirl
//Barbara, you've given everything for what you think is right.
//You sacrificed your legs and nothing has changed.
//Don't you think there is a better way?
//Join my new world order.
Enjoyed this article? Share it!