It's about that time already – news about exclusive comic books on sale at this year's San Diego Comic-Con. This time the offerings available at the show from Diamond Comic Distributors and Previewsworld themselves!
SDCC 2017 MIGHTY MORPHIN POWER RANGERS #17

(W) Kyle Higgins (A) Hendry Prasetya (CA) Peter Nguyen
The next Power Rangers epic starts here! The Power Rangers are finally reunited, but can things ever be the same? Limited to 3,000 copies.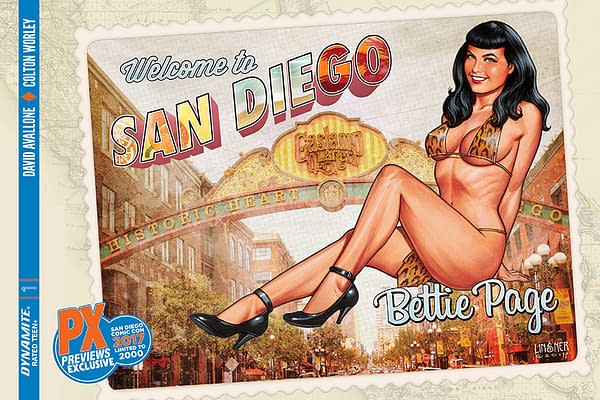 SDCC 2017 BETTIE PAGE #1 LINSNER VARIANT
(W) David Avallone (A) Colton Worley (CA) Joseph Michael Linsner
She's more modest than Ms. Blaise, but peels more than Ms. Emma. She out-vamps Vampirella, but she's sweeter than Honey West. She put the mod in model, and the bangs in bang-bang. Now the world can know the truth: her classified adventures back in 1951 Hollywood have been declassified. Dynamite, David Avallone and Colton Worley are proud to present The Secret Diary of Bettie Page, in handy comic book form. Limited to 2,000 copies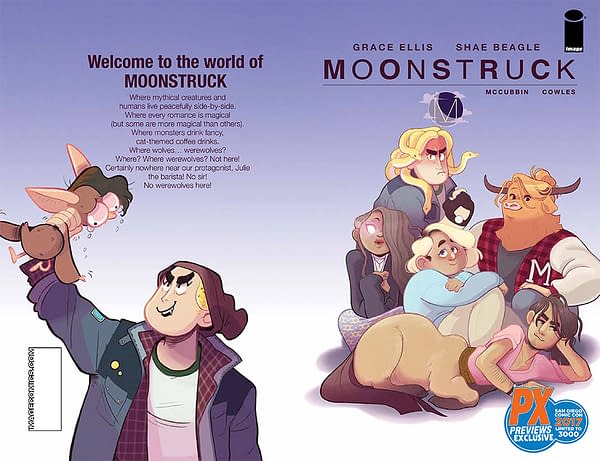 SDCC 2017 MOONSTRUCK #1 VARIANT
(W) Grace Ellis (A) Shae Beagle, Kate Leth (CA) Shae Beagle
A NEW ONGOING SERIES from Lumberjanes creator GRACE ELLIS and talented newcomer SHAE BEAGLE that tells a story of monsters, romance, and magical hijinks! The first arc also includes an additional short story with artist KATE LETH!
Fantasy creatures are living typical, unremarkable lives alongside humans, and barista Julie strives to be the most unremarkable of all. Normal job, normal almost-girlfriend, normal…werewolf transformations that happen when she gets upset? Yikes!
But all bets are off when she and her centaur best friend Chet find themselves in the middle of a magical conspiracy. Will Julie and Chet be able to save their friends? Is Julie's dogged determination to be normal a lost cause? Who's going to watch the coffee shop while our heroes are out saving the world?? These questions and more will be answered in MOONSTRUCK, coming July 19 from Image Comics. Limited to 3,000 copies.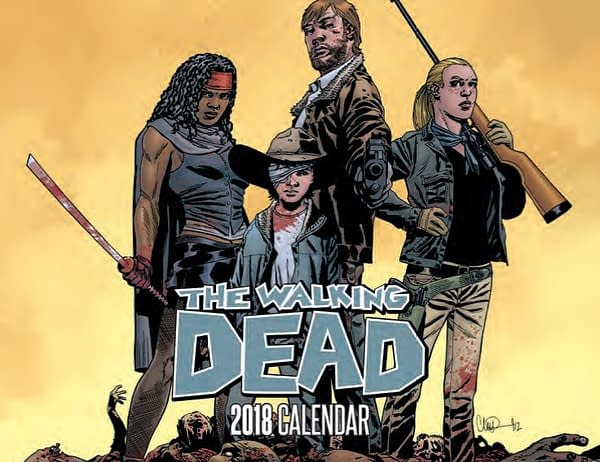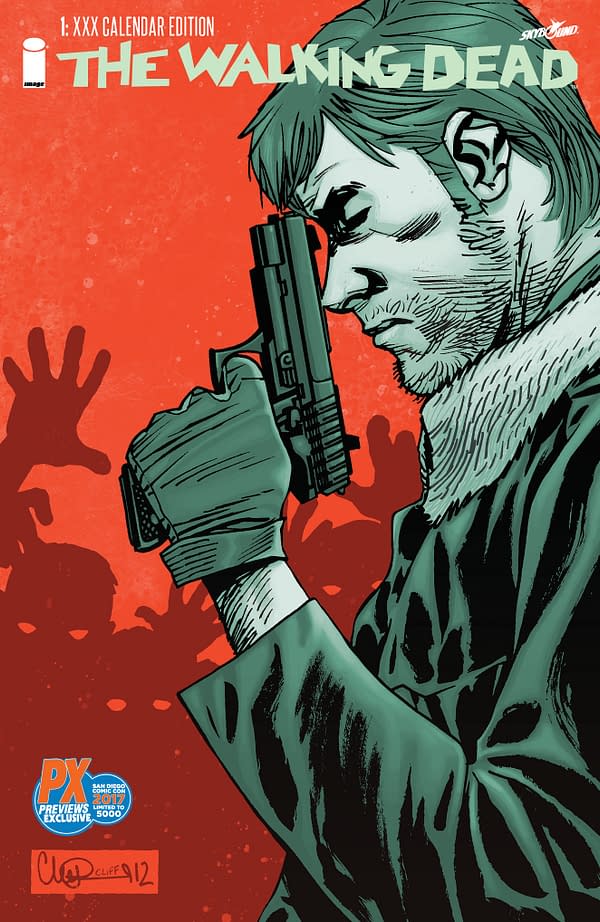 Not Final Art


SDCC 2017 WALKING DEAD 2018 CALENDAR WITH PX WD #1 VAR
(W) Robert Kirkman (A) Tony Moore (CA) Charlie Adlard
ROBERT KIRKMAN's THE WALKING DEAD is one of the most popular comics of all time. Show off your love of THE WALKING DEAD all year long with the new 2018 calendar featuring images from the comic, as drawn by artist CHARLIE ADLARD.
Limited to 5,000 copies.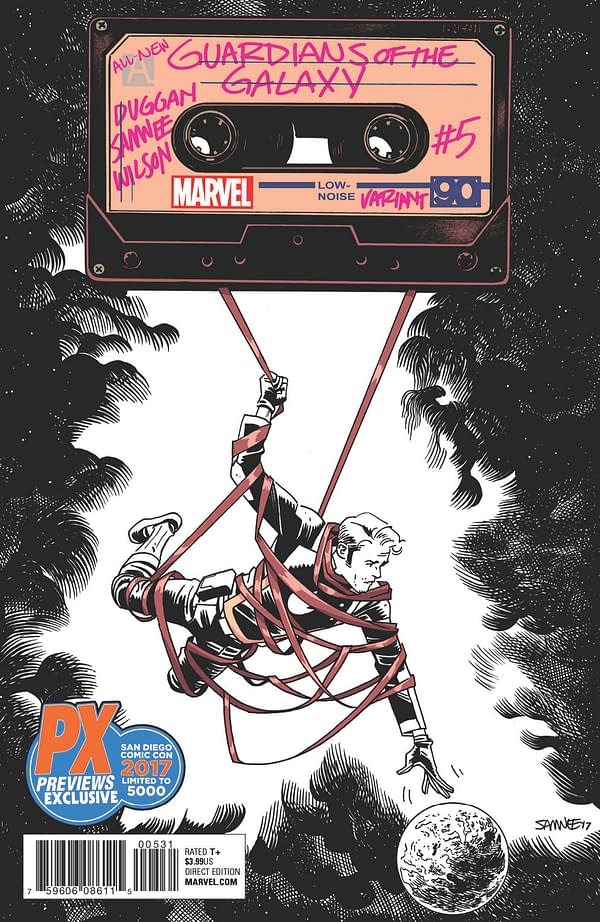 SDCC 2017 ALL NEW GUARDIANS OF GALAXY #5 B&W VAR
(W) Gerry Duggan (A) Chris Samnee (CA) Chris Samnee
Star-Lord has been sailing the radio waves of the galaxy for years, keeping up with the one piece of Earth he could never quite leave behind. Guest artist Chris Samnee joins writer Gerry Duggan to check into Peter Quill's sonic conquests!
Rated T+ – Limited to 5,000 copies.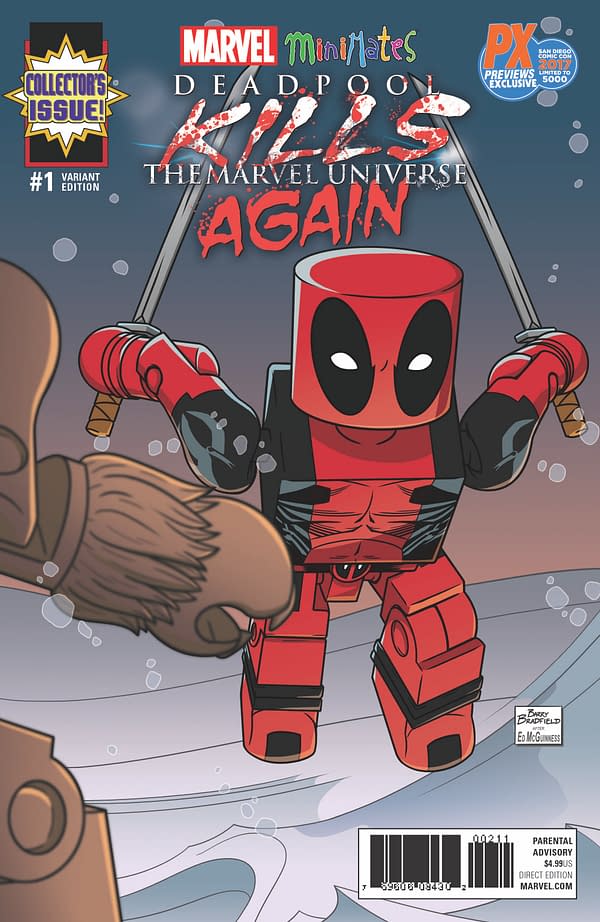 SDCC 2017 DEADPOOL KILLS MARVEL UNIVERSE AGAIN #1 MINIMATES VAR
(W) Cullen Bunn (A) Dalibor Talajic (CA) Barry Bradfield
Remember the time Deadpool went a little TOO crazy and killed the entire Marvel Universe? Well, this isn't that. This is a DIFFERENT time. Writer Cullen Bunn and artist Dalibor Talajic (A.K.A. the creators behind DEADPOOL KILLS THE MARVEL UNIVERSE) have reunited for ANOTHER tale of Deadpool taking out all of your faves in the most horrific ways possible! It's gonna hurt him more than it hurts you…and you're gonna love it!
Parental Advisory. Limited to 5,000 copies.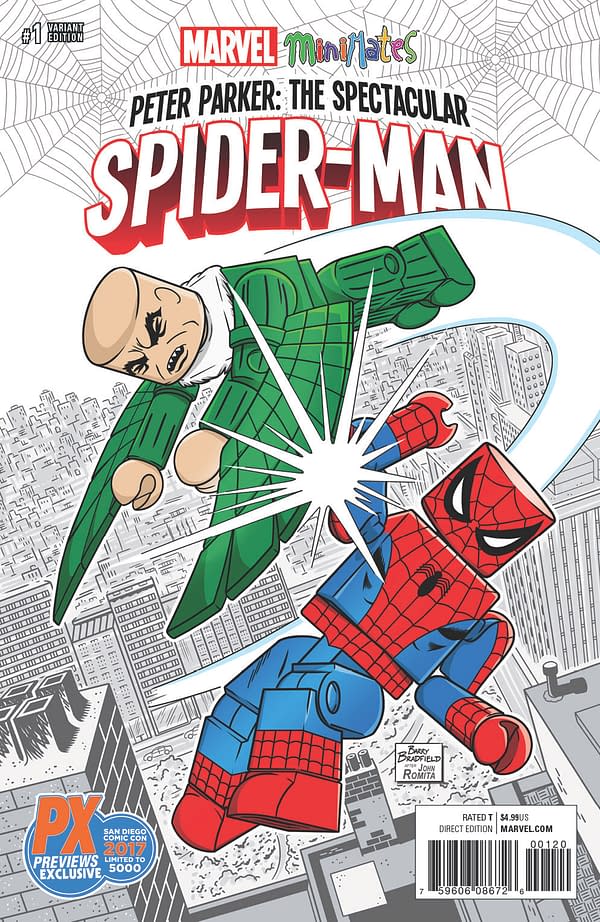 SDCC 2017 PETER PARKER SPECTACULAR SPIDER-MAN #1 MINIMATES VAR
(W) Chip Zdarsky (A/CA) Barry Bradfield
SPIDER-MAN RETURNS TO THE FRIENDLY NEIGHBORHOOD!
The webslinging, wallcrawling wonder returns to New York City in the all-new PETER PARKER: THE SPECTACULAR SPIDER-MAN. A companion series to the best-selling Amazing Spider-Man series, Peter Parker is going back-to-basics for big heroics in the Big Apple. Featuring adversaries old and new, be there as Spider-Man returns to his friendly neighborhood for his never ending battle against crime and the dreaed "Parker Luck".
Rated T – Limited to 5,000 copies.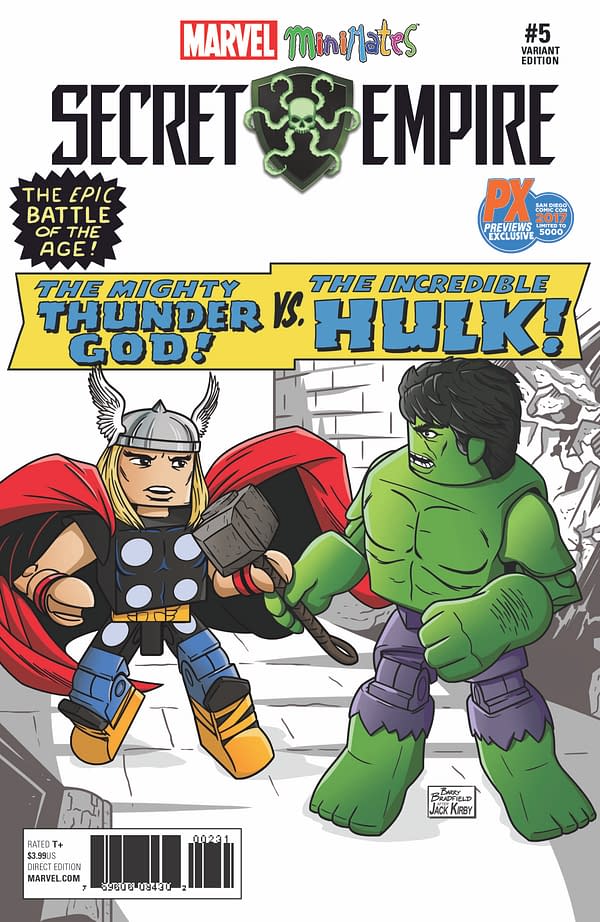 SDCC 2017 SECRET EMPIRE #5 (OF 9) SE MINIMATES VAR
(W) Nick Spencer (A) Leinil Francis Yu (CA) Barry Bradfield
They thought they were safe! They thought they could handle anything that was thrown against them! But the united heroes of the Marvel Universe never reckoned on the dread power that Steve Rogers would unleash! THE SECRET EMPIRE WILL AMAZE YOU!
Rated T+ – Limited to 5,000 copies.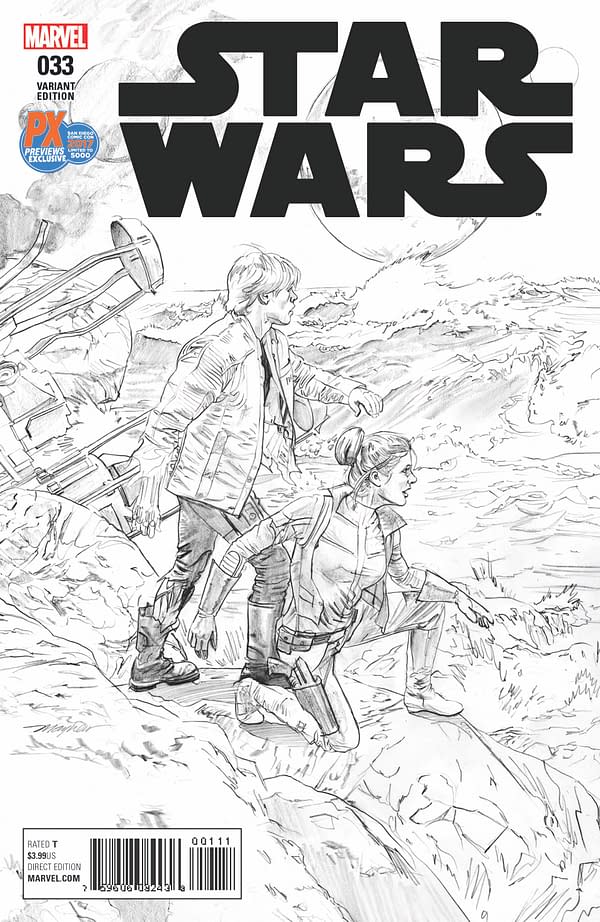 SDCC 2017 STAR WARS #33 B&W VAR
(W) Jason Aaron (A) Salvador Larroca (CA) Mike Mayhew
• The Hero of the Rebellion & the Princess of the Revolution!
• Luke and Leia finally get some time alone.
• Unfortunately, it's stranded on a desert island.
Rated T – Limited to 5,000 copies.
Enjoyed this article? Share it!