Robert Alvord writes,
When I was 9, my older brother and I started seriously collecting comics. By serious, I mean buying each issue of a title as they came out as opposed to buying a book periodically because we liked the cover. Of course, since he was older by 4 years he got first choice and he chose all the superhero books. That left me with, well, everything else.
So my first two books were Werewolf by Night, the one with the Hunchback on the cover and Master of Kung Fu, I think Shang Chi was kicking someone (when wasn't he). Honestly, at first, I thought like most of you probably are thinking right now no superhero books that's not fair! But in hindsight, I am pretty sure I got the better end of the deal.
As time went by and my allowance grew I added a few other titles like Man-Thing, Creatures on the Loose with Man-Wolf, Adventure into Fear with Morbius, Marvel Spotlight with Ghost Rider and Son of Satan. And when I read them it was Satan, not some lesser personification of Satan that was the villain. Whoa!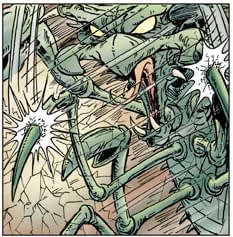 I didn't really mind the alternative books, the anti-heroes or the horror aspect. When I was really, really young I preferred Hot Stuff over everything else so it wasn't much of a change for me. Most likely this is why I tend towards the darker, less heroic books now. I am pretty sure it is also what finally led me to want to create "The Shadow Watchers".
So you might ask–what's dark about The Shadow Watchers besides the whole Shadow stuff? Well, it is about possession, possession in many forms. Spiritual, mental, parasitic, symbiotic and at least one other that I don't think has a name.
The thought of possession and the possibilities around it first got my attention in a Son of Satan comic where he fought some guy called the Possessor. The Possessor had the ability to control demons that tried to possess him. He could absorb them and then use their power. These demons would be imploring Daimon Hellstrom to help free them. That concept blew my mind and left a very big impression.
When plotting and knocking ideas around I always try to keep that character, the Possessor, front and center in my mind (I told you it made a big impression).
Another question you might ask is how does possession play such a big part in The Shadow Watchers? In the Shadow Watcher's world there are many dimensions with many forms of life or consciousness and possession is how these beings can travel from one dimension to the next. And it seems like every one of them wants to try their hand at it.
As for the characters that comprise The Shadow Watchers, most of them are reflections of those characters I grew up with, not super heroic, not nearly invincible, but faulty and tragic. I find it a lot easier to create tension and a sense of horror if your protagonists are vulnerable and even weak in many ways.
I am on issue 3 now and the first storyline concludes with issue 5. So when issue 3 is done it is on to the next if I can keep the KickStarter successes going. My wife is really excited about it (lots of sarcasm).
I hope that something that you have read here has caught your attention enough to check The Shadow Watchers KickStarter campaign out.
And if you want to read the first two issues you can read them on The Shadow Watchers site here.
Enjoyed this article? Share it!