With the announcement of the Captain Marvel movie (with Carol Danvers), copies of Ms. Marvel #1 are becoming more popular with collectors, regardless of condition. Currently on Comic Connect, there is a Ms. Marvel #1 CGC 9.0 with white pages, and it's sitting for under $150. On GPA, other similar copies are going for $178-$350, so now is the time to pick up this soon to be sought after key.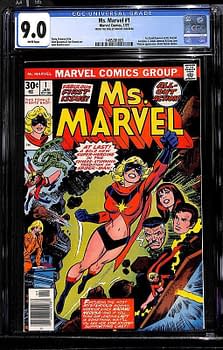 Granted, Ms. Marvel isn't exactly a rare title. It's been sitting under the radar with most collectors for years, but hardcore fans of the hero always knew her time in the sun would come. Watching Carol grow from a Ms. to a Captain has been exciting and empowering, and her role in the current Marvel universe is inspiring. She is certainly a force to reckon with! I have a feeling this book will stay under the $300 mark, making it an easy investment for new collectors.
Enjoyed this article? Share it!