There once was a time when comic book retailers would get Marvel Comics overprint as a matter of course. Sometimes it was announced, like all retailers getting an additional 10% of their orders. Sometimes they would arrive by surprise. The intent was to provide retailers with an opportunity to find their ceiling of orders rather than conservatively order too few and, as a result, order more of subsequent issues. Or to engage in sampling activity — give copies of the overprinted comics away free to customers who didn't buy that comic and hope they might order subsequent issues.
And also, by the by, totally affect Marvel's ranking in the sales charts because, while Diamond Comic Distributors didn't count sales by comic books that were 25 cents each — they did count $3.99 comics that were given away for free. No, me neither.
Anyway, Marvel Comics hasn't done it for a while. Years even. Until now. And they are letting retailers know.
They can expect to receive free overprints on their shipments of Astonishing X-Men #13, which has been promoted as a relaunch of the series with a new cast written by Matthew Rosenberg. And Old Man Hawkeye #7, which is an "everybody dies" issue.
Marvel expects big things…
ASTONISHING X-MEN #13
(W) Matthew Rosenberg (A) Oscar Bazaldua (A/CA) Greg Land
A NEW ERA BEGINS NOW!
The Reavers are back, and they have a new weapon that only Havok knows about. It's going to take a ragtag group of X-Men to save a world that hates and fears them! But after his villainous turn, can any of the X-Men really trust him? Can he blame them? Havok! Beast! Dazzler! Warpath! Colossus! It's an all-new, all-different kind of X-Men story from the minds of Matthew Rosenberg (PUNISHER) and Greg Land (INCREDIBLE HULK)!
Rated T+ In Shops: Jul 04, 2018
SRP: $3.99
OLD MAN HAWKEYE #7
(W) Sacks, Ethan (A) Ibraim Roberson (A/CA) Marco Checchetto
THE FALL OF THE SUPER HEROES!
•  HAWKEYE's been on a mission to hunt down the THUNDERBOLTS that betrayed him…
•  Now see exactly what happened on that fateful date 45 years ago, in all of its bloody detail!
•  This issue – everybody dies!
Parental Advisory In Shops: Jul 18, 2018
SRP: $3.99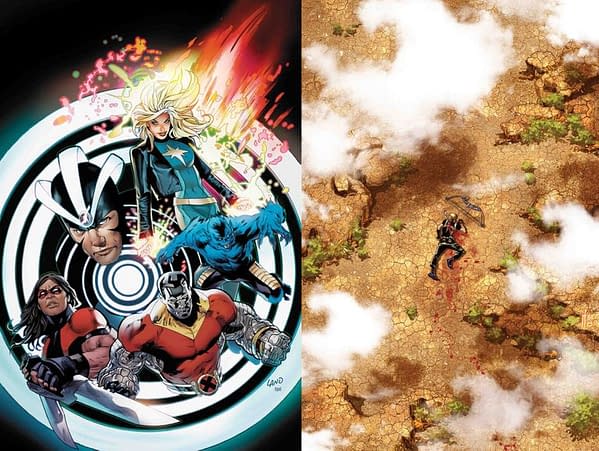 Enjoyed this article? Share it!