Gendercrunching March 2017 – And The Eisner Awards Nominees
From Tim Hanley:


DC's overall percentage of female creators ticked down again while Marvel's rose again, widening the gap between the two publishers. We also take a look at the gender breakdown of the Eisner Awards, which have another solid slate of female nominees.
DC COMICS
While DC's female representation didn't fall a lot in March, it nonetheless marked the fifth straight drop for the publisher. In March 2017, DC put out 91 new comics books featuring 833 credited creators, 700 men and 133 women. Let's look at the stats: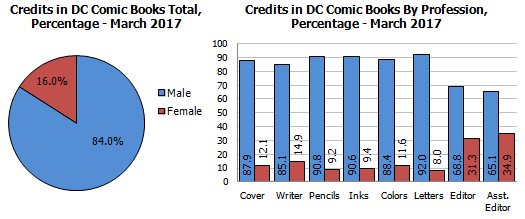 DC's overall percentage of female creators fell 0.3%, a small drop that continues the publisher's ongoing negative trend. By category, the changes were very slight for the most part. Female writers, pencillers, inkers, editors, and assistant editors all rose a percentage point or so, while cover artists and colorists ticked down by small amounts. The only major change was female letterers, whose numbers dropped more than 5 points. With that big fall, the losses gained the upper hand and pulled down the overall average.
The Past Year at DC: There's an interesting shape to DC's chart this month, which rather smoothly illustrates the publisher's rise and fall with female creators over the last year:

Dropping for five straight months is hardly an encouraging sign for women at DC, especially after they hit such a high in October. As it stands, this month DC posted their lowest showing since a full year ago.
MARVEL COMICS
Marvel, on the other hand, looks to be on the rise in terms of female creator representation. In March 2017, Marvel released 89 new comics with 788 credited creators, 642 men and 146 women. Here are their numbers: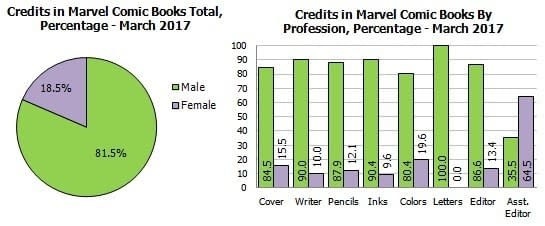 Marvel's overall percentage of female creators rose 1.4% from February, a decent jump and the second straight month of gains for the publisher. By category, there were only two drops, and by very small amounts, with female colorists and letterers barely ticking down. Inkers stayed the same, as did letterers who were steady at 0% yet again, while everything else went up.
Most of the gains were minor, just a percentage point or so, but female cover artists rose more than 4%, a big gain made even bigger by the sheer volume of Marvel's variant covers; there are twice as many cover artists as there are creators in any other single category, so gains there are especially significant (as are losses, when they come). Cover artists fueled a strong month for Marvel, who posted their highest total of female creators in nearly a year.
The Past Year at Marvel: Marvel's chart is almost the reverse of DC's, high on the ends with a dip in the middle:

While Marvel hasn't quite hit their past highs, March's showing is very much in ballpark of where the publisher was a year ago. As the chart above shows, however, Marvel tends to be pretty up and down, so it's hard to predict where they'll end up next month.
THE 2017 EISNER AWARD NOMINATIONS
Last year was a huge year for women at the Eisners, the comic book industry's highest honors, with a record number of nominees across a record number of categories. The nominees for this year's Eisners have not topped that feat, though. Comparatively, it's a solid year for women at the Eisners, just not quite at the level they reached last year.
Charting up the female Eisner nominees is a simple endeavour: We just list everyone who's been nominated, mark their genders, and tabulate the percentages. The numbers include all of the nominations, not just the different names, so for example Sana Takeda received three nominations this year and is thus counted three times. The following chart lists the percentage of female Eisner nominees from this year, the three years previous, and biannually back from there. Let's take a look: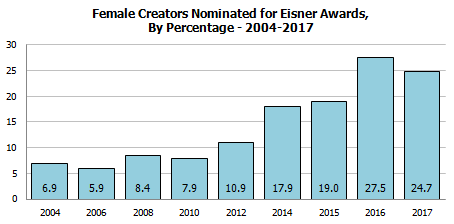 So a bit of a drop, but still relatively very high. The percentage is down about three points, but it still tops the 2015 numbers and all of the numbers previous by a considerable margin.
Furthermore, the representation is much higher than what we see from either major superhero publisher each month, which is a bit of a knock on DC and Marvel. If a quarter of the best creators in comics today are women, perhaps the Big Two should be striving to have similar representation in their comics as well.
The decline in percentage of creators also came with a small drop for female representation by category.
Last year, women were nominated in 27 of the 30 categories, or 90%, while this year that's fallen just slightly to 26 of the 30 categories, or 87%. While the numbers are lower, it's still a very comprehensive lineup, with women making comics at every level in a variety of forms, genres, and styles that are catching the eye of the Eisner Awards committee.
Last year's numbers were extra remarkable because, for the first time since we've been keeping track, there was a higher percentage of female Eisner nominees than female Hugo nominees.
The Hugos are the science fiction and fantasy worlds' biggest awards and the nominations come out a few weeks before the Eisner nominations each year, and they serve as an interesting comparison. Comics, science fiction, and fantasy all have a lot in common, and so we've been contrasting the Eisners with the Hugos for several years now. Last year, women accounted for an impressive 26.3% of the Hugo nominees, but the Eisners bested them with 27.5% women.
This year, it's the Hugo Awards that have posted a massive leap in female representation. Women account for nearly half of the Hugo nominees in 2017, coming in at 47.1%, a total that easily leaves the Eisners' 24.7% women in the dust. Perhaps the women of the comic book industry will take this as a challenge and make extra amazing work this year to try to dominate next year's Eisner Awards!
Still, despite the drop in percentage and the Hugos posting a higher total, female representation at the Eisners remains quite strong relative to every year before the last. New highs are always fun, but consistently solid is good, as well.
To learn more about this statistics project and its methodology click here, and to see the previous stats click here. You can visit Tim at Straitened Circumstances and follow him on Twitter @timhanley01. His books Wonder Woman Unbound and Investigating Lois Lane are available now, and his new book, The Many Lives of Catwoman: The Felonious History of a Feline Fatale, comes out July 1st.
---
---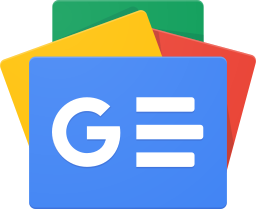 Stay up-to-date and support the site by following Bleeding Cool on Google News today!