G.I. Joe: A Real American Hero #247 written by Larry Hama and drawn by Netho Diaz, continues the story of the new Snake Eyes, Dawn Moreno, in action, starring in the "Dawn of the Arashikage" arc, which began with #246. And fan demand has resulted in a fourth sold-out issue in a row for publisher IDW at the distributor level.
Dawn Moreno, who debuted in G.I. Joe: A Real American Hero #226, was once a gifted high school athlete whose unique physical abilities drew the attention of Cobra Commander. The Cobra elite put Dawn under intense experimentation, accidentally implanting the memories of the original (and now deceased) Snake Eyes into Dawn's fragile teenage mind. Now, as a haunted Dawn struggles against visions of a dark past that does not truly belong to her, Snake Eyes's longtime ninja comrades from the Arashikage Clan have joined together to help Dawn overcome the waking nightmare her young life has become…
There may still be copies of G.I. Joe: A Real American Hero #247 on sale now at your local comic shop, as well as digitally. A second printing of issue #246 is also now available to pick up which kicks off this story in the lead up to the oversized milestone issue #250, to conclude the "Dawn of the Arashikage" arc.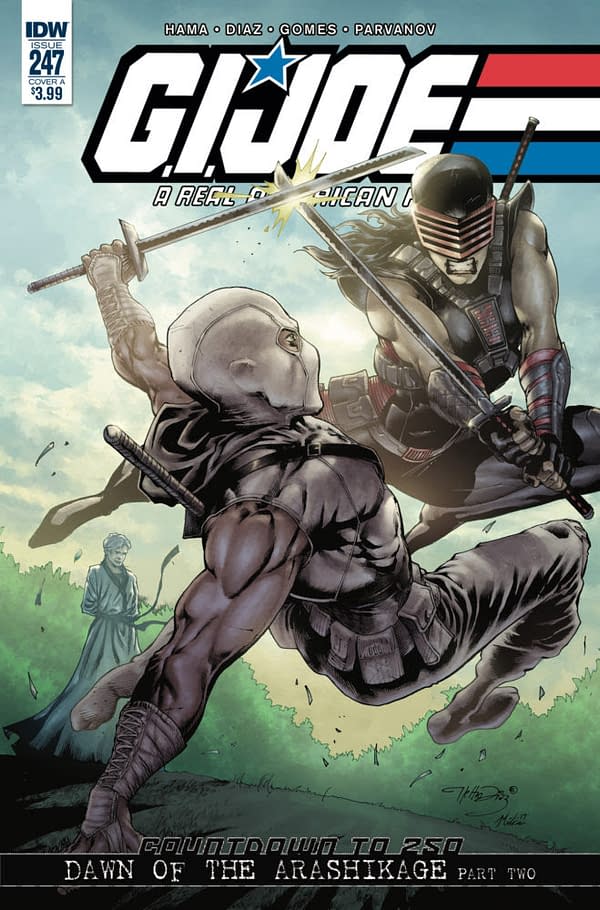 GI JOE A REAL AMERICAN HERO #247
(W) Larry Hama (A/CA) Netho Diaz
"Dawn of the Arashikage," Part Two! Opposing forces threaten to tear Dawn Moreno apart at the seams as she fights her own internal battle for control of her mind. Whose memories will win out in the end-her own… or Snake-Eyes'?
• Second part of a bombastic five-issue arc that ends in a very special over-sized issue #250!
• The birth (and re-birth) of an all-new Snake-Eyes!
• Perfect jumping-on point for new fans!
• Part of IDW's Artist's Edition Cover Month!In Shops: Jan 10, 2018
SRP: $3.99
Enjoyed this article? Share it!