Greg Baldino writes,
One of the hardest things about coping with bipolar disorder is that people don't understand what it actually is and how it really works. I don't just mean that people think it's not real; that everyone has emotional "ups and downs" and that's "just life," although that is part of the overall mental health stigma that impacts millions of people every day. I mean that knowing what bipolar disorder is, whether you have it or not, is not the same thing as living with it.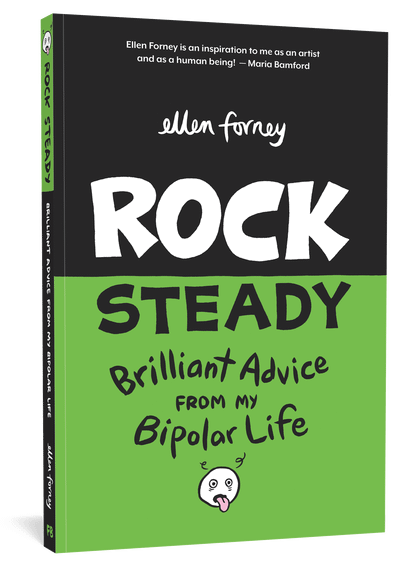 Rock Steady: Brilliant Advice From My Bipolar Life is cartoonist Ellen Forney's second graphic novel about her experience with being diagnosed as having bipolar disorder. Her previous book, Marbles: Mania, Depression, Michelangelo, & Me was a more straightforward autobiography, following her from discovering during therapy that she has many of the symptoms of being bipolar, through trials and errors with medication types and dosage amounts, and struggling with one of the most common mental arguments that prevents people from seeking treatment for mental health:
Am I going to stop being me if I start treatment?
Disclaimer for anyone reading this who might in fact be grappling with that question right now: You are not your ailment, treatment does work, and you deserve to be healthy.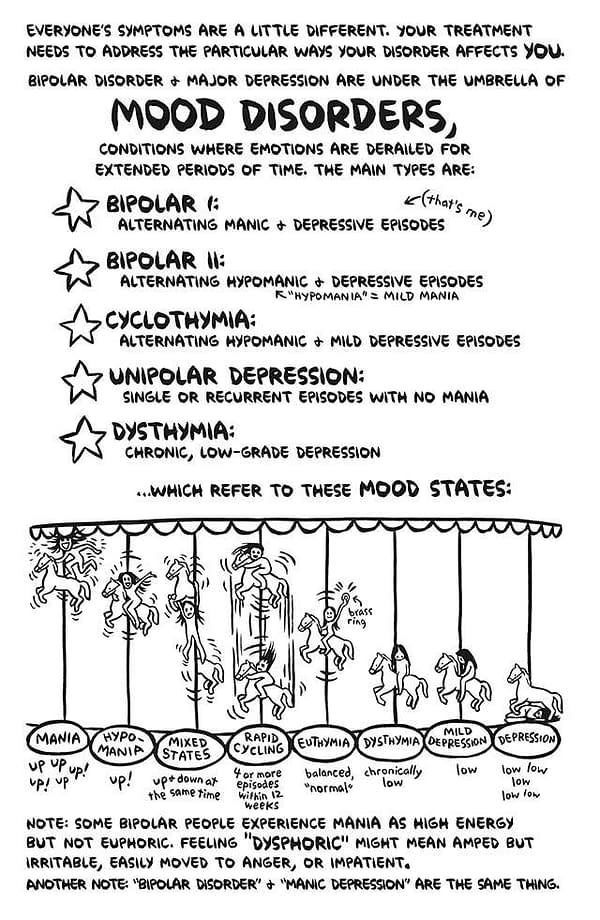 Rock Steady is a very different kind of book. In fact, I feel comfortable treating them as two works in different genres: Marbles is a work of comics, Rock Steady is a work of cartoons.
The book illustrates advice and ideas from Forney's own struggles and successes from working with bipolar disorder. Almost every page can stand alone addressing issues from how to take care of yourself while traveling to managing sleep cycles, and a lot of what to do when things go wrong.
One of the things I like about the book is that it's not "Beat Bipolar Disorder the Ellen Forney Way" but instead an arrangement of information to either make precise, explain, or offer a model. One page contains a flow chart as a guide for how someone might consider thinking through whether a new medication is working or not, and what actions to consider. Another section goes over some breathing exercises that can be used to help with taking control over a manic episode.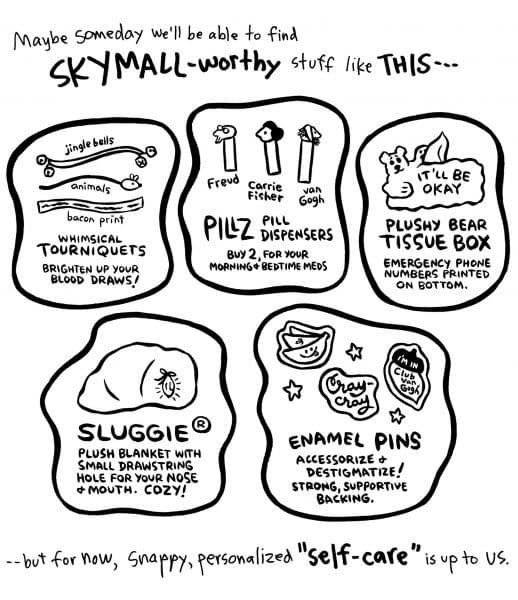 So which should you read, Marbles or Rock Steady? They're both great books, and if you or someone close to you has either been recently diagnosed with bipolar disorder or hasn't but shows a lot of the symptoms, get both. They're going to contribute a lot to understanding and encouragement and help reduce the internal and external noise about it. If you're someone who just wants to learn more about what bipolar disorder is, I would suggest going straight to Marbles but Rock Steady will also help you to understand about how the disorder affects day-to-day life and some of the ways people can cope with it.
Rock Steady: Brilliant Advice from My Bipolar Life is published by Fantagraphics Books, $19.99, available now
Marbles: Mania, Depression, Michelangelo, & Me is published by Gotham Books, $20.00, avalable now
Greg Baldino really wanted to make this an "I Like Bi Books and I Cannot Lie" review because Ellen Forney is bisexual, but was concerned about confusion over interpretation of the prefix in this instance.
Enjoyed this article? Share it!