Doing the tally for 2019, more comic book stores have opened than have closed, by a significant degree. But that does mean some have closed. And Australia seems to be hit harder than most – they have their own challenges mostly due to the horrific costs of importing comics and games to a smaller population spread out over a larger area.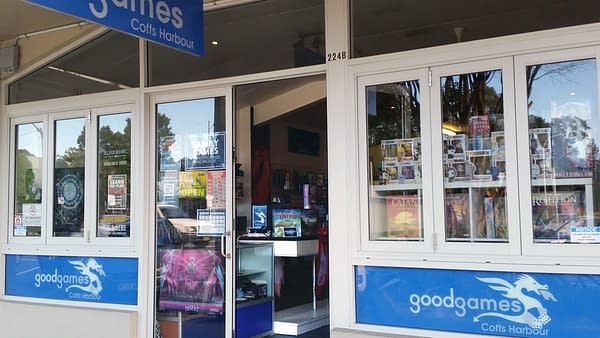 And now Good Games – Coffs Harbour, previously Sawtell Books & Comics, bought by the Australian chain, is now closing their doors. They posted to Facebook,
We are closing…

5 years ago Steve opened up Sawtell Books & Comics and the community embraced him and the store. Who can forget those steamy FNM's with the store packed, full of like minded people who yearned for their own space to play and be themselves. A place where it was ok to be a nerd/geek and where great discussion could be held whether it be that YGO is better than MTG, or Deadpool should of stuck to the comic book form J. It was a safe place where you would be listened to, and your opinion valued regardless of your background.

Our lease is up and with the associated costs of maintaining the Mid North Coast's leading gaming store the decision has been made that we close our doors for trading on the 22/05/2019.

Until this time there will be heaps of store wide bargains and our events schedule will still be jam packed with great prize support and perhaps some not to be missed tournaments. Remember to check out our fb page to see what is happening and what you can grab for a steal, perhaps start your Christmas shopping early , your gift cards and loyalty will be redeemable J

Remember that Good Games is Australia's leading gaming store chain and you can still access all their stores for o/p and purchases. https://www.goodgames.com.au/au/

On behalf of Dylan , Lewis, Lu, Steve and Good Games, Thank you all very much for the continued support over the years.
Enjoyed this article? Share it!