Two more books getting second printing this week, the Scout Comics take on Enzo Garza's Gutt Ghost which has ripped up the back issue market, with the Scout version selling for up to $16. And something similar for Omni #1 from Humanoids by Devin Grayson and Alitha Martinez… both out for September the 25th.
Here are the new solicits.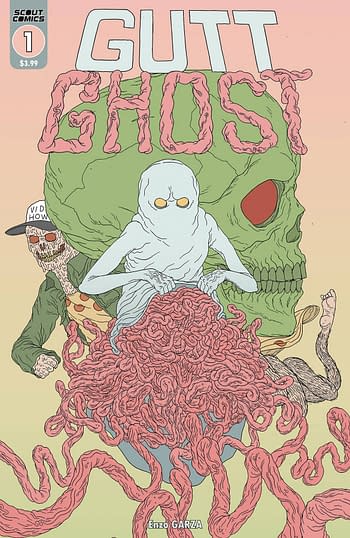 GUTT GHOST TILL WE MEET AGAIN 2ND PTG
(W/A) Enzo Garza
Second printing. As seen in HEAVY METAL magazine, a special one-shot of everyone's favorite intestinal ghost. Who is GUTT GHOST and what's he all about? The reality of it is he's just like you and me. Navigating the same ups and downs that life has to offer. He works a job he doesn't like, has a car that breaks down, pays bills and deals with the same headaches that come from being a ghost with guts. Things like an ex-girlfriend and her obnoxious runt of a creature new boyfriend, flakey friends and the troubles with resurrecting dead ones, confrontations with a stranger and accidentally eating them alive. It's normal stuff we all deal with and he's no stranger to it. This special issue sees ordinary ol' Gutt run into an interesting individual named Pete Zaghloul, aka Pizza Ghoul, and all the troubles that come with keeping your word and hanging out. Plus there's sure to be some inside out people, a cult and someone's car gets broken into. All completely normal and relatable stuff! $3.99
OMNI #1 2ND PTG (MR)
(W) Devin Grayson (A) Alitha Martinez (CA) Mike McKone
A young doctor suddenly and mysteriously acquires superpowers…as do several other individuals on the planet. But only her power can answer "why."
A gifted doctor with a vibrant, compassionate personality, Cecelia Cobbina received boundless praise from her peers and her patients. But that was before the incident in Africa. Before she was forced to leave her job at Doctors Without Borders behind…Before she gained the ability to think at superhuman speed. Overwhelmed with the power to answer every question, she must now overcome her own fears and tackle the one code she can't seem to break: the truth behind the Ignited. $3.99
Enjoyed this article? Share it!