Hal Jordan Crosses the Thin Green Line in The Green Lantern #3 (Spoilers)
The Green Lantern #3 by Grant Morrison, Liam Sharp and Steve Oliff is published today. And sees the Earth disappeared and shrunk for the second time in a month. Both Green Lantern and the Superman comics may be tying in with the events of Doomsday Clock, but they could probably have a little more connective tissue between the two titles…
And while Doomsday Clock and Superman have had their own gods to battle with, no none of them have quite the look of The Shepherd, buying the shrunken Earth in auction…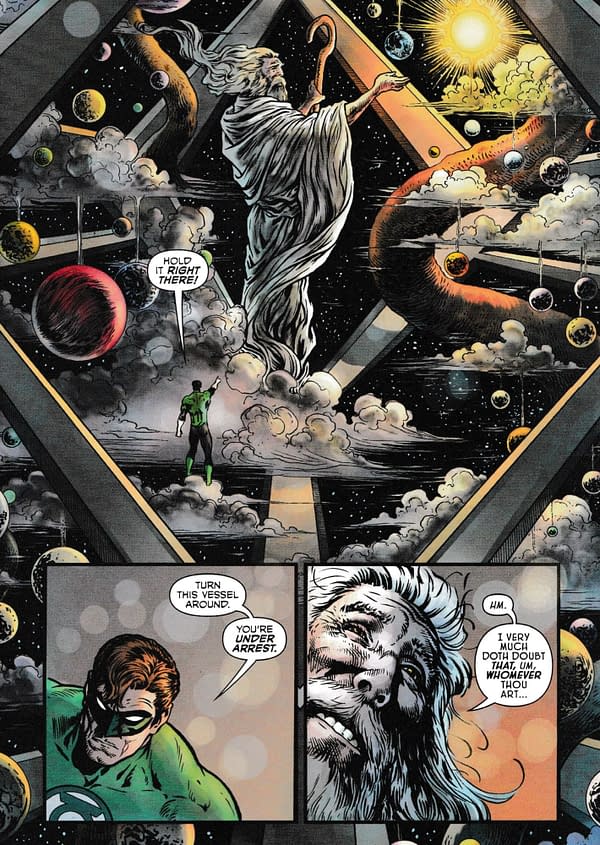 I think this is the first time that a Green Lantern has arrested God. And despite having a plot that would never have been signed off fifty years ago, maintains a kind of narrative madness from those days, with more modern sensibilities. It's a heady balance to tread and Liam Sharp's readiness to portray the most insane demands while still being a superhero story is utterly admirable. He stands somewhere between a Neal Adams and a Jack Kirby and also holds both demands simultaneously.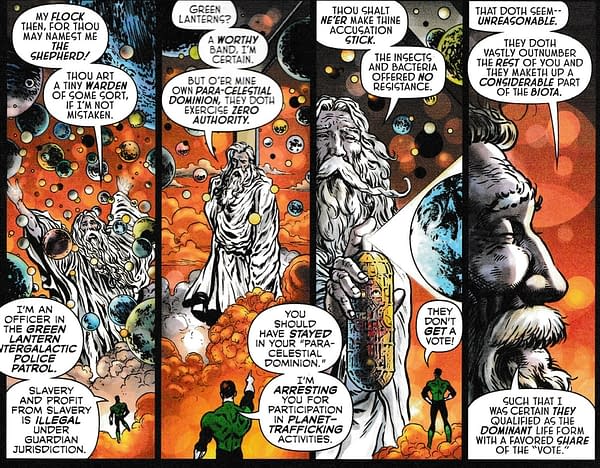 While combined with genuinely intriguing and morally chewable ideas about what the consent of life on Earth to being shepherded would take and whether we would even have a say in it, which smacks of the very best that Grant brought to Animal Man. This issue could well be its own version of Animal Man #5 for very different reasons. Remember, you can stop any time and pick the comic up for yourself and then return, so you can nod along with me on this one.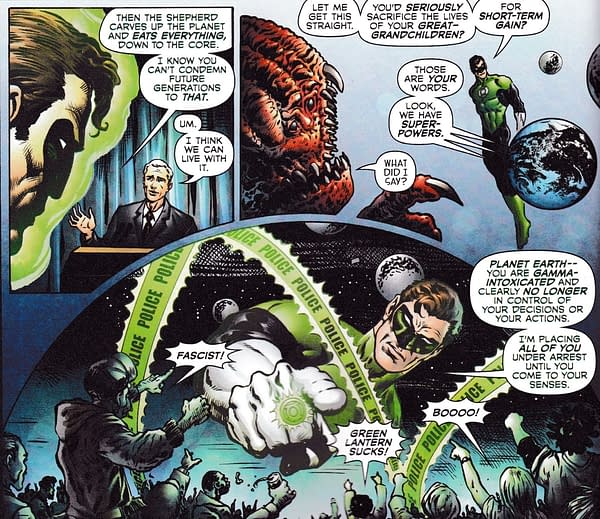 That's right, the Green Lantern goes from arresting God to arresting the entire population of Earth. Oh and surrounding it in police tape as a crime scene. And this is not a parody, and it never comes off as one. Even when…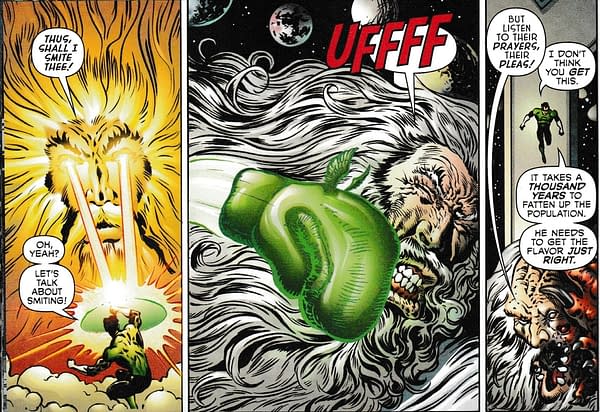 Even when he punches God with a green boxing glove. Not even Savage Dragon went so peculiar. And that really really tried.
But even these amazing comic book scenes are a distraction for what will come as Hal Jordan goes all-out for the rest of the auction and the slave driver behind it, with his own mealy-mouthed excuses straight out of the Guardians playbook.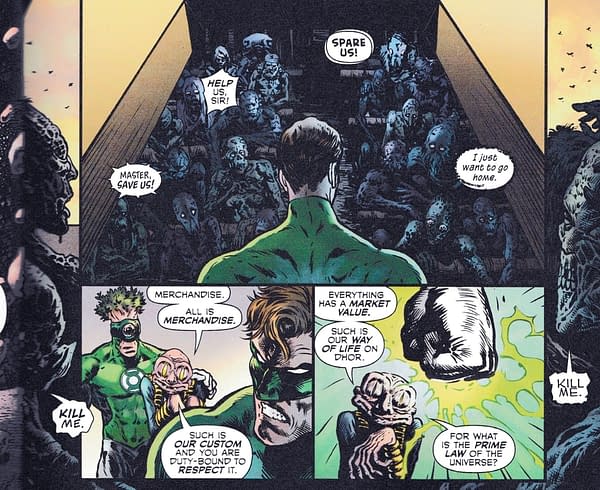 And deciding to cross a line.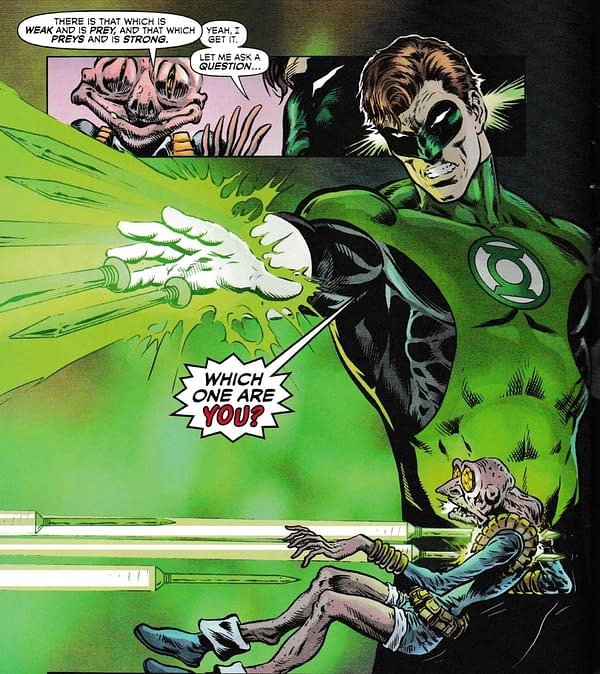 If The Green Lantern is being recreated as a cosmic space cop procedural story, this is when the cop crosses the thin blue line, becomes the bad guy…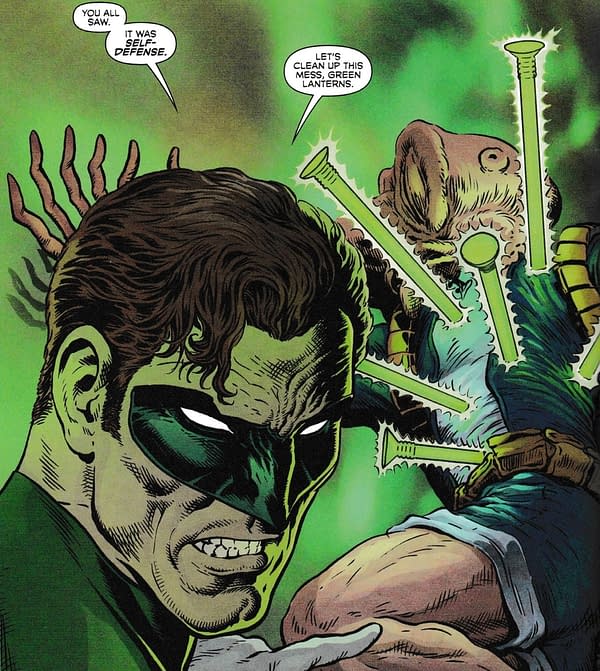 …and ends up corrupting his fellow officers as well.
Is it Parallax time again? Is Hal Jordan going to get nailed for this as well?
GREEN LANTERN #3
(W) Grant Morrison (A/CA) Liam Sharp
When the Earth goes up for sale on the alien black market, it's up to the Green Lantern Corps to bust up "The Slave Lords of the Stars" in the latest space saga from Grant Morrison (MULTIVERSITY) and Liam Sharp (WONDER WOMAN)! With the Justice League frozen by Gamma Gong tech, Earth ends up on the auction block, and Volgar Zo hosts a menagerie of the universe's deadliest despots and criminals: Steppenwolf, Queen Bee, the Dominators and much, much worse. Hal Jordan leads a squad of Lanterns into the fray-and someone's going to pay the ultimate price before this case gets closed. In Shops: Jan 09, 2019 SRP: $3.99