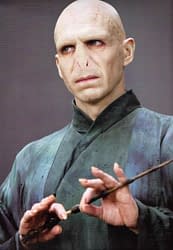 It's kind of funny that the big bad guy in the Harry Potter films that no one was supposed to speak his name… had his name pronounced wrong in the films. According to author J.K. Rowling the 'T' at the end of Lord Voldemort is silent. Kind of like the 'T' in Stephen Colbert. If you listen to the audio books, the narrator got the name correct but in the films the 'T' was pronounced.
Maybe it was part of a plan to be able to say his name without actually saying his name. Or maybe it was something like in the last season of Arrow where different people pronounced Ra's al Ghul differently depending on which side they were on.
Either way, it's something for Warner Bros to keep in mind when it comes time to do the 25th anniversary re-release…
… but I'm pretty sure I'm the only person who pronounces it that way. https://t.co/HxhJ5XY5HP

— J.K. Rowling (@jk_rowling) September 9, 2015
Enjoyed this article? Share it!