The Holocaust-Denying Comics Artist Who Used to Draw the Fantastic Four…
Washington-based comic artist Rob Clifford who exhibits at shows as Big Robot posted a typically robust response to the latest news about a German solider Oskar Groening, now in his nineties, who worked as an accountant at Auschwitz, as well as processing prisoners as they arrived, and had been sentenced to four years in jail after being found guilty in July 2015 of being an accessory to the murders of 300,000 people.
He then received a reply from fellow artist Joe Dodd, who has worked on Nightwing for DC Comics, Fantastic Four for Marvel and Grimm's Fairy Tales for Zenscope. The post has been deleted and Dodd has deleted his Facebook account. This screencap may suggest a reason why.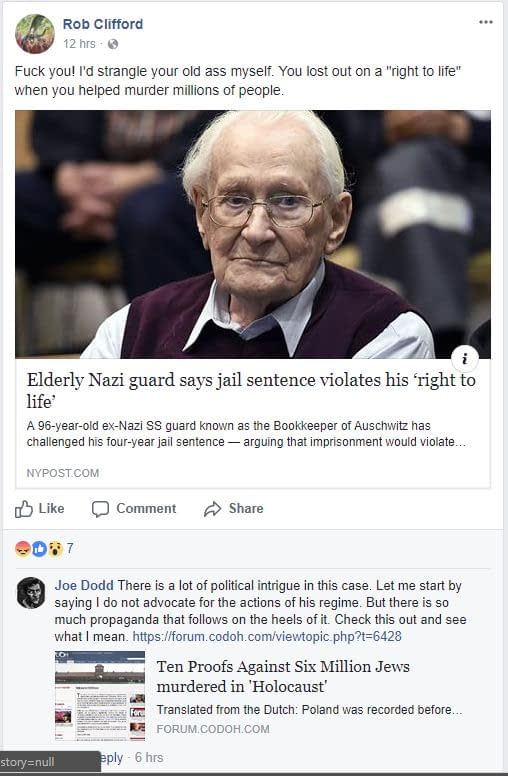 It's not often you come across a Holocaust denier who is also a comic book artists. And who has worked on the Fantastic Four, a comic created by Jewish soldiers who actually fought Nazis. And whose first name is Joseph.
I guess it takes all sorts… After working in comics, he worked as a toy designer for Hasbro, and as a character designer for Dreamworks on BOO and as a concept artist on GI Joe Retaliation.
He did not reply to inquiring e-mails sent earlier today.
UPDATE: After publication, Dodd did get in touch to tell me that,
a) he educated himself after posting this and states that he was wrong.
b) he is no longer participating on Facebook as it is "used as a tool for propaganda for the CIA to control the narrative and sway public opinion and then to shame and ridicule those that have a differing opinion than others."
c) he wished me happy holidays.