House of Whispers #1 Review: Sandman Universe Struggling to Create Engagement
[rwp-review-recap id="0"]
We join House of Whispers as Uncle Monday of the Brotherhood of Teeth joins a fandango in honor of Mistress Erzulie Freda Dahomey. Deities and dreamers join this party, many of which petition Mistress Erzulie for favors. Meanwhile, the four women we met in Sandman Universe #1, Latoya, Maggie, Lumi, and Habibi, look at a strange book belonging to the Loa known as Shakpana. This Loa is fueled by rumor and hearsay, and his entering our realm would unleash disease. Mistress Erzulie doesn't intend to allow this.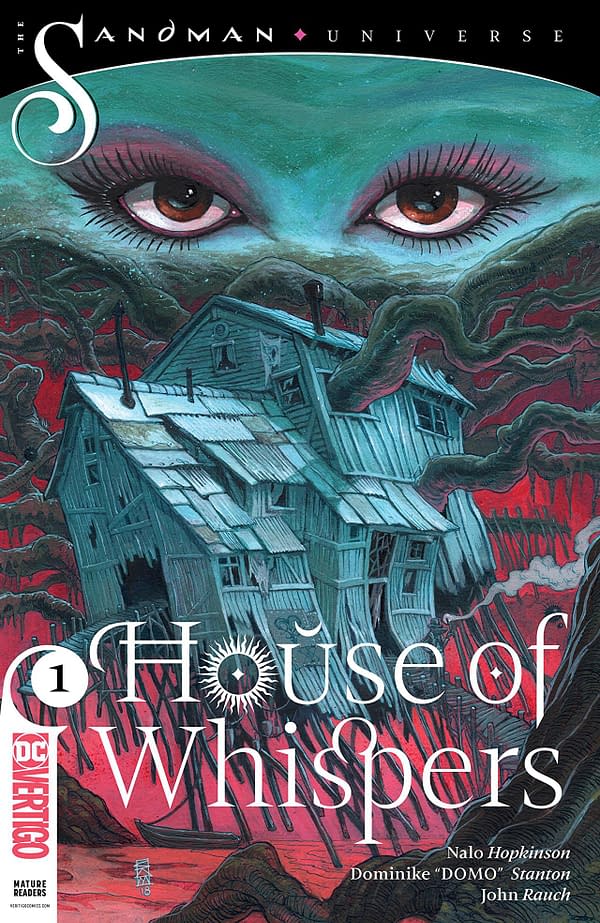 House of Whispers #1 is like The Dreaming #1 in a lot of ways. Both deal with dream logic as a foundational concept, metaphor and analogy move the plot, and deities and abstract concepts are many of the main characters.
Despite the similarities, I found myself enjoying House of Whispers far more. It has human characters with personalities that are easier to attach one's self to. There is an immediate threat that needs direct action as opposed to the vague and slow-boil crack in the Dreaming.
Also, Mistress Erzulie is pretty damn awesome. She's jovial and overflowing with personality.
Uncle Monday is an interesting character too, and I'm unsure if he's a genuine antagonist.
I'm not in love with the comic though. It's still a slow-boil and having more tension and tangible conflict than Dreaming #1 is a pretty low bar. The vagueness of the concepts and plot make it difficult to be too engaged.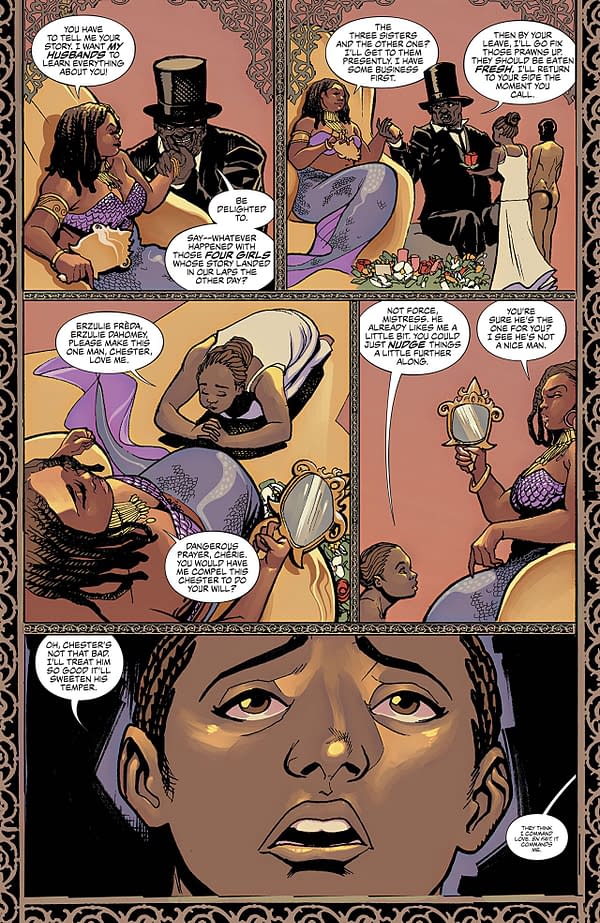 Domo Stanton's artwork is great at least. The visuals are creative and flowing. There is an upbeat attitude to the narrative that is well-reflected in the art. Ezurie and Monday's visual designs are very appealing. John Rauch wraps it all up with a good sense of color balance that still leans on brightness and vibrance.
House of Whispers #1 is a decent read. The characters are interesting, and the art is fantastic. These Sandman Universe titles have a difficult time maintaining enough tension and conflict to keep the reader engaged, but this is definitely the best of the batch so far. I can tentatively recommend this one, though I wouldn't call it a must-buy.
[rwp-review-ratings id="0"]
[rwp-review-form id="0"]