Benjamin Kay writes,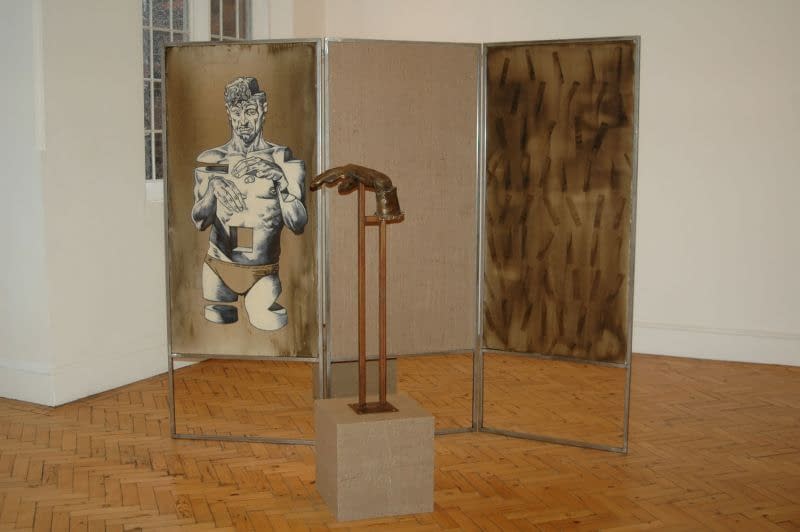 It's nothing new when an image from a comic book is appropriated by its lofty fine-art cousin. A recent example involves a piece that has seen plenty of art-world exposure since 2007. Logs From the Black Forest is a celebrated work by established British artist Steven Claydon. It pinches a drawing straight from the pages of a Judge Dredd strip drawn by Brian Bolland in 1980. Should we, the protectors of all things popular and dorky, cast judgement in a moment of protective fervour? Well, as with all art conversations, it's complicated.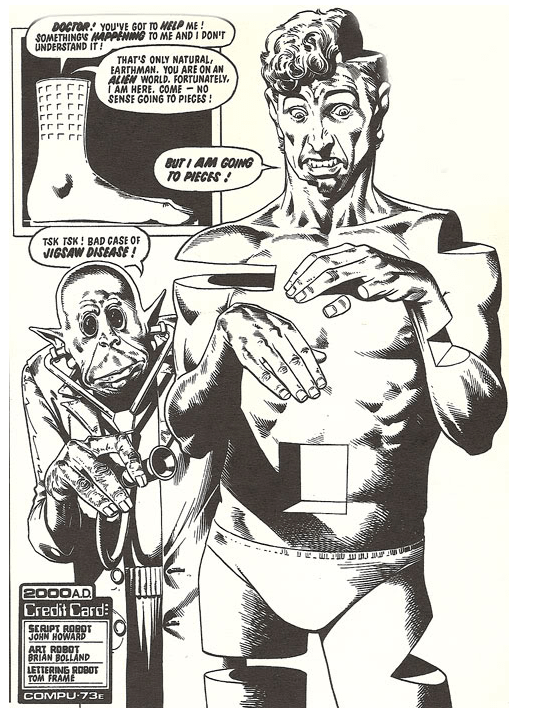 I reached out to Bolland because I was interested in two things. Firstly, is comic-book art still seen as a lesser medium? Secondly, how does taking a random assortment of images and slapping them together constitute art? The answers I got were surprising.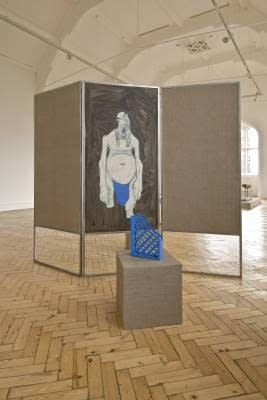 Logs From The Black Forest is a multi-faceted artwork. It consists of a tri-fold screen between a statue of a bronze hand on one side, and a blue file folder on the other. The screen is emblazoned with two images: a sketch by Norwegian artist Olaf Gulbransson, and Brian Bolland's Jigsaw Man from the 2000 AD storyline. Claydon's motivation was to form "a hybrid idea of a public monument by creating a fiction.'' In his explanatory blurb, Claydon credits the original sources.
Bolland said of the piece, "It's what I would call radical juxtaposition. If you take something that you found and put it next to something else, maybe two or three things, then you have created something new, haven't you?"
"I will stick up for fine art. As someone who's got no vested interest, I really enjoy it," Bolland insisted. However, his acceptance is tempered by one crucial difference. Comic artists are commissioned professionals.
When we talked about financial gain, Bolland was definitely of two minds. Claydon sold the piece to the Arts Council Collection at the Southbank Centre in London. When I asked how this made him feel, Bolland was divided. "I don't really care, ethically, about the money. Then of course, when it comes to the question you've just asked me, it's a different matter, isn't it? I'd probably like to look him in the face and bring up the issue. I'd like to tell him how much I was paid for it."
Bolland was quick to reference his run-in with Icelandic artist Erro, who is not as forthcoming with many of his sources. In copying a Tank Girl cover of Bolland's, Erro not only claimed the work as his own, he sold prints of it. "The problem I had with Erro was that there was something particular about how he copied my picture in almost every way and detail, but the one thing he did was erase my name… It was just like some trash he found somewhere."
In a bittersweet victory for commercial comic-book artists, Erro was roused to make reparations after Bolland penned an open letter. Bolland chuckled when telling me about it: "When Erro did his print of my tank girl, he was charging 600 euros a print. I thought, well, that's not right, and he agreed. And he recontextualised the money from his account into mine. On the one hand it was a success, on the other I felt a bit bought off."
Some of Erro's other imagery didn't sit well with Bolland either: "He picked all the most vulgar stuff, and by throwing it on the canvas he recontextualised it into what he called art. I found that patronising."
Bolland's thoughts on Logs From the Black Forest were different. "When I first looked at it, I thought, what a bloody cheek. But then when I looked at it again I noticed there was the hand. So he'd obviously looked at the image and thought enough about it that it was worth doing all that work. So I didn't feel as patronised by him."
When you dig into the subject, comic artists have been treated terribly by the modern-art world. Perhaps the most famous example is Roy Litchenstein's pop art, yanked straight from the pages of artists like Jack Kirby and Irv Novick. Artists who received no credit or royalties from Litchenstein. Bolland was invited to contribute to Rian Hughes' Image Duplicator exhibition, which tongue-in-cheek parodied Litchenstein's work.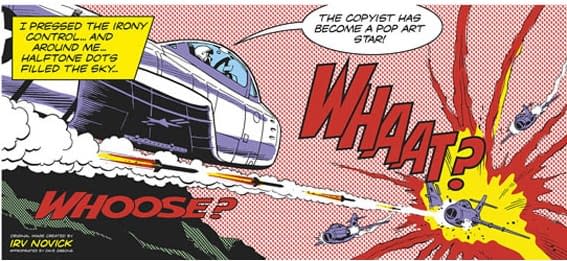 In explaining the thickest instance of irony possible, Bolland said: "I was going to take a Roy Lichenstein print and enlarge it and enlarge it, so it was just dots. You'd see it as a process, it would be like a six-pannelled, probably 12-pannelled grid, it became like an abstract. I was told, well, you can't do that, because Roy Litchenstein's lawyers are pretty hot, and they would have you down for copyright, for plagiarism."
With fine art you often have to wade through the arty speak to get to the pith of its concepts. Sometimes, this rhetoric acts as justification enough for things like appropriation and context. An artist from a prestigious art school, with the right contacts, can combine whatever elements they please to produce 'accepted' art. I chatted to Bethany Hughes, Collections Curator at the Arts Council Collection about this paradigm, and she had some interesting points.
Hughes said, "If it's an appropriation of a whole work, if it's an outright copy, the there is a massive issue there, but if it's an appropriation of a certain detail or image, I would probably want to try and understand why that was felt to not be a continuation or interpretation of a work."
I went on to ask whether comic-book art was becoming accepted in fine-art circles. "In the same way that photography has had this steady climb towards being recognised in the same realm of painting and the sorts of very traditional mediums, I feel like comic art has the same journey but is reaching those levels," Hughes offered.
Regarding the appropriation of Bolland's image by Claydon, Hughes was insightful, "Thinking about other artists that I know working with image appropriation, I can't think of any examples where it's about lesser art forms, or someone trying to make a comment about it being a lesser art form."
Bethany Hughes implied to me that credit is an important facet of appropriation. Perhaps examples such as Erro and Litchenstein are becoming embarrassing moments best forgotten by modern-art circles. But arty terms and misinterpreted intents still confuse the issue. It's like a hangover from the time when comics were considered the trash of Brian Bolland's suggestion.
The fact that Claydon references Bolland is a milestone for comic artists. Yet, unfortunately, the art world has let them both down. Claydon's notes regarding his work acknowledge Brian Bolland's image of the jigsaw man. The Arts Council Collection, in its explanation of the piece, merely mentions an image from "popular cartoons." This dilution translates often when Logs From the Black Forest is displayed. Individual attitudes may be catching up, but the fine-art establishment is still lagging behind – as evidenced by such blasé terminology. 'Popular cartoons' manages to cheapen the comics medium to 'lesser rubbish' in exactly the same manner as Erro and Litchenstein. This time, it's with words instead of images.
Enjoyed this article? Share it!