J.C. Leyendecker Saturday Evening Post Cover Hits Record $4.1 Million

Joseph Christian Leyendecker (1874-1951) is considered one of the most influential American illustrators of the 20th century. Best remembered for his advertising and book illustrations, WWI posters (his "Weapons for Liberty" war bonds poster is one of my favorites of the period) and The Saturday Evening Post and other magazine covers, Leyendecker's expansive influence on the field of commercial illustration has even extended to comic book artists. I know more than a few artists in the field who consider him an influence in the modern day. His cover for the November 21, 1914 issue of The Saturday Evening Post, titled "Beat-up Boy, Football Hero" has just hammered at Heritage Auctions for an eye-popping $4.1 million.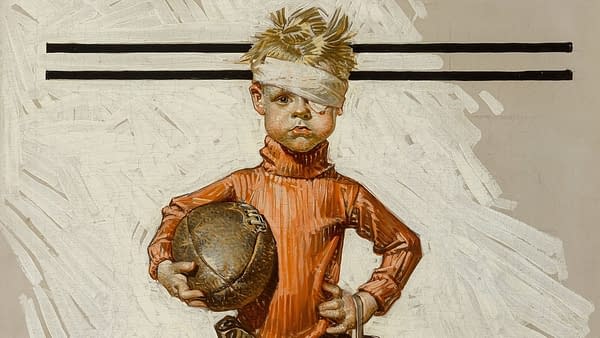 The pre-auction estimate for "Beat-up Boy, Football Hero" was $150,000-$250,000. The previous record for a J.C. Leyendecker original was set in December 2020 at Sotheby's, who sold his cover for the September 6, 1930 The Saturday Evening Post, titled "Carousel Ride" for $516,100.
On the subject of cover illustration, Leyendecker once told The Saturday Evening Post, "It should, therefore, tell its story on one plane, be without realistic perspective and distance…. A cover that carries an explanatory legend defeats itself…The editor prefers the cover to the simple picture because the cover sells more copies of his magazine. It sells more copies because it carries further and hits harder. It hits harder because it is a symbol; it is concentrated and says what it has to say in a straight line. It carries further because a good cover has a distinct silhouette. The reader will notice it at a greater distance. And though he can't make out the design, still the design will pull him in."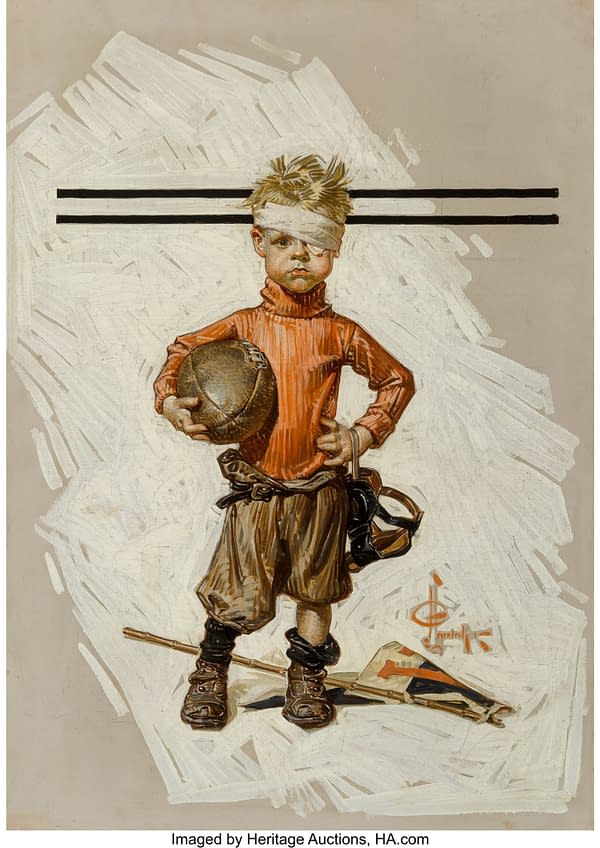 DALLAS, Texas (May 7, 2021) – Joseph Christian Leyendecker's Beat-up Boy, Football Hero which appeared on the cover of The Saturday Evening Post on Nov. 21, 1914, sold Friday for $4.12 million, shattering the previous world record for a work by the influential illustrator.

The painting was a centerpiece of Heritage Auctions' May 7 American Art Signature Auction, alongside masterworks by such revered names as Moran, Bierstadt and Rockwell. Numerous records for several significant artists were set throughout the day, as the total for the nearly sold-out American Art event surpassed the $10.7 million mark.

"I always vowed that I would be the first one to sell a million-dollar Leyendecker," says Aviva Lehmann, Heritage Auctions' New York City-based Director of American Art, pictured at left with the record-setting painting. "I am honored to have sold this masterwork for $4.1 million. Not only was it a huge day for Heritage, but it was a historic day for American art."

The previous world record for a J.C. Leyendecker original was set in December, when Sotheby's sold his 1930 work Carousel Ride for $516,100.

The extraordinary portrait of a bruised, bandaged, scuffed-up but proudly defiant young boy had never before been to auction. In fact, until now this delightful work from the creator of The Arrow Collar Man has resided with one family for nearly a century. And it looks today as it did upon its creation: The painting has never been relined and remains housed on its original stretcher.
It was estimated between $150,000-$250,000, and the bidding opened Friday afternoon at $135,000. But within seconds it became clear this was going to be a piece over which a bidding war would be waged.

The auction room grew loud when the Beat-Up Boy crossed the million-dollar mark; louder still when it surpassed $2 million, then $3 million. And when the hammer fell, when the final price hit $4,121,250, the room erupted in applause.

A Football Hero. And, today, an auction hero.