John Macaluso, CEO of Wizard World Entertainment has issued the following letter, resigning from the company.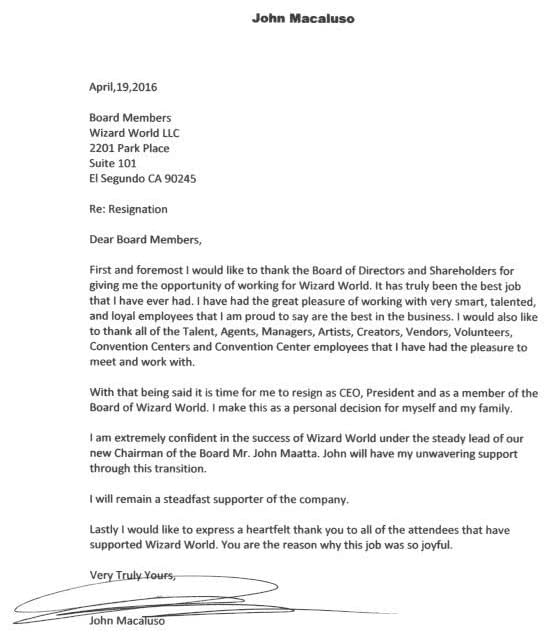 It reads,
Re: Resignation

Dear Board Members,

First and foremost I would like to thank the Board of Directors and Shareholders for giving me the opportunity of working for Wizard World. It has truly been the best job that I have ever had. I have had the great pleasure of working with very smart, talented, and loyal employees that I am proud to say are the best in the business. I would also like to thank all of the Talent, Agents, Managers, Artists, Creators, Vendors, Volunteers, Convention Centers and Convention Center employees that I have had the pleasure to meet and work with.

With that being said it is time for me to resign as CEO, President and as a member of the Board of Wizard World. I make this as a personal decision for myself and my family.

I am extremely confident in the success of Wizard World under the steady lead of our new Chairman of the Board Mr. John Maatta. John will have my unwavering support through this transition.

I will remain a steadfast supporter of the company.

Lastly I would like to express a heartfelt thank you to all of the attendees that have supported Wizard World. You are the reason why this job was so joyful.

Very Truly Yours,

John Macaluso
Macaluso took over the company after the Shamus brothers, Gareb and Stephen, stepped back after considerably poor publicity for the brand. Initially the company seemed to turn around, focusing on the comic book convention side.
But after making millions in 2014, Wizard World lost over $4 million in 2015, and sold most of their ConTV venture to Cinedigm at a loss of over a million. The company has begun to reduce shows in 2016, including the abandoned 2016 Orlando Wizard World Comic Con.
Macaluso was well compensated at the company. Speaking on the phone to him yesterday, he told me he expects to remain in the industry. We look forward to his next announcement.
Enjoyed this article? Share it!