The Joker, the Clown Prince Of Crime, everyone wants a bit of him. There are lots of Jokers over in the Gotham TV series, Jared Leto is promoting a Joker movie starring him, the Joker has just popped up in Doomsday Clock and he's also found out about the Batman wedding. And has issues.
He has no super powers, save for that of will. I don't think the Joker has ever worn a standard Green Lantern ring before. Maybe someone should write that. Joker has the ability to do whatever he puts his mind to. And in today's comic books, that seems like quite a lot.
In Batman: The Wedding Prelude: Nightwing Vs Hush, the Batfamily learn that the Joker knows about the impending Batwedding and is carving his way across Gotham as a result in search of an invite.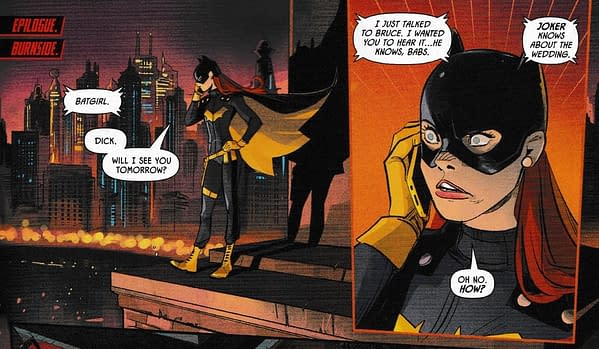 In Batman #48 he is singing the Batman theme tune.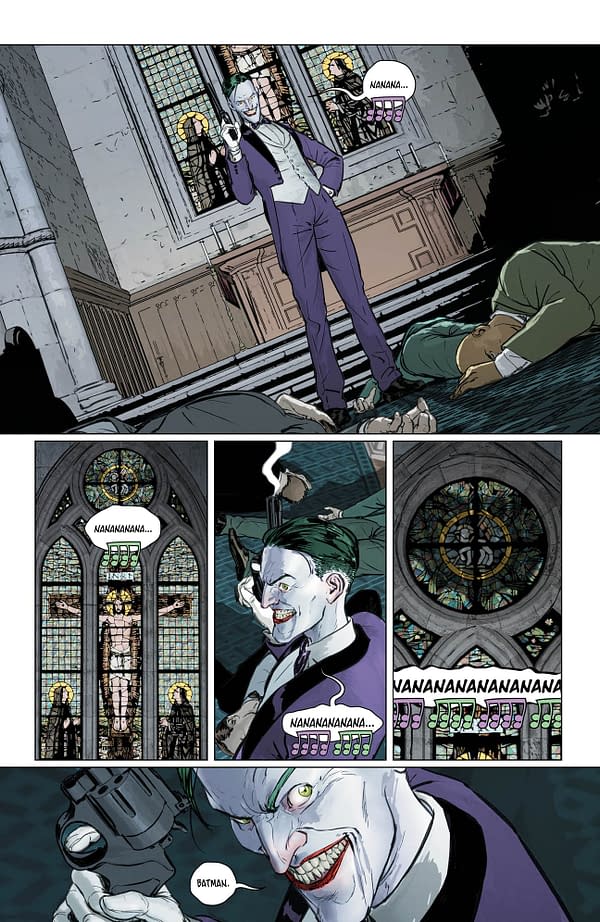 And kneeling to pray alongside Batman.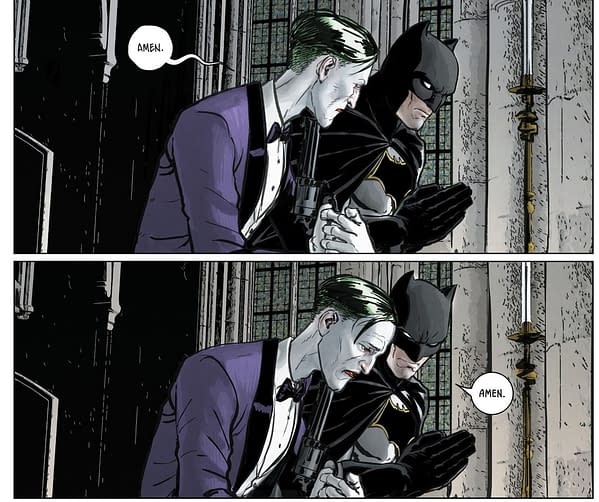 In Man Of Steel, he is apparently driving through Metropolis in a Jokermobile being filmed and threatening to kill someone live on air.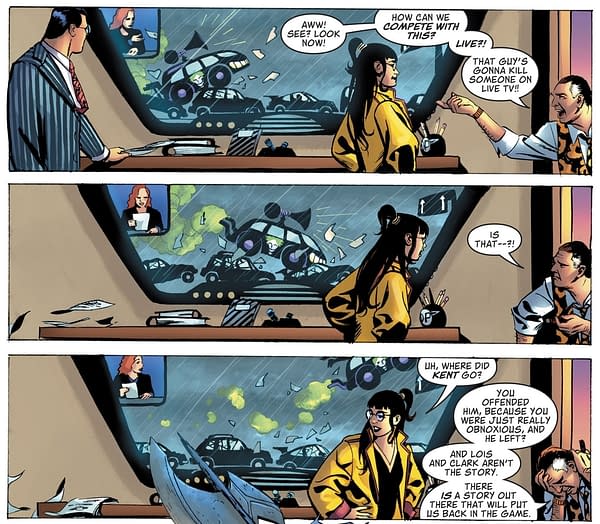 In Justice League he is heading up a new Injustice Gang, a Legion of Doom – and breaking the fourth wall by swearing at the readers.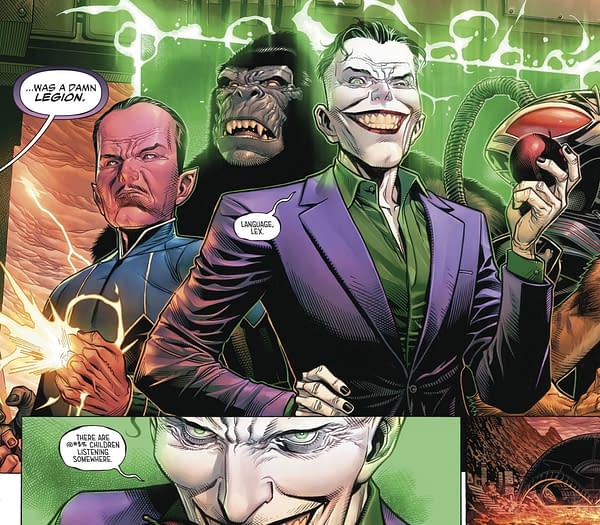 And shown in the future as somehow being part of the Sun.

It was Grant Morrison who wrote that Superman would be the ideal for humanity, that they would stumble and fall, but one day join him in the sun. I'm not sure he meant to include the Joker in that subset…
The Sun has got the Joker's face on, hip hip hip hooray, the sun has got the Joker's face on and he's coming out to play….
JUSTICE LEAGUE #1
(W) Scott Snyder (A) Mark Morales (A/CA) Jim Cheung
"THE TOTALITY" part one! A brand-new era begins here! Comics legends Scott Snyder and Jim Cheung launch the Justice League into a cosmos-shaking mystery that will draw out their most terrible foes…in ways our heroes couldn't possibly imagine! In this debut issue, Martian Manhunter struggles to protect the team from an incoming threat that will shatter the world as they know it, while a familiar face strikes out on a dark path…In Shops: Jun 06, 2018
SRP: $3.99
BATMAN #48
(W) Tom King (A/CA) Mikel Janin
"THE BEST MAN" part one! Batman and Catwoman decide it might be better to elope rather than go through some big, stodgy wedding ceremony, but no sooner do they put their marriage on the fast track than The Joker appears! And when The Joker kidnaps the Caped Crusader, will he give his old foe a piece of his mind or bash in his brains? In Shops: Jun 06, 2018
SRP: $2.99
BATMAN PRELUDE TO THE WEDDING NIGHTWING VS HUSH #1
(W) Tim Seeley (A) Travis Moore (CA) Rafael Albuquerque
Dick Grayson has a lot of responsibility. Being the original partner to Batman, he's the natural choice to be Bruce Wayne's best man. So if anyone has to get to the wedding, it's going to be him. Too bad Hush has other plans-and maybe Bruce Wayne does, too! In Shops: Jun 06, 2018
SRP: $3.99
MAN OF STEEL #2
(W) Brian Michael Bendis (A) Evan Shaner, Steve Rude (CA) Ivan Reis, Joe Prado
With an arsonist loose in Metropolis, Superman's powers are almost useless in finding the culprit. And back at the Daily Planet, everyone wants to know what's going on with Lois Lane. How can Clark hold on to the secret of what happened to Lois and Jon much longer? In Shops: Jun 06, 2018
SRP: $3.99
Enjoyed this article? Share it!