Bleeding Cool's Kickstarter Correspondent, Shawn Demumbrum has lead three Kickstarter campaigns to launch comic books, two successfully funded and one that wasn't. Each week he will point out some of the unique Kickstarter projects that wouldn't normally be published by the big comic book companies, but deserve your attention. Shawn's current project Break the Walls: Stories Inspired by the Songs of the Pixies is also being funded through Kickstarter.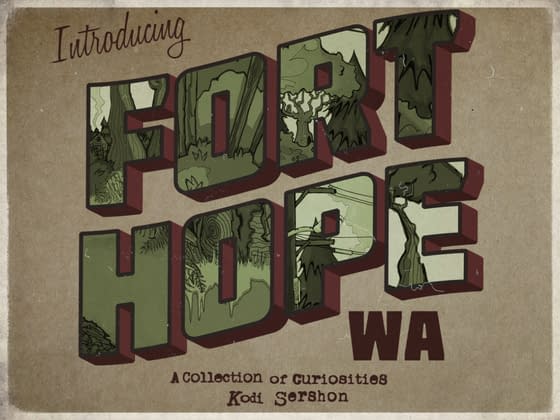 Project: Fort Hope
Creator: Kodi Sershon and Zach Zediker
Concept: Welcome to Fort Hope, Washington. A quaint small town on the East side of the Olympic Peninsula. A popular tourist trap to those looking to get away from it all and a destination for those seeking the paranormal. The murder of an outsider sets the stage for an eclectic cast of characters.
Fundraising for: "$400 is the absolute minimum amount I need to get a decent copy of this book on paper and into your hands. This isn't for profit, it's for the love of making art and sharing it. $400 will print 100 full color, 36 page, comic size copies of Fort Hope and cover the cost of the listed rewards."
Sweet spot: Pledge $8 or more. One copy of the Fort Hope book with a personalized thank you note written inside the cover.
Cool Zone: Pledge $25 or more. On top of the book you'll receive six Fort Hope relics sent monthly in the mail. Things like post cards, letters, photos, and drawings. All contributing to the Fort Hope story, never to be seen in a book or online. When was the last time you got something good in the mail?
Tipping point: Maybe it's the fact that I've been watch Twin Peaks on Netflix for the past two weeks, but the idea of paranormal in a small town really appeals to me. When you add to that a subscription level with physical props that add to your experience of the story, it makes this one of the more interactive Kickstarter comic projects.
So far: $1,470 of $400 with 8 days to go
Project: Arcadian Knights
Creator: Garrett Free
Concept: " A man falls prey to a Nazi science experiment that lands him in the devil's House of Wolves. He must make a deal so he can get back to the States to his wife Mae, but in order for that to happen he must bring the souls of 9 evil men to the devil."
Fundraising for: "I plan on using the money to fund the printing, production, and conventions."
Sweet spot: Pledge $15 or more. A signed copy of the first or second issue with a button. (includes free shipping to US backers).
Cool Zone: Pledge $200 or more. Will get you a piece of original artwork from the series along with the entire print run and the collected graphic novel, poster, and button.
Tipping point: Werewolves and Nazis. Do I need to say more?
So far: $425 of $300 with 9 days to go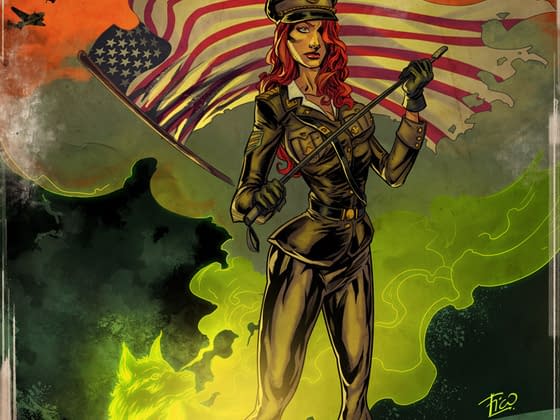 Project: The Falling Star
Creator: Eric Weiland, Robert Flowers and Michael Webber
Concept: "The story takes place thousands of years from now long after a great FINAL WAR has wiped out most of mankind and sent the rest of the survivors into space. Earth is covered by a GREEN SWARM of mechanical nano-creatures that devour everything in their path! NAREH, a girl who lives aboard THE SPACE UMBRELLA finds herself in the middle of a battle for the fate of mankind when she is jettisoned from her home in the sky down to the wastelands of earth. Nareh meets a young refugee named GAV from ANCHORPOINT (the shantytown built up around a SKYHOOK CABLE connected to the Space Umbrella) , and a WAR-ZECH pilot named DALLIAN. The three heroes travel the stars on a series of adventures that take them from the wastelands of earth all the way to mars, and back again!"
Fundraising for: "Nearly all of the money from this Kickstarter will be going to pay the very talented Michael Webber for his fine work and to pay for printing/shipping costs."
Sweet spot: Pledge $10 or more. The Falling Star Issue 0 bagged, boarded, signed by Michael Webber and Erik Weiland.
Cool Zone: Pledge $100 or more. Hardcover art book with all of the concept art and sketches from Issue 0. Your name on our special thanks list. A super small full color edition. A signed original sketch from artist Michael Webber. A signed and numbered version of the "Prismatic Solar Rain" Issue 0.
Tipping point: Part Man who fell from Earth and part Robotech without androgynous David Bowie.
So far: $691 of $1,500 with 14 days to go
Enjoyed this article? Share it!