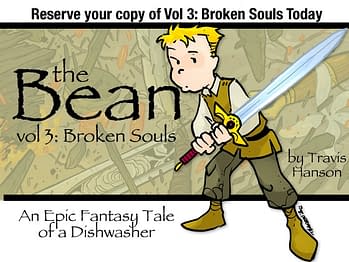 Bleeding Cool's  Kickstarter Correspondent, Shawn Demumbrum has lead three Kickstarter campaigns to launch comic books, two successfully funded and one that wasn't.  Each week he will point out some of the unique Kickstarter projects that wouldn't normally be published by the big comic book companies, but deserve your attention.  Shawn's current project Break the Walls: Stories Inspired by the Songs of the Pixies is also being funded through Kickstarter.
Full Disclosure I've been a fan of Travis' work since 2006 when I met him at San Diego Comic-con.  I've also contributed to his first volume of The Bean that he funded through Kickstarter last year.
Now that that's out of the way.  Let's clear the air about something that I'm sure everyone who is googling your name right now has on their mind.  Do you also model underwear?
I want you to know Shawn, that I am laughing right now. No, I am not an underwear model.
I'm glad we cleared that up.  How long have you been working on Bean?  Is the fantasy genre always something that you wanted to work with? I have been working on Bean for about 10 years in one form or another. I have always loved the fantasy genre. I grew up on Elfquest, Lord of the Rings, Bone and so many other great stories that it is really the only medium that I have wanted to work with.
When I met you in 2006, you had made the decision to move the Bean from comics to a prose novel with illustrations?  What was behind that decision and why did you ultimately decided to turn it into a webcomic?
Bean actually started as a webcomic in 2002, jumped to an outdated indy comic, and into a prose novel, before I returned it back into a webcomic. I was listening to a lot of different people and ended up feeling very lost. It wasn't until I returned to my roots and listen to my own gut feeling that I should return my story to a webcomic, that I found my stride. It was the right choice and it has only grown. Honestly, the main reason I returned to a webcomic, when all other ways failed, was so that I wouldn't give up on my dream.
How much did the Phil Foglio web to print edition model for Girl Genius influence your decision for the Bean?
Actually not much. It was Jeff Smith, William Stout, Stan Sakai and James Owenthat really helped me decided to do a print version of the Bean. They're business model and work ethics were some of the main driving forces behind taking the Bean to print.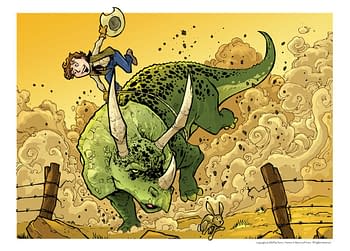 Prints seem to be a highly profitable and popular artistic outlet at conventions now.  Most of them focus on the use of Superhero characters, but you created a business on prints based upon characters in your own "universe".  I look at you and Daniel Davis of Steamcrow as two of the successful artists who have done this at a time when prints weren't popular.  How have you been able to build up that business and create a fan base?
I learned a long time ago that there are many other stories that I want to tell, but I can't because of my commitment to Bean. These prints allow me to tell them and people love the fact that each print is it's own stand alone story. I don't do superheroes because everyone else does. I do my own stuff because it allows me to connect with those that might not be interested in my books. I like that connection it creates and it helped me find an entirely new audience. Daniel and I work off the same model, where we are establishing ourselves as unique artist with our own ideas and not feeling we have to lean on someone elses work to make a buck.
A lot of creators shy away from free sketches at comic conventions because of the Ebay market for con sketches, but you actually give hundreds of sketches out every convention as part of your market research.  What is your con record for sketches?  Talk about how you data mine your con market research?
My record, well we figured in the last 10 years I have done over 20,000 free quick sketches. They are not m
asterpieces- just a quick sketch. I meet some of the most awesome people out there. The kids love it as they try to stump me with ideas, which in return gives me some fantastic ideas for prints. My robot fish print came from a sketch at a con years ago. I have learned that by willing to give a little back, people appreciate that and in return appreciate you more as an artist.
You received an Eisner nomination for the Bean.  Do you see that as a validation of your work or a challenge to push your work to meet the expectations of the nomination?
Thank you, it was a great surprise. I see it as both. One it validates that Bean is on the right track, and two it pushes me to do better and better. I want the story to grow and improve. I love the challenge that the nomination brought for me to up my game.
Congratulations on your third successfully Kickstarter campaign.  You've already bypassed your goal in a personal best record time and are pushing to improve the quality of your product with additional donations.  I've noticed that most successful Kickstarter projects either have a big buzz around them or a loyal fan base?  Which would you consider the basis of your success?
Thank you again, I was blown away that we hit the first goal in 54 hours. I think the reason is in-part of my fans, I have a strong fan base, now. They are very supportive and I have found that the best way for a Kickstarter comic campaign by a single creator to work is to make sure the fan base is there first before you launch. Webcomics are the new indys and you have to be patient. Once it takes off, you have even more pressure to be consistent with updates and constantly interact with your fan base. I am very grateful for my fans, they have really shown their support for the Bean.
Now you've reached your goal, what are you doing to push beyond that goal?
Finishing the book. Actually I have created some cool incentives. When we hit the $10,000 mark, I will add more pages. At the $20,000 mark, I will print a very special book of Bean artwork- that will mail with each hardcopy. I want people to feel that they are getting something for their donations."
Your "trailer" for the Bean trades is slick, but I've always liked the videos that have the creator talking about their projects passionately.  Will we ever see the "real" Travis Hanson in a Kickstarter video?
Thank you, I had to learn flash in a week. One day I will do a video with the real Travis Hanson, I am just really camera shy."
Travis, thanks for taking the time to answer these questions.  If you haven't checked out his Kickstarter project, you can find it here.  Or check out Eisner nominated The Bean here.
Thanks again for letting me hang out with you for a minute, Shawn.
If you haven't checked out the Kickstarter for the Bean, you can find it 
here
.  Although Travis has met his goal, he has lots of great rewards for pledging toward his campaign.
Enjoyed this article? Share it!