The House Of X/Powers Of X hardcover is nicely timed for Christmas. I'll be getting a copy for the wife. Seriously. She has no idea. We'll discover I'm still married in the New Year. But maybe it would have a chance of going down better if I bought mine from Collector's Paradise. Because they are making available a signed-and-numbered edition by Jonathan Hickman with this bookplate in a hundred copies. Today is the deadline for orders and they will shipping out copies tomorrow, so you'd better hurry up. So had I…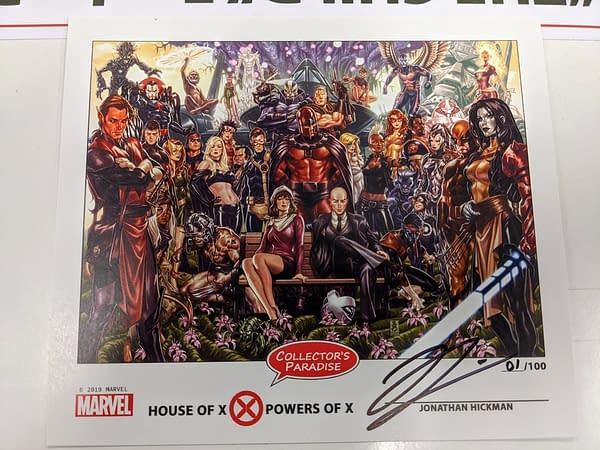 HOUSE OF X POWERS OF X Collector's Paradise Exclusive: Direct Market Exclusive Hardcover SIGNED* by JONATHAN HICKMAN on a Signature Plate.

*Includes a LIMITED 6×9 Signature Plate Autographed by JONATHAN HICKMAN

By Jonathan Hickman, Pepe Larraz & R. B. Silva

Cover by Mark Brooks

Face the future – and fear the future – as superstar writer Jonathan Hickman (INFINITY, NEW AVENGERS, FANTASTIC FOUR) changes everything for the X-Men! In HOUSE OF X, Charles Xavier reveals his master plan for mutantkind – one that will bring mutants out of humankind's shadow and into the light once more! Meanwhile, POWERS OF X reveals mutantkind's secret history, changing the way you will look at every X-Men story before and after. But as Xavier sows the seeds of the past, the X-Men's future blossoms into trouble for all of mutantdom. Stories intertwine on an epic scale as Jonathan Hickman reshapes the X-Men's past, present and future! Collecting HOUSE OF X #1-6 and POWERS OF X #1-6.
Enjoyed this article? Share it!