We mentioned this in Things To Do In London If You Like Comics: September 2018 (taking entries for October now, fact fans). But apparently, it may have slipped under a few Londoners' radars.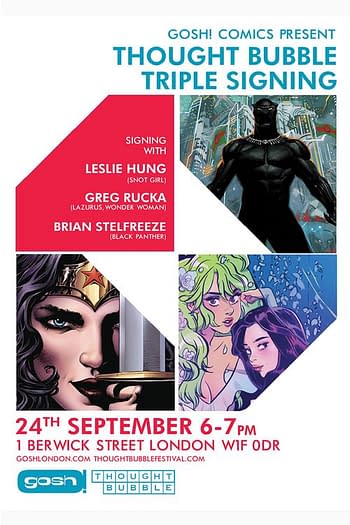 A Thought Bubble Triple-way signing at Gosh Comics on Berwick Street in Soho, happening in five hours time with Leslie Hung, Greg Rucka, and Brian Stelfreeze signing.
That's Leslie Hung off of Snotgirl, Greg Rucka off of Lazarus and Wonder Woman, and Brian Stelfreeze off of Black Panther, and who lit up the ComiXology Marquee at Thought Bubble this weekend with his painting stylings.
So if you wanted a book or two (or three) and you are within the M25, you have plenty of time.
I'm currently in Newcastle-Upon-Tyne so won't be able to make it, so please send us photos.
Enjoyed this article? Share it!