Marvel's plans to slowly phase out needing to pay colorists by getting readers to color the books for them is kicking into high gear in April, with not one but two Color Your Own comics coming out that month. Color Your Own Deadpool Again! and Color Your Own Ant-Man and the Wasp will both be in stores in April, according to Marvel's solicitations.
But that's not all! Finally, you, too, will know what it feels like to hit the Liefeld Lotto, because Color Your Own Deadpool Again! features a cover by none other than superstar artist Sir Robert Liefeld! Who even cares what's on the 120 interior pages?! That's worth the $9.99 price of admission alone!
Ant-Man and the Wasp features a cover by Jack Kirby, which is also pretty good. Sure, he's no Liefeld, but who is?
Check out the solicits below: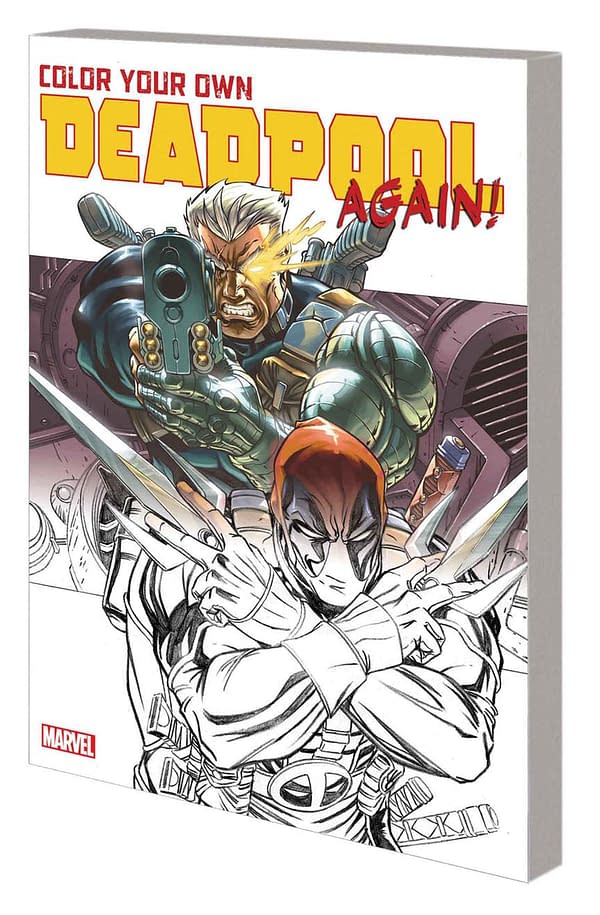 COLOR YOUR OWN DEADPOOL AGAIN!
Penciled by VARIOUS
Cover by ROB LIEFELD
You've finished the first COLOR YOUR OWN DEADPOOL? You've still got red pens, pencils or crayons left? Well, why not do it all over again? We've got more black-and-white pages of Wade Wilson artwork by some of the best to ever tackle the Merc with a Mouth! It's up to you to throw some shades at the Sassin' Assassin and his uncanny cast of friends and foes — including his succubus bride Shiklah, the rainbow Deadpool squad known as the Mercs for Money, the maniacal Madcap and Wade's best bro Spider-Man! And there's a good chance we'll also bring out the big guns — and we mean really big guns — like Cable! So dig deep in your pouches to find your implements of choice, and give maximum effort to coloring your own Deadpool — again!
120 PGS./Parental Advisory …$9.99
ISBN: 978-1-302-91205-5
COLOR YOUR OWN ANT-MAN AND THE WASP
Penciled by VARIOUS
Cover by JACK KIRBY
They're Marvel's smallest heroes, but they're no shrinking violets — unless you want to color them that way, that is! They're Ant-Man and the Wasp — and it's your job to put the life into their microscopic world! Get experimental with scientist Hank Pym, the first Ant-Man — and maybe one or two of his other alter egos, like Giant-Man or Goliath! Dig deep into your collection of pens, pencils or crayons to do justice to Janet Van Dyne's extensive wardrobe of Wasp costumes! And who better to steal the show than ex-thief Scott Lang, who put his colorful past behind him to be an astonishing Ant-Man? Then there's the ever-hopeful young Avenger, Nadia Pym — the bold and bright unstoppable Wasp! They're all waiting for you in awesome artwork that's big on detail but short on color!.
120 PGS./All Ages …$9.99
ISBN: 978-1-302-90890-4
Enjoyed this article? Share it!