Yesterday, Bleeding Cool reported on a large number of layoffs at Lion Forge Comics in St Louis, Missouri, as they undergo significant restructuring. We were told twelve had gone, and named Senior Editor Greg Tumbarelloas one of them. However, we also understand that departing staff have signed non-disclosure agreements as part of their package and so finding out who has been laid off, who still has their job and why all this happened just as the company was announcing new projects, won't be as easy.
As ever, it may be down to the footprints they leave. We had heard that editorial assistant Kat Vendetti was also one of the twelve, and her before-and-after social media profile does indicate such a change.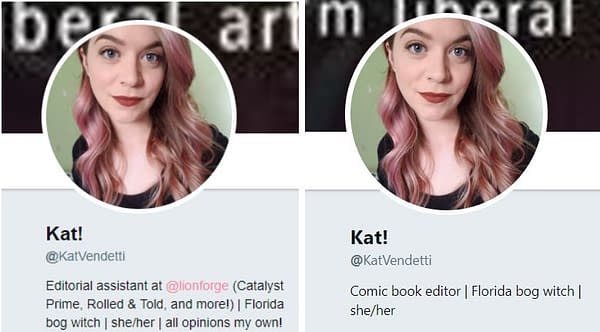 But Lion Forge has stated that they will not be stating who has left the company and who has not, 'out of respect for their career path and how they want to handle their job search' but they don't seem to have any objection over ex-staffers updating their profiles.
Bleeding Cool will always respect the privacy of any source who contacts us.
Enjoyed this article? Share it!