Yes, yes, yes, Magdalene Visaggio and Claudia Aguirre launch a new comic series from Oni PRess in March 2019, a eighties-set missing people and monsters drama – but also Jerry from Rick & Morty is getting his very own comic book….
MORNING IN AMERICA #1 CVR A
JAN192008
(W) Magdalene Visaggio (A/CA) Claudia Aguirre
The year is 1983. A series of disappearances afflicts Tucker, Ohio following the opening of a mysterious new factory. But when the town finds itself under siege from strange monsters, it's up to intrepid girl gang of no-account teen delinquents to try and figure out what's happening-and save everyone's lives before it's too late.
In Shops: Mar 06, 2019
Final Orders Due: Feb 11, 2019
SRP: $3.99
MORNING IN AMERICA #1 CVR B BEALS VAR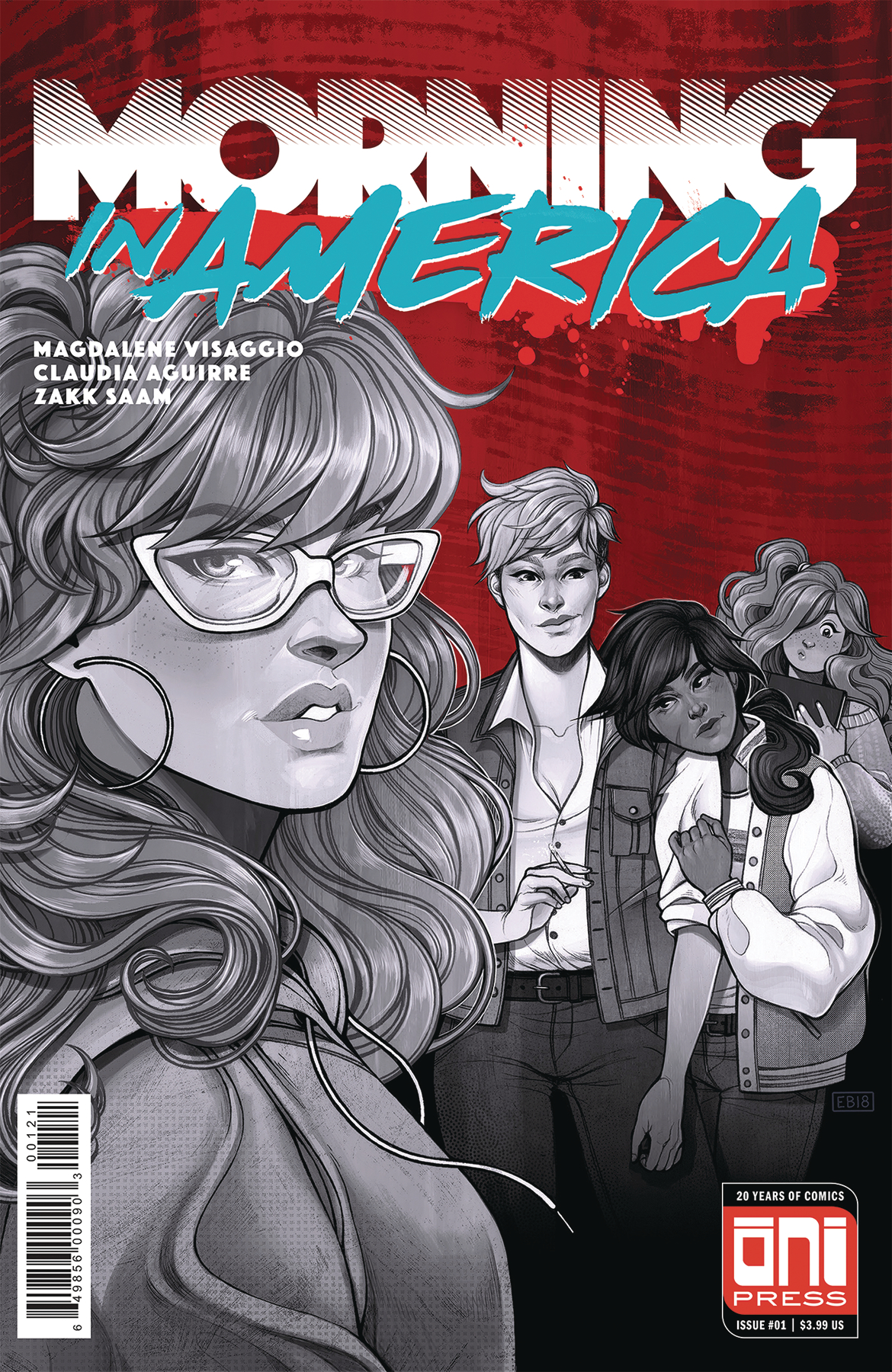 RICK & MORTY PRESENTS JERRY #1 CVR A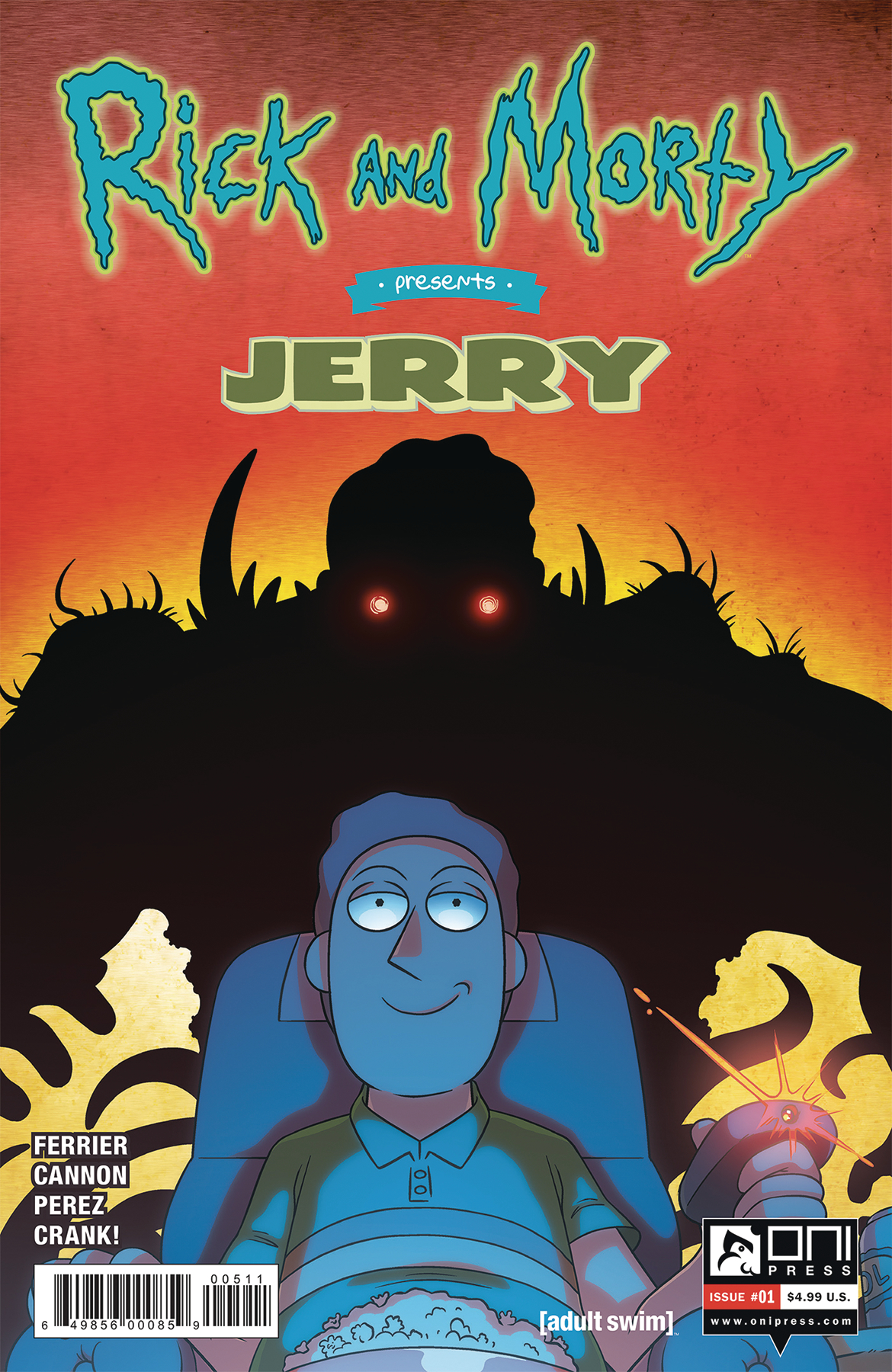 JAN192010
(W) Ryan Ferrier (CA) Josh Perez (A/CA) CJ Cannon
Rick and MortyTM Presents is back by popular demand! Jerry's wisely blaming all his marital issues on his Dad-bod. When he goes to Rick for a quick fix, things go so poorly, it's…demonic. Written by Ryan Ferrier (Batman/Teenage Mutant Ninja Turtles, Regular Show, D4VE, and more!),with series artists CJ Cannon and Joshua Perez!
In Shops: Mar 13, 2019
Final Orders Due: Feb 18, 2019
SRP: $4.99
RICK & MORTY PRESENTS JERRY #1 CVR B GRACE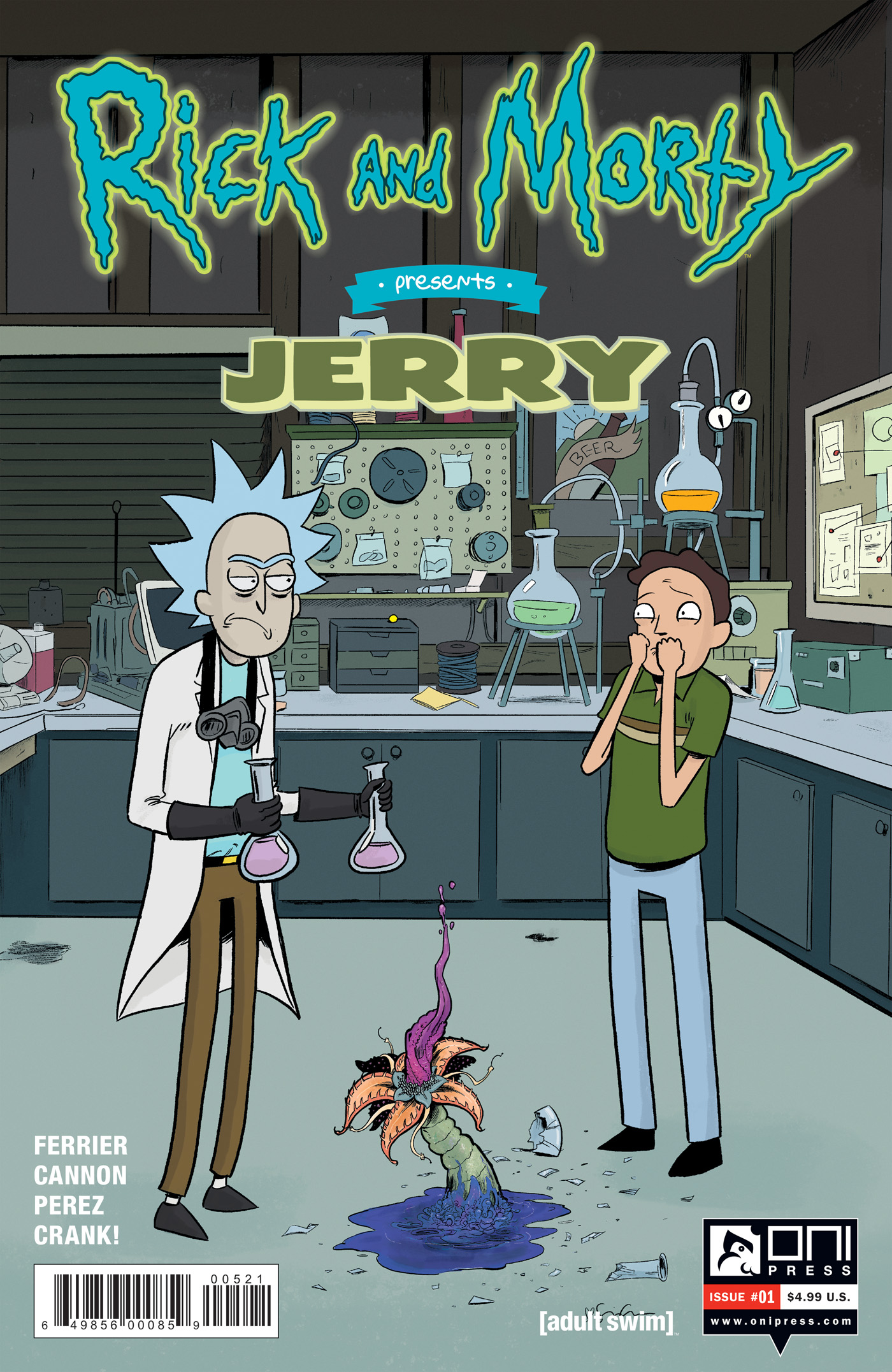 RICK AND MORTY PRESENTS TP VOL 01 JAN192012
(W) Magdalene Visaggio, J. Torres, Daniel Mallory Ortberg, Delilah Dawson (A) Nick Filardi, Sarah Stern, Brittany Peer (A/CA) CJ Cannon
Learn the secret stories and hidden pasts of your favorite Rick and Morty characters in Oni Press's Rick and Morty Presents! These four oversized comics, collected here for the first time, focus on fan-favorite characters and storylines, with writing and art from today's top talent!
Each story is illustrated by series artist CJ Cannon, with Nick Filardi, Sarah Stern, and Brittany Peer. From writer J. Torres (Teen Titans Go!, BroBrots), delve into the secret history of THE VINDICATORS! Writer Daniel Mallory Ortberg (co-founder of The Toast) tells the tale of Krombopulos Michael, the professional assassin who just loves killin'. Writer Magdalene Visaggio (Kim & Kim, Eternity Girl) wonders if it matters that Sleepy Gary's a mind-altering parasite, if it makes Jerry… happy? And writer Delilah S. Dawson reimagines the Emmy award-winning episode "Pickle Rick."
In Shops: May 29, 2019
Final Orders Due: May 06, 2019
SRP: $19.99
RICK & MORTY #48 CVR A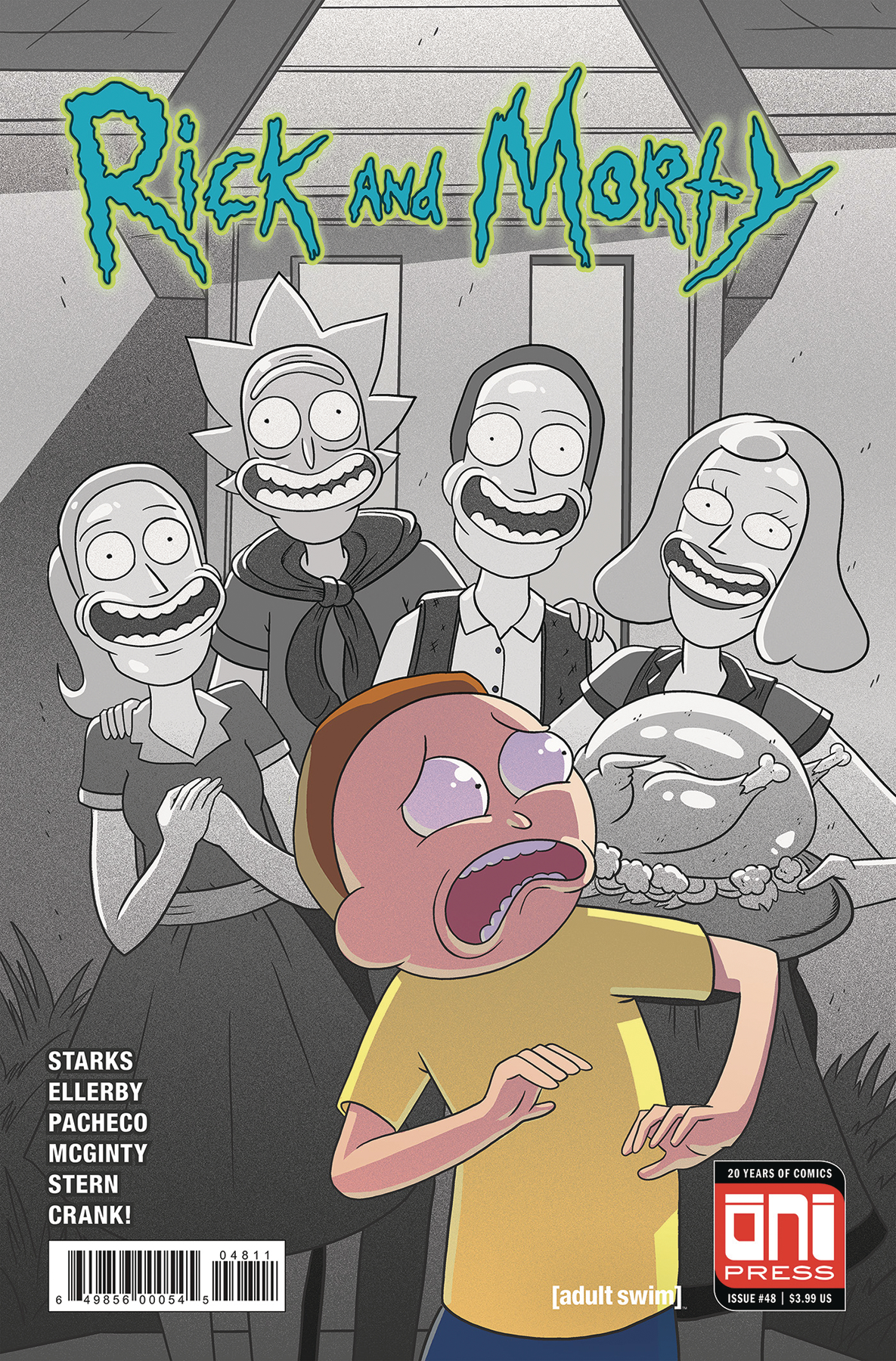 JAN192013
(W) Kyle Starks, Karla Pacheco (A) Ian McGinty (CA) Sarah Stern (A/CA) Marc Ellerby
Uh oh, someone's messed up reality again…. The Smith family loves each other, Jerry has a job, Summer is nice to Morty… No one is cursing, or suffering from existential melancholy. Everything is sort of safe and great, like a 50s sitcom. And what is going on with Rick?! Can Morty fix this all before… well, I guess, before everything works out nicely for everyone, for once?
In Shops: Mar 27, 2019
Final Orders Due: Mar 04, 2019
SRP: $3.99
RICK & MORTY #48 CVR B TROUSSELLIER
SHADOW ROADS #7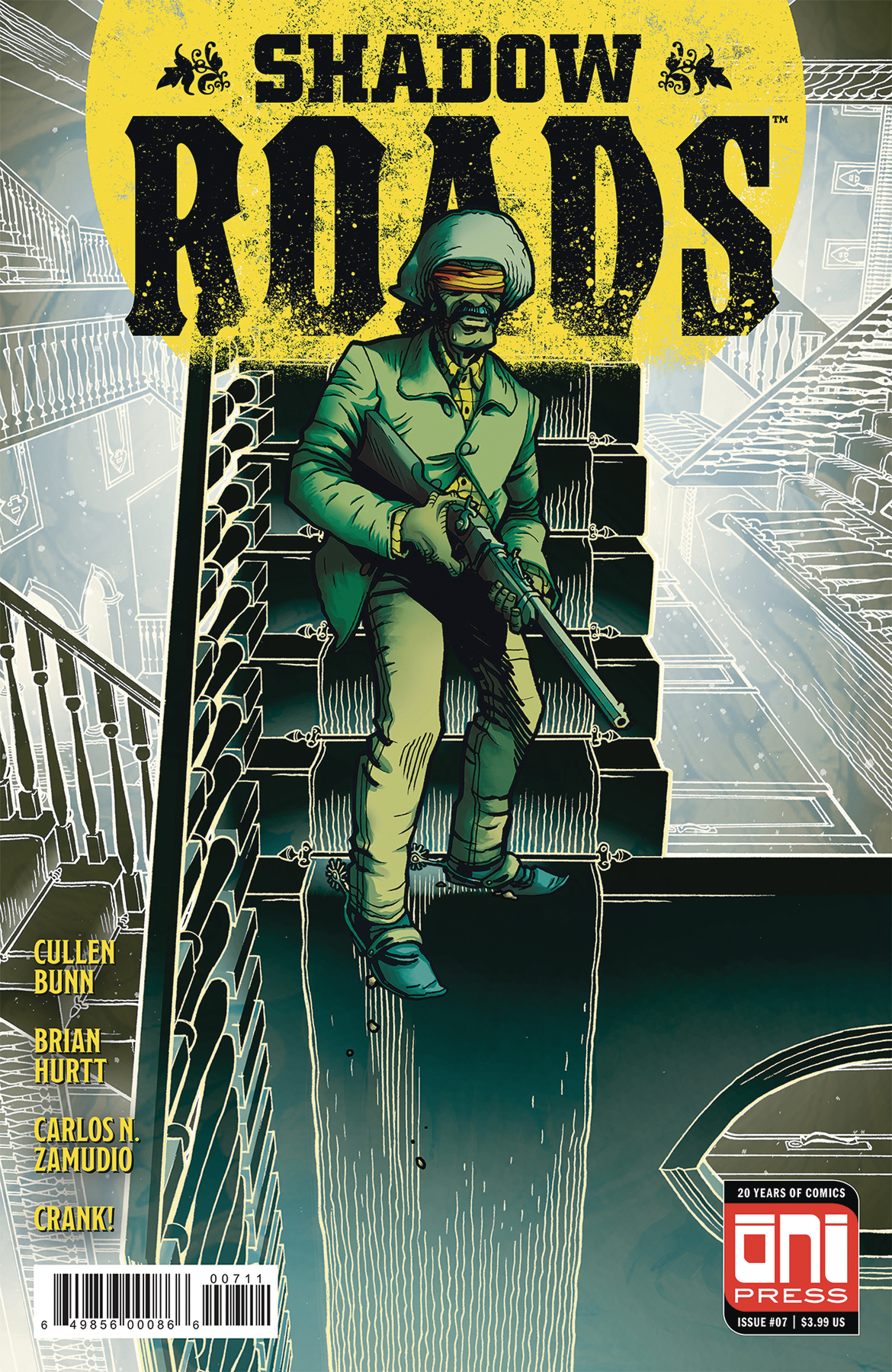 JAN192015
(W) Cullen Bunn, Brian Hurtt (CA) A.C. Zamudio (A/CA) Carlos Zamudio
In the river-pirate sanctuary of the Black Banks, Isabella, Ghost Eyes, and Anton meet the strange Mizadori. A politely sinister man of mysterious power and even more mysterious connections. Meanwhile, back in Oxford, Barry is approached by a man who carries a dire warning in regards to Henry.
In Shops: Mar 06, 2019
Final Orders Due: Feb 11, 2019
SRP: $3.99
LONG CON #7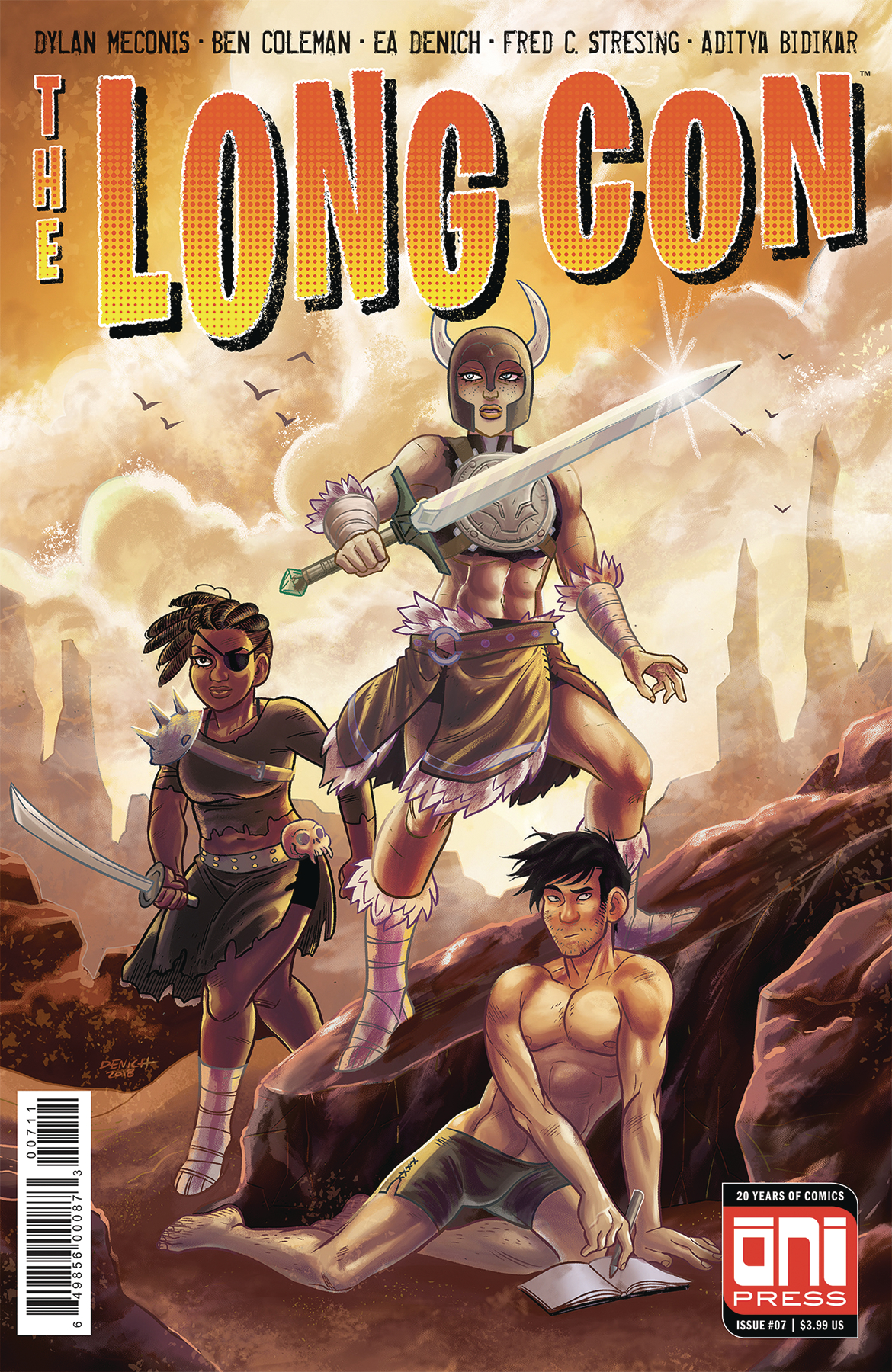 JAN192016
(W) Dylan Meconis, Ben Coleman (A) Emilee Denich (A/CA) M. Victoria Robado
BATTLEFOXES, HO! It's axes versus blasters when Victor and Dez's sci-fi captors run afoul of an ambush set by a deadly squad of highfantasy warrior women. Who are these mysterious figures in (surprisingly supportive) chainmail bikinis? Does their fledgling resistance movement stand a chance against the might of the Skylarks? And will Victor and
Dez survive to tell the tale?
In Shops: Mar 13, 2019
Final Orders Due: Feb 18, 2019
SRP: $3.99
SPECTACLE GN VOL 02 JAN192017
(W) Megan Rose Gedris (A/CA) Megan Rose Gedris
Sisters Anna and Kat return for the second book of Megan Rose Gedris's paranormal circus murder mystery, Spectacle!
A murder is tough thing to solve, even without temperamental performers, supernatural occurrences, and the ghost of the victim giving commentary. But as Kat's only link to the living world, it's up to scientifically-minded Anna to figure out who killed her sister-before any more murders rock the small traveling community. Yet as she gets closer to finding a lead,
even more unbelievable events obscure the truth: roustabouts start sprouting horns, performers grow forked tongues, and a demon visits Anna's sleep at night. Does Kat know more than she's letting on? Andcan Anna keep the circus-let alone herself-safe?
In Shops: May 22, 2019
Final Orders Due: Apr 29, 2019
SRP: $15.99
INVADER ZIM TP VOL 07 JAN192018
(W) Eric Trueheart, Sam Logan, K.C. Green (A) Kate Sherron (CA) Fred Stresing, Warren Wucinich
The seventh volume of the much-beloved comic series based on the much-beloved TV show, Invader ZIM features tales of aliens, gym teachers, and cute, fluffy, radioactive woodland creatures! ZIM finds himself imprisoned with all his worst enemies in a special two-part storyline! Meanwhile, ZIM's other worst enemy, Dib, attempts to foil him in both a Physical Fitness competition and an Invention Fair! And in a special one-shot story by cartoonist KC Green, Dib learns that there are some birds you just don't mess with. Collects issues #31-#35.
In Shops: Apr 24, 2019
Final Orders Due: Apr 01, 2019
SRP: $19.99
INVADER ZIM #41 CVR A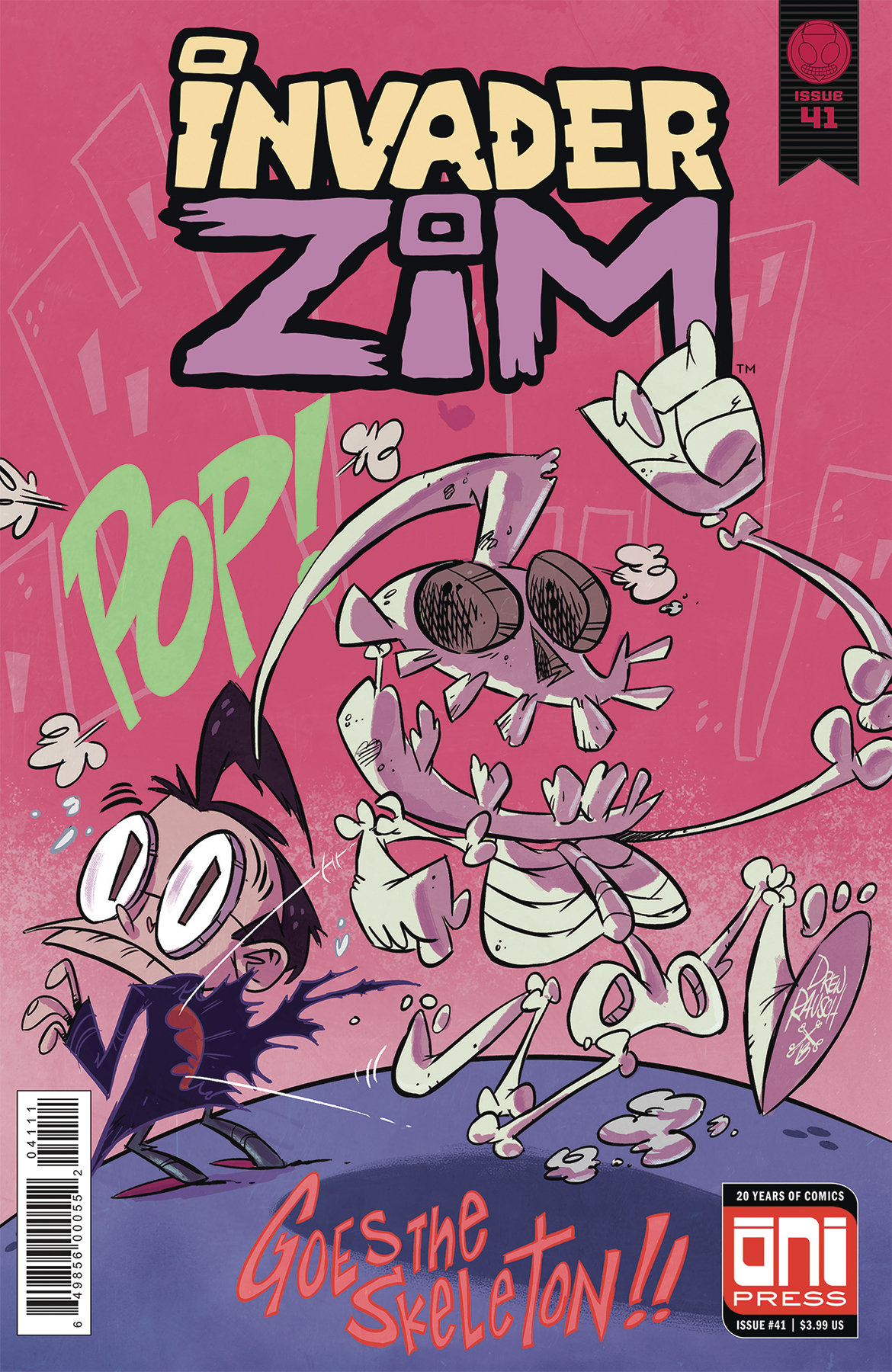 JAN192019
(W) Sam Logan (A) Maddie C. (CA) Warren Wucinich
A very spooky one-shot written and illustrated by Drew Rausch (Edward Scissorhands, Eldritch!)! Dib's feeling a little under the weather, but his bones are as healthy as ever! Maybe that's why his skeleton decides to leave his body for a night and go on a wacky adventure? This one's for all the fans who requested more skeletons. All two of you!
In Shops: Mar 27, 2019
Final Orders Due: Mar 04, 2019
SRP: $3.99
INVADER ZIM #41 CVR B COUSIN VAR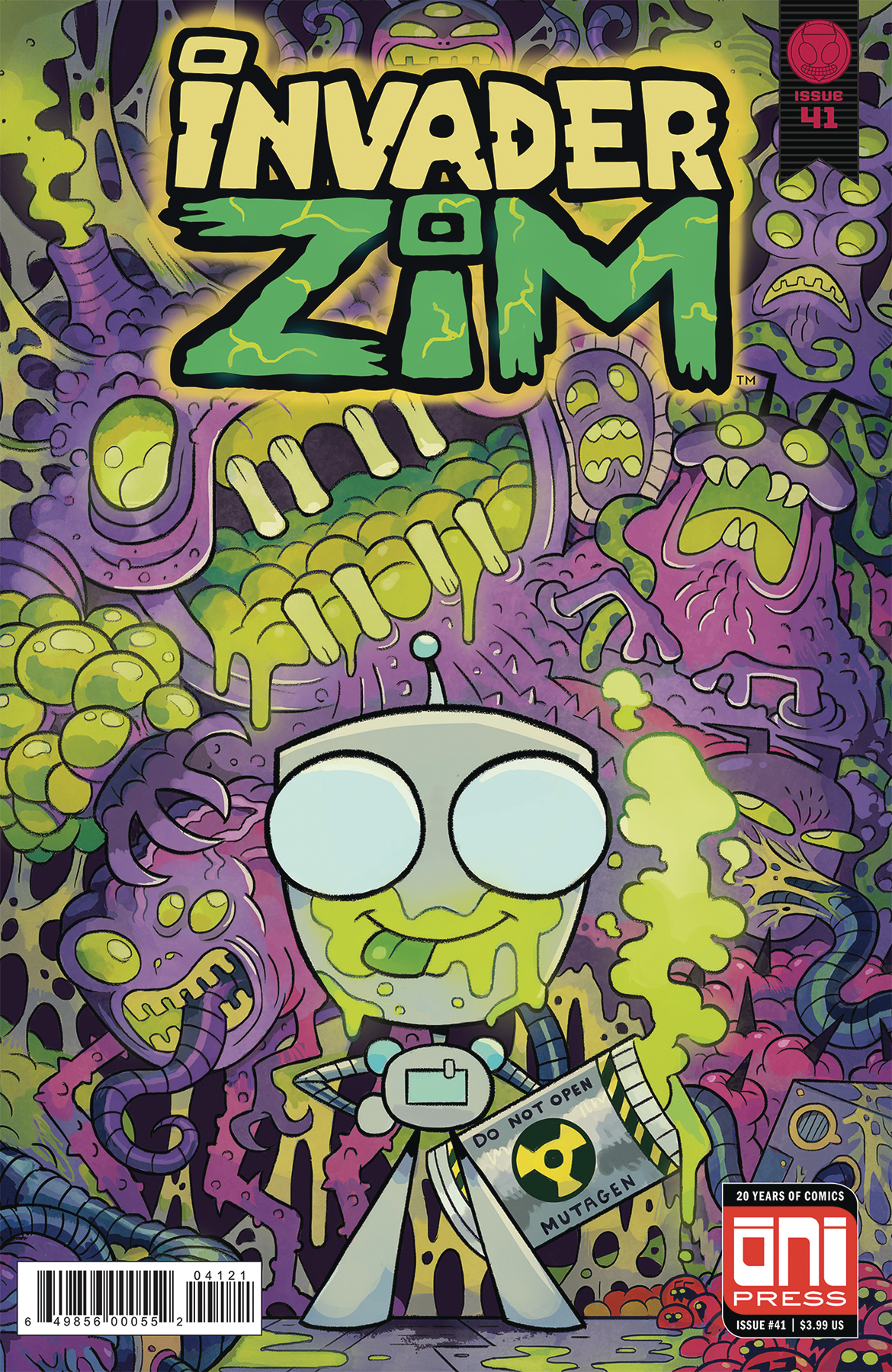 GHOST HOG GN JAN192021
(W) Joey Weiser (A/CA) Joey Weiser
A new graphic novel from the Eisner Award-nominated creator of Mermin that deftly navigates loss, vengeance, and acceptance!
Truff is the ghost of a young boar, fueled by fury towards the hunter who shot her down. She has a lot to learn about her new afterlife, and thankfully the forest spirits Claude and Stanley
are there to guide her!
However, they soon find that her parents, along with their fellow animal villagers, have been kidnapped by the malicious mountain demon Mava! Truff wants to help, but… the hunter is
finally within her grasp, and if she lets him go, she may never get her revenge!
Is vengeance all that being a ghost is good for? Or is there something stronger keeping this little pig tethered to the living world?
In Shops: May 08, 2019
Final Orders Due: Apr 15, 2019
SRP: $12.99
GHOST HOG HC
In Shops: May 08, 2019
Final Orders Due: Apr 15, 2019
SRP: $21.99
MERMIN GN VOL 01 JAN161588
(W) Joey Weiser (A/CA) Joey Weiser
The first book in Joey Weiser's Eisner Award-nominated series is now in paperback! Mermin is just your average Merman from the underwater kingdom of Mer, and all he wants is to have fun adventures on land with his new human friends. But with the whole ocean out looking for him, it's going to be harder than he thought!
In Shops: May 11, 2016
SRP: $12.99
DREAM DADDY DAD DATING COMIC BOOK TP JAN192024
(W) Leighton Gray (A) Vernon Shaw (CA) Kris Anka
ONI PRESS PRESENTS DREAM DADDY, A COMICS SERIES BASED ON THE ACCLAIMED GAME GRUMPS VISUAL NOVEL VIDEO GAME!
Dream Daddy: A Dad Dating Simulator invites the player to Maple Bay, where they play as a single Dad new to town and eager to romance other hot Dads. The comic series tells five
standalone stories, each focused on different Maple Bay Dads, their kids, and their relationships with one another. Dive into entirely new stories featuring the backstories and adventures of your favorite Dads, told by game co-creators Leighton Gray and Vernon Shaw, along with the comic industry's top indie talent!
In Shops: May 15, 2019
Final Orders Due: Apr 22, 2019
SRP: $19.99
Enjoyed this article? Share it!