I wrote up an article last week about the Jersey Comic Con coming up this weekend and noticed that Manu Bennett was one of the guests. I don't remember seeing him at many cons so far which surprised me. Bennett is a rare man on the convention circuit in that he's has appeal to fans in multiple areas of pop culture. Now I know what you are thinking: what about guys like John Barrowman or Nathan Fillon? And yeah, with Barrowman you get both Doctor Who and DC Comics. With Fillon you get Comics for his voice work, Firefly and Castle… but Bennett taps into five different aspects of the nerd experience.
Let me explain. This New Zealand actor is the child of an Australian Bikini model and a singer. His Dad was the singer, mom the model… and his unique looks comes from being Maori and Irish on his father's side while Scottish and Spanish on his mother's. He studied drama, dance and piano in school and was once a rugby player.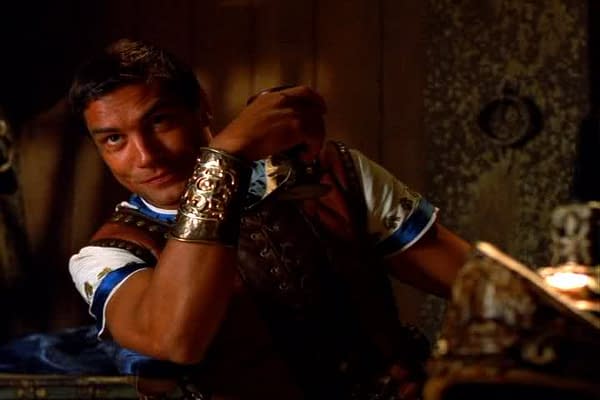 Though his acting career began in 1993, it was in 2000 that he first jumped into the pop coulter spotlight in the hit series Xena: Warrior Princess. Bennett was cast as Marc Antony in the Antony and Cleopatra episode. This was the first time he got to work with actress Lucy Lawless.
His next connection to fandom came in 2006 when he was cast opposite WWE star John Cena in the movie The Marine. The actor played one of the crew ran by Robert Patrick (Terminator 2) where Bennett played the aptly named character of Bennett. A year later he popped up again as Deputy Billy Kitka in the movie 30 Days of Night starring Josh Hartnett, Melissa George and Danny Huston. Directed by David Slade, the movie adapted the Steve Niles and Ben Templesmith comic series. A deal that helped establish IDW Publishing, pushed Niles and Templesmith into stardom and started the whole "movie studio options indy comic" trend that is still going on today. From 2010 to 2013 Bennett would work in one of his most recognizable roles as Crixus, the Champion of Capua in the Starz original series Spartacus. The actor was the only cast member to star in all three seasons as well as the prequel. In the series he got reunited with Lucy Lawless where the two spent more than a few scenes being very intimate. While filming Spartacus he also worked on Sinbad and the Minotaur, playing the sailor himself. The movie was supposed to be an unofficial sequel to the Ray Harryhausen epics… having written Sinbad for a while and having seen the movie… I try to forget that this one exists. As Spartacus was winding down, the New Zealander did what most Kiwi actors do… he got work with Peter Jackson. Bennett was cast in the current Hobbit trilogy as Azog the Defiler. Bennett brings the JRR Tolkien character to life with a malevolence you'd come to expect from a Middle-Earth villain.
As if that wasn't Geek Cred enough, last year Bennett got signed on as Slade Wilson, an Australian Special Forces soldier dropped onto the same island as Oliver Queen in the CW and DC Comics hit series Arrow. As we watch as the shipwrecked rich-kid slowly becomes the Green Arrow, we also get to see Bennett's character make the journey into becoming Deathstroke: The Terminator.
So whether you are a fan of the classic Xena, the world of wrestling, horror movies/comics, Spartacus, Sinbad, Tolkien or DC Comics you have a reason to go and talk to Manu Bennett, get his signature and have a geek-out moment. Because not only are you talking to Billy Kitka/Azog/Sinbad/Slade Wilson… but you are talking to the Champion of Capua and the guy who got to have on-screen sex with Lucy Lawless…
Bennett will be attending the Jersey Comic Con this Friday through Sunday (Dec 13 – 15) and tickets are available now. And maybe if you ask him nicely, he'll dance with you… it was his major in college.
Enjoyed this article? Share it!