Spider-Man and Deadpool are going on a road trip in next week's Spider-Man/Deadpool #41, which the book's own solicit bills as the comic book event of the year. But what roadside attractions will they stop and see along the way? Deadpool has taken the liberty of mapping it out (with crayon), and we've stitched together two pages from the preview of next week's issue so you can see the route in all its double-page-spread glory.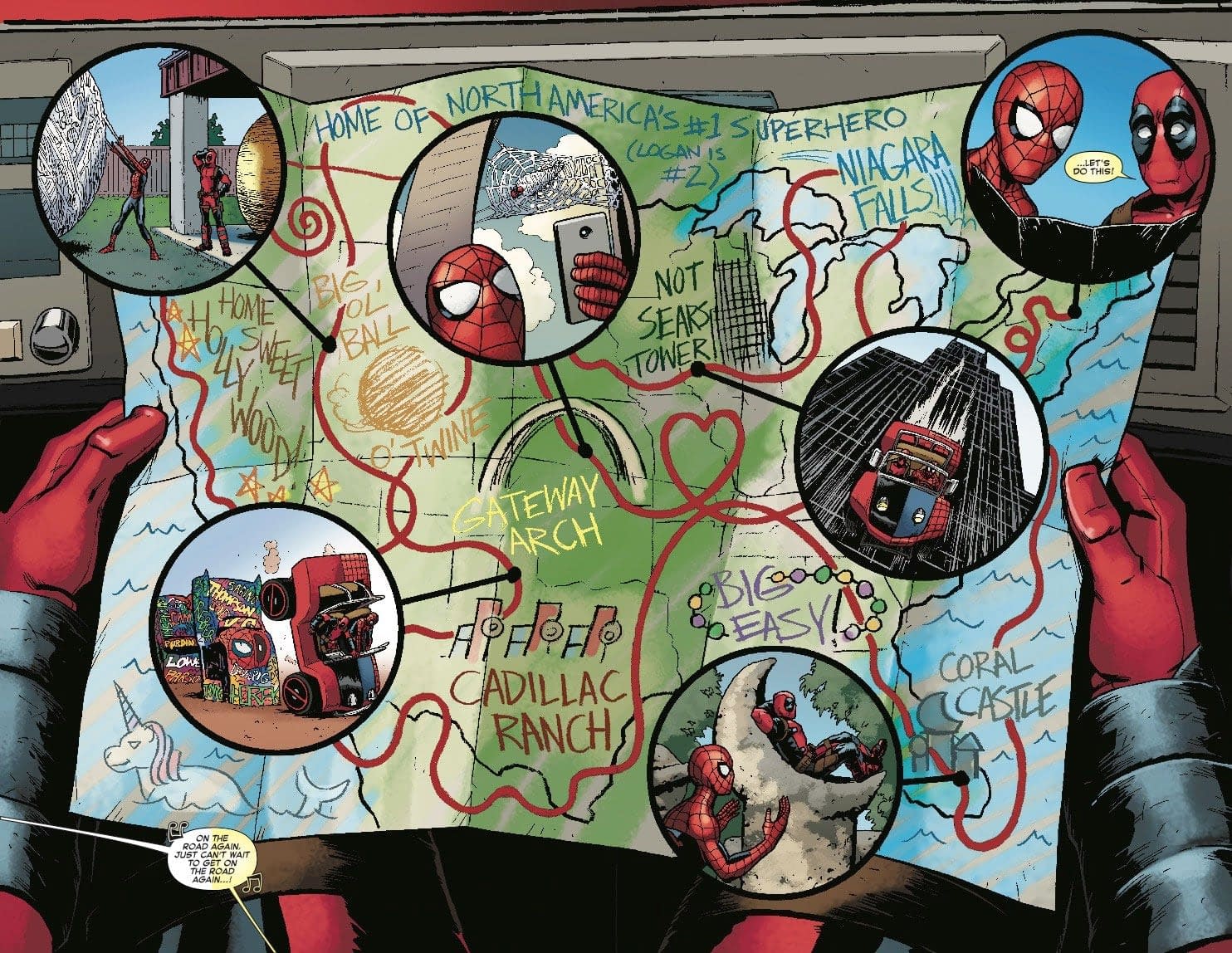 Good thing, too, because there's no way the Spider-Buggy has on-board GPS.
Our best advice to these two young adventurers? Build some extra time into your schedule. We took a road trip across the country once, when moving from California to Ohio, and we ended up making it to the Grand Canyon after dark. Fun fact: it's pitch @#$%ing black and you can't see anything. Luckily, there was some kind of stargazing festival happening and there were a bunch of people with telescopes, so it wasn't a total loss. In any case, the best-laid plans and all that… and we didn't even have to deal with any super-villains!
Spider-Man/Deadpool #41 hits stores on Wednesday.
Spider-Man/Deadpool #41
(W) Robbie Thompson (A) Matt Horak (CA) Dave Johnson
• Did you read On the Road? Did you watch Tommy Boy? This is like that, but with Spider-Man and Deadpool.
• They're discovering America and true friendship! Just in time for the COMIC BOOK EVENT OF THE YEAR ACCORDING TO US!
Rated T+
In Shops: Nov 14, 2018
SRP: $3.99
Enjoyed this article? Share it!