There are many a slip 'twixt solicitation and publication.
Marvel Comics have let comic book retailers know about a couple of creative changes to upcoming books. Two of the more prominent ones as well.
The new launch of Deadpool #1 will see Scott Hepburn join the previously solicited Nic Klein as artists on the comic.
And the X-Men Wedding Special, solicited with art from Greg Land and Marika Cresta will also have Todd Nauck now. A late addition to the wedding party?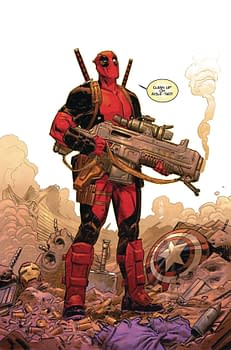 DEADPOOL #1
(W) Skottie Young (A) Scott Hepburn (A/CA) Nic Klein
MERCIN' FOR A LIVING!
Skottie Young and Nic Klein bring you the craziest tales of the Regeneratin' Degenerate yet! It's been a while since Deadpool's had to merc to make ends meet, but things are tough all over. While Deadpool tries to get his humble mercenary-for-hire business back off the ground, a catastrophic threat so unfathomably huge, so mind-breakingly cataclysmic it defies description, is heading toward Earth, and there's only ONE PERSON WHO CAN STOP IT!!!
Oh no, wait…it's not Wade, is it? Oh, %$@#. It's Wade.
Parental Advisory In Shops: Jun 06, 2018
SRP: $4.99
X-MEN WEDDING SPECIAL #1
(W) Marc Guggenheim, Kelly Thompson, Chris Claremont (A) Greg Land, Cresta, Marika, Todd Nauck (CA) J. Scott Campbell
CHRIS CLAREMONT RETURNS TO THE X-MEN!
One of the biggest milestone events in X-Men history is almost here! Kitty Pryde and Colossus are finally about the tie the knot…but what's a wedding without the respective bachelor and bachelorette parties? Join Marc Guggenheim and Kelly Thompson for two parties that can only be celebrated Marvel style! All this, plus, a Kitty and Colossus story by legendary X-Men scribe, Chris Claremont!!!
Rated T+In Shops: May 16, 2018
SRP: $4.99
Enjoyed this article? Share it!