Retailers attending the upcoming 2018 Diamond Retailer Summit in Chicago, held just before (and slightly during) C2E2 will be getting a special "Thank You Pack" shipped from Diamond to the attending stores after the show.
They include the following exclusive variant covers, limited to attendees.
DC Comics: Action Comics #1 promo t-shirt and Dark Nights: Metal #6 variant cover
Marvel Comics: Avengers #686
And this print run of Captain America #700 and Domino #1 which can be ordered only by attendees.
IDW Publishing: Sonic the Hedgehog #1 and GI Joe Real American Hero #250
Oni Press: Rick and Morty Presents: The Vindicators #1
BOOM! Studios: Lucy Dreaming #1 and Mighty Morphin Power Rangers #25 (TBA)
Dark Horse Comics: 2 exclusive Retailer Summit variants (TBA)
Image Comics: Isola #1 variant
Valiant Entertainment: Harbinger Wars 2 variant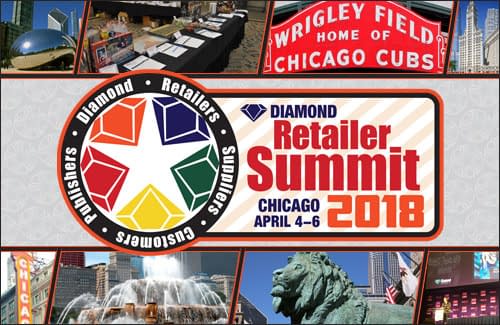 Diamond Comic Distributors will also send $300 worth of retail merchandise per store, and Diamond Select Toys: $200 worth. The Summit does kinda pay for itself…
This year's Diamond Retailer Summit will be held in Chicago, IL, at the McCormick Place Convention Center. It is a three-day event, April 4 through April 6, right before the opening of C2E2, with plans calling for Retailing Workshops, Forum Sessions with Marvel & DC, special panels and publisher presentations during mealtimes, and a retailers-only Exhibit Hall.
And it will begin like this: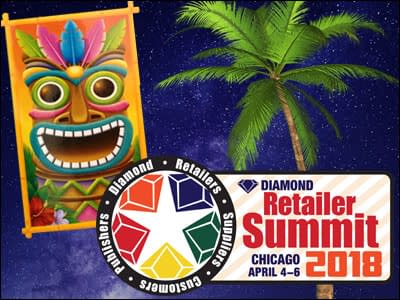 Kick off the 2018 Diamond Retailer Summit in sunny, sales-building style by attending the Celebrate Your Passion! Tiki Party Reception, to be held from 7:30 PM-9:30 PM in the ARC Bar of the Hyatt Regency McCormick Place in Chicago.
Dress to impress in your favorite tropical-themed outfit! What newer or backlist graphic novel have you hand-sold the most copies of recently or over the years? Bring a copy and swap favorites — and sales strategies — with your fellow retailers!
And here's what else is going down…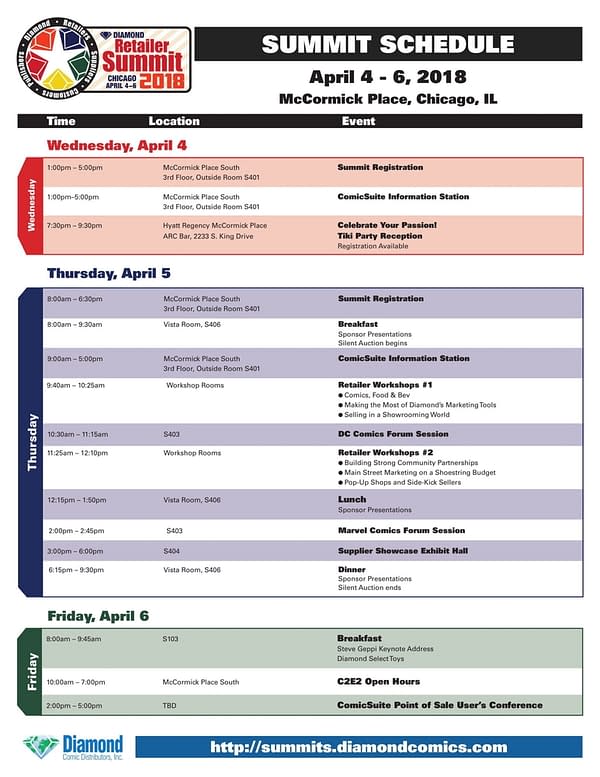 And if you don't want to strain your eyes, some highlights:
Selling in a Showrooming World
The world of smart phones has taken showrooming to a new, brazen level. This presentation by Speaker, Author, & Retail Educator Phil Wrzesinski teaches you one eye-opening truth about these customers and shows you how to deal with showroomers the right way so that you can win back some of that business. You'll walk away with insights and techniques that will raise your conversion rates through the roof.Guest: Phil Wrzesinski, Author & Retail Educator
Comics, Food & Bev
From coffee or craft beer to donuts ice cream, or pizza, comic shop retailers are successfully combining food and beverages into their businesses. Join Diamond Outside Sales Manager Eric Hitchcock and a panel of your fellow retailers to discuss the pros and cons and best practices and pitfalls to consider when adding food and drink to your business.
Moderator: Eric Hitchcock, Diamond Outside Sales Manager
Panelists: Aaron Haaland, A Comic Shop | Jason & Lynette Sullivan, Chemshaw 13 DonutZ & Comics

Building Strong Community Partnerships

Building strong community partnerships is key to long term success in business. Be on hand when guest speaker Chuck Robinson shares proven methods you can use to establish and maintain partnerships with other businesses and nonprofits in your community.
Guest: Chuck Robinson, former President of the Pacific Northwest Booksellers Association
Making the Most of Diamond's Marketing Tools

From Diamond's Facebook and website New Releases widget to videos and social media tools available for download, find out about all the great resources at your disposal from Diamond to muscle up your marketing mix!
Moderator: Andrew Mueller, Diamond Consumer Marketing Manager
Panelists: Andrea Purcell, Diamond Retailer Marketing Manager | Richard Ankney, ComicWow Production Manager
Main Street Marketing on a Shoestring Budget
Not every business has tens of thousands of dollars to spend on advertising. If you have a limited budget, join Speaker, Author, & Retail Educator Phil Wrzesinski to learn seven proven techniques for getting traffic through your door at minimal or no cost to you.
Guest: Phil Wrzesinski, Author, & Retail Educator
Pop-Up Shops and Side-Kick Sellers

Every hero needs a side-kick and comic shops are enjoying the benefits of pop-up shops and auxiliary locations. Join Diamond Outside Sales Manager Tim Kartman and a panel of your fellow retailers to discuss how you can boost your revenue without busting your budget!
Moderator: Tim Kartman, Diamond Outside Sales Manager
Panelists: Brad Bankston, Austin Books | Neil Kotler, Collectors Marketplace
2018 Diamond Summit Guest Speakers
Phil Wrzesinski is an entrepreneur and public speaker who honed his skills running Toy House & Baby Too, the largest independent toy store in America, from 1993 through December 2016. During his time at Toy House & Baby Too Phil also started a weekly radio show, monthly magazine, and successful speaking career. Phil brings his decades of experience in running a small business to the 2018 Diamond Summit with the workshops
Selling in a Showroom World and Main Street Marketing on a Shoestring Budget.
Chuck Robinson, with his wife Dee, founded Village Books in Bellingham, Washington in 1980. He served on the boards and as president of both the Pacific Northwest Booksellers Association and the American Booksellers Association, for which he taught booksellers schools for more than ten years. He has been deeply involved in community organizations, including as a founding board member of Sustainable Connections and City Club of Bellingham. He currently serves on the board of the Whatcom Community Foundation. Chuck will bring his decades of community partnerships and bookseller knowledge to the 2018 Diamond Retailer Summit with the workshop
Building Strong Community Partnerships.
Both Phil and Chuck will also be available to talk with attendees during the suppliers showcase Exhibit Hall from 3pm to 6pm on Thursday, April 5th.
Enjoyed this article? Share it!