Marvel March Solicitations Add Undeniable Evidence to Shocking Wolverine Conspiracy
Oh, Marvel, we see what you're doing. Revealed in Marvel's March solicitations, the House of Ideas is giving Thor #299 a facsimile edition reprint, but not because of the issue's significance for its titular thunder god. Instead, the book is being reprinted as part of a celebration of the first appearances of Wolverine. We know that the stabby little runt made his first cameo appearance in Hulk #180 and his first full appearance in Hulk #181. But before that, he appeared… in an advertisement in Thor #229.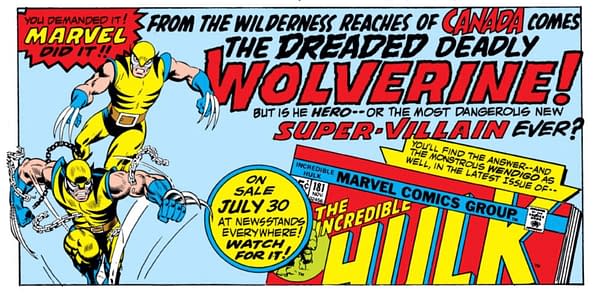 But why would Marvel go out of its way to reprint an entire Thor comic just for a single ad at the bottom of the letters column? Could there be more to this than immediately apparent?
If you've been following Bleeding Cool's in-depth multi-article exploration of a very important fan theory about Wolverine, then you already know where we're going with this. As the theory goes, Wolverine has two dicks, one for f**king, and one for making love. He f**ks Cyclops while making love to Jean Grey, but the relationship with Cyclops has caused an icy barrier to form between Cyclops and the White Queen, who can no longer peg Cyclops with her purple strap-on dildo because Cyclops only has eyes for Wolverine (and a tongue for Wolverine's a**hole). It's all laid out in Marvel's new Wolverine logo.

Sure, some have said that this theory is crazy. Some have said that we are way too obsessed with Wolverine's genitalia and should seek professional help. But though spending every waking moment fixated on Wolverine's dual endowment may lead to ruin, once we've seen what we've seen, there's no way to just forget about, because it's all there, all of it, if only you could see the photos and clippings taped to our wall and connected by a web of strings and thumbtacks. We'll give you a sample. For example, back in 2003, artist Esad Ribic drew a famous cover featuring Wolverine staring at the crotch of a fully nude Nightcrawler, with a beer bottle on a table positioned to look like Wolverine's erect penis.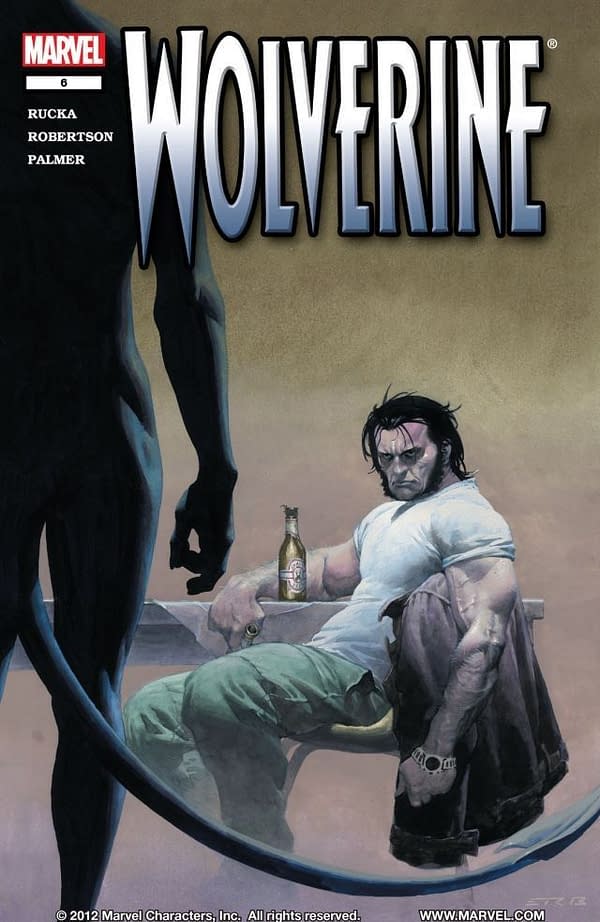 At the time, all anyone could focus on was the prospect of sweaty, furry sex between Kurt and Logan, but lurking beneath the surface, cleverly hidden by Ribic, was yet another clue in our quest to prove Wolverine's two-dick status. Because if one beer bottle represents one dick, than what do two beer bottles represent?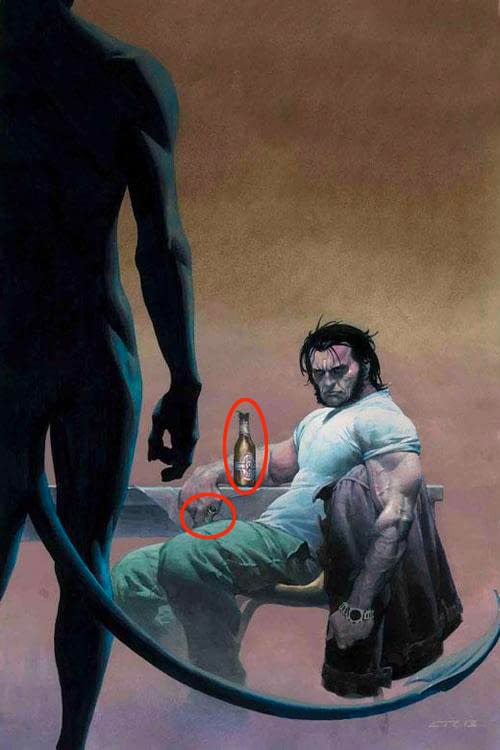 That's right. Not so crazy now, is it? And as we continue to unpack layer after layer of this conspiracy, it turns out it goes back to the beginning, even before Wolverine's first full appearance, in the very ad from Thor #229, the very ad Marvel will reprint in March.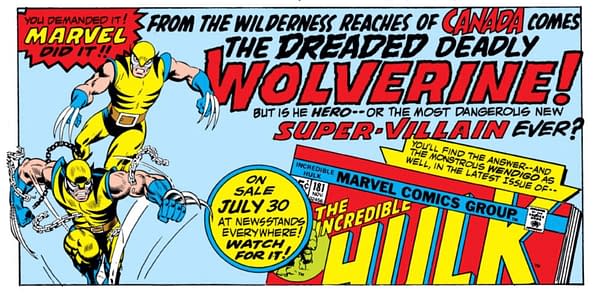 Two Wolverines, not one, and arranged in the same relative positions as the bottles for icing on the cakes. The duality, represented clear as day, right from the start. And echoed, still, today, as Wolverine #2, also set for March release, will feature double the Wolverine for the price of one, as Marvel's March 2020 solicitations reveal the book will see Wolverine in battle against himself. And is it any surprise that the end of Wolverine's first appearance, reprinted in a facsimile edition for Hulk #182 this March as well, runs with the tagline "between Hammer and Anvil?" This couldn't be clearer if Wolverine reached out with both his dicks and smacked us right in the face. One man, his animal nature pitted against his humanity in a never-ending inner struggle, two dicks, one for f**king, one for making love. Undeniably, in Marvel's March solicitations.
So we ask you: who's crazy now?
THOR #229 FACSIMILE EDITION
Written by GERRY CONWAY
Penciled by RICH BUCKLER
Cover by RON WILSON
CONTINUING THE FIRST APPEARANCES OF WOLVERINE!
The mighty Thor and his staunch ally Hercules face a demonic threat like no other! As a string of strange deaths confound the police, the Asgardian and the Olympian join the investigation. The victims all referred to an enigmatic "he" with their final words — but what dread threat could they mean? As a shadowy menace presents himself, one deadly enough to devastate even the Prince of Power, the mystery only deepens — but who…or what…is he who dwells in darkness? Prepare to know terror in the haunting debut of one of the Marvel Universe's most terrifying Fear Lords! It's one of the all-time great Marvel comic books, boldly re-presented in its original form, ads and all — including the ad that gave readers a glimpse at Wolverine before his first appearance! Reprinting THOR (1966) #229.
32 PGS./Rated T …$3.99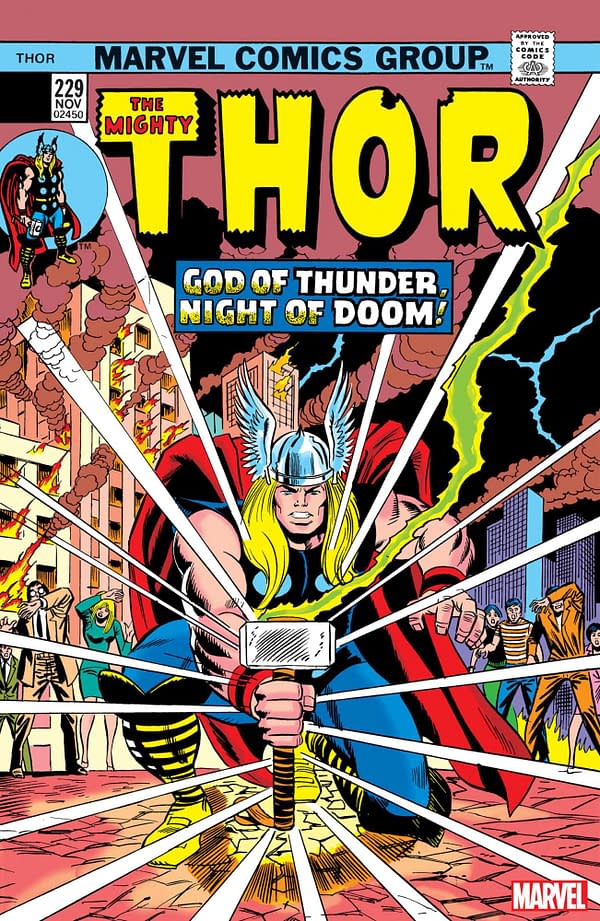 WOLVERINE #2
BENJAMIN PERCY (W) • ADAM KUBERT (A/C)
Variant cover by DAVID FINCH
SPIDER-WOMAN VARIANT COVER BY Gerald Parel
GOD LOVES MAN KILLS VARIANT COVER BY MARCOS MARTIN
THE WORST IS BACK!
Wolverine has never been one to back down from a fight — not even a combined assault from Lady Deathstrike, Sabretooth and Doctor Cornelius — but the Flower Cartel might have enlisted his worst and greatest foe: Logan himself.
32 PGS./Parental Advisory …$3.99
INCREDIBLE HULK #182 FACSIMILE EDITION
Written by LEN WEIN
Penciled by HERB TRIMPE
Cover by HERB TRIMPE
CONTINUING THE FIRST APPEARANCES OF WOLVERINE!
Completing one of the most famous Hulk sagas of all! The INCREDIBLE HULK #180-181 FACSIMILE EDITIONS reintroduced you to Wolverine, who joined the Hulk in a three-way tussle against the monstrous Wendigo! Now find out what happens next as Wolvie's bosses take matters into their own hands! But the puny humans only succeed in making the Hulk even angrier — and set him on a collision course with the super-powered escaped convicts known as Hammer and Anvil! Prepare for a surprisingly touching chapter in the Hulk's endless wandering, as the jade giant makes a friend…and learns the meaning of loss. It's one of the all-time great Marvel comic books, boldly re-presented in its original form, ads and all! Reprinting INCREDIBLE HULK (1968) #182.
32 PGS./Rated T …$3.99