Next week's publication of Generations: Miles Morales Spider-Man and Peter Parker Spider-Man and Generations: Captain America: Steve Rogers & Captain America: Sam Wilson have both sold out from Diamond Comic Distributor ahead of going on sale. So Marvel is making them both available in second printings.
This has been the pattern for all the Generations issues so far, it's not entirely clear if the sellouts have been organically earned or if this is simply an arranged plan for each issue. Generations: Hulks, however, seems to have burned through its second print and is only the third. Will any other join it?
It may be worth saying that for any folks following Secret Empire and looking forward to Marvel Legacy, that the Captain America volume next week may have the most relevance, explains the Generations back stories in all the other comic books in the line and allows all those who have experienced their own story to compare notes. While all the Generations issues are intended to be relevant to how the characters are portrayed in Marvel Legacy, that may be the most significant.
And it is possible that it might even be demand…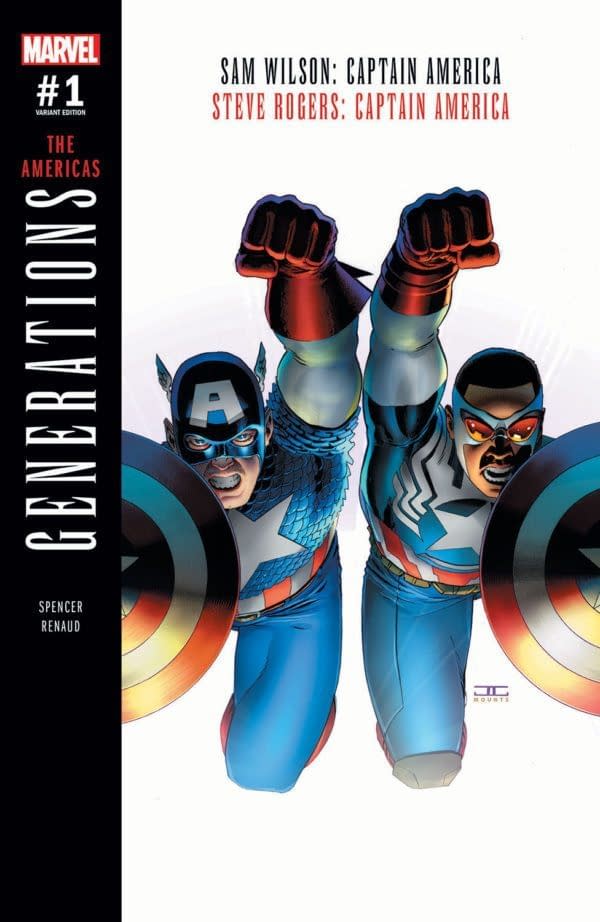 GENERATIONS CAPTAIN AMERICAS #1
(W) Nick Spencer (A/CA) Paul Renaud
They were part of the Greatest Generation! And now Sam Wilson finds himself alongside them yet again in a strange yet familiar setting – fighting shoulder-to-shoulder with Captain America and Bucky against a seemingly unstoppable threat to the safety of the world!
Rated T+In Shops: Sep 27, 2017
SRP: $4.99
GENERATIONS MORALES & PARKER SPIDER-MAN #1
(W) Brian Michael Bendis (A/CA) Ramon K. Perez
• When it comes to problems, Peter Parker's got it all! Bullies at school, ailing aunt, a doppelganger, crushing responsibility, and –
wait, a doppelganger?!
• Can't Peter ever catch a break? And what does all this craziness have to do with Miles Morales?
Rated T+In Shops: Sep 27, 2017
SRP: $4.99
Enjoyed this article? Share it!