The world seems like a terrible and strange place sometimes, but fandom still brings us together. These are strange times, but The Daily LITG is becoming a valuable way to quantify just what comic book geek culture is up to in this time of trial. Yesterday that saw Magic The Gathering Masticore reveals even beat out the news that DC Comics was leaving Diamond after all these years. Welcome all, to the daily Lying In The Gutters, a long-running run around the day before and the day ahead. You can sign up to receive it as an e-mail here.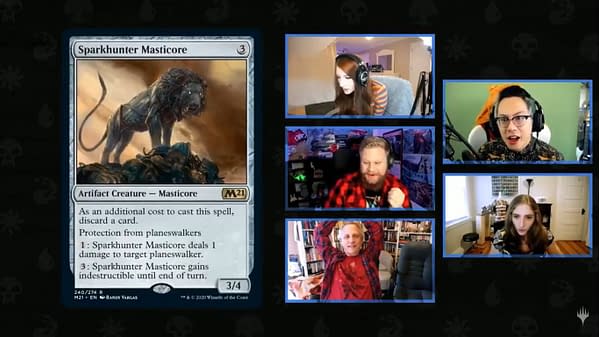 Gathering of tribes, and the eleven most-read stories yesterday
Bleeding Cool continues to report from the comics industry shutdown, as it starts to ramp up, while everyone instead gets excited about Masticore, Doctor Who tweetalongs and Walking Dead messages. Here's the eleven top stories of the day.
Ten stories, one year ago
A happier, more halcyon time. Who'd have thought we'd look back on 2019 so fondly? Even if this was when Bleeding Cool first ran rumours that Vertigo was being closed and Walking Dead was coming to an end too…
Comic Book Events happening today
There would also have been signings, appearances, symposia, all manner of comic book-related events. But a few have gone online, and here are some still happening today, on the Daily LITG. Including The Walking Dead's Skybound Entertainments with some rare variants to flog.
Comic Book birthdays today
There may not be much of a party atmosphere right now. All depends on which state you are living in. But comic folk are still getting older and still celebrating that special date. With eleven years for us as well.
Nick Pitarra, artist on The Red Wing, The Manhattan Projects, Leviathan
Arlen Schumer, comic book historian
Charles Brownstein, director of the CBLDF
Max Bertolini, artist on Universo Alfa, Nathan Never.
Tyrone Tony Reed Jr, author of With Great Power.
Subscribe to our LitG Daily Mailing List
Interested in more debate about Masticore, Magic The Gathering, Doctor Who, DC, Diamond or anything else? Subscribe to our LitG Daily Mailing List. And we'll see you here tomorrow.
Enjoyed this article? Share it!