It's been well over 50 years since Michael Moorcocks's Elric of Melniboné was introduced to the fantasy genre. In the intervening decades, the albino anti-hero has been adapted to films, music, role-playing games, and most fittingly, comics.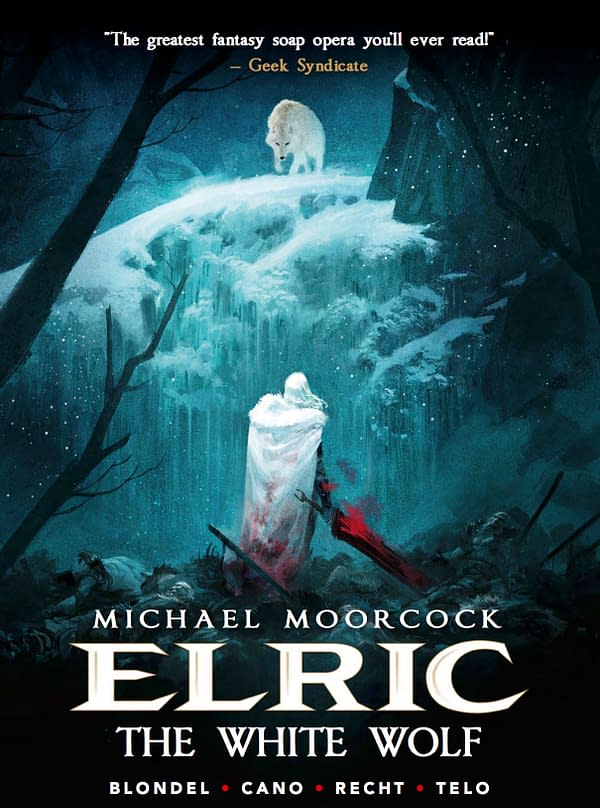 Titan Comics is the latest company to hold the license to publish Elric stories, and are about to release their latest collection, Elric: The White Wolf,Volume 1. Collecting the first two issues of the White Wolf story-line into one large volume, this book is certainly thrilling to read.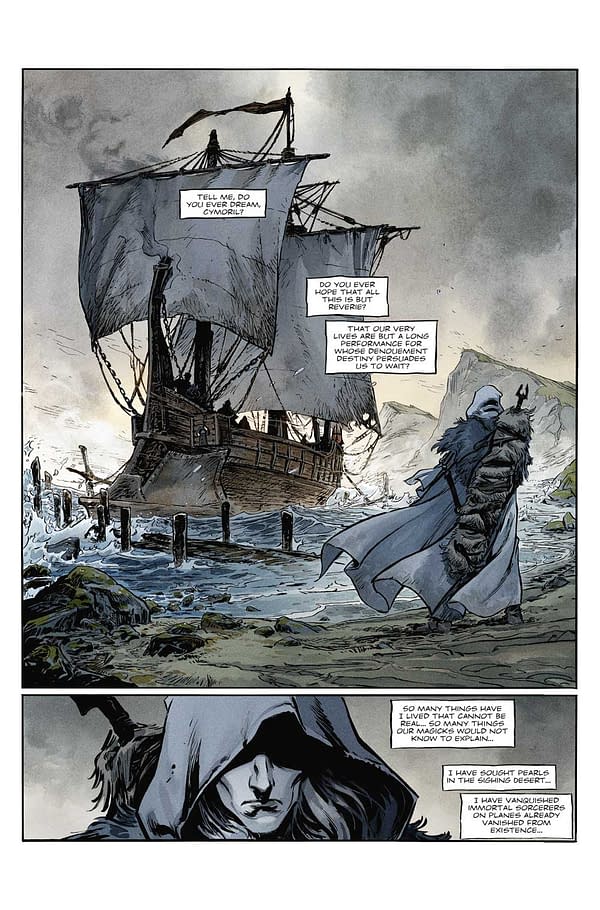 Glancing through the pages is a treat; the art team of Jean Bastide (Devil May Cry, Katanga), Robin Recht (Devil May Cry), and Julien Telo (Mary Kingsley) bring a stunning level of detail to every page. Not a single panel feels rushed; full vistas and city-scapes are waiting at every turn of the page. The orgiastic carnage on display the first time Elric unleashes his sword, Stormbringer, is horrifyingly effective.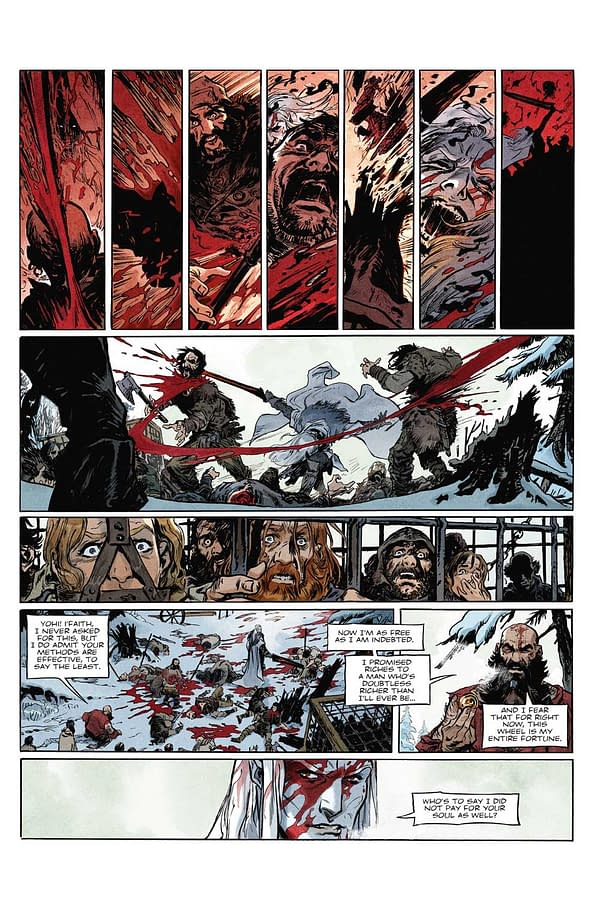 Take this overhead shot establishing the city of Dhakos, where Elric and his companion Smiorgan are traveling after being summoned by a sorceress; that city is the stuff of legends and has been rendered to a level not often seen in fantasy comics. More the shame, too; if any genre deserves that level of grandeur in its illustration, it's fantasy. Each page looks like it has been laid out like a storyboard in a film, and the comic reads rather cinematically as well. The approach to detail is reminiscent of old Conan comics from the 1970's, with greats swaths of white contrasted against stark blacks, then panels of tight, crisp detail work.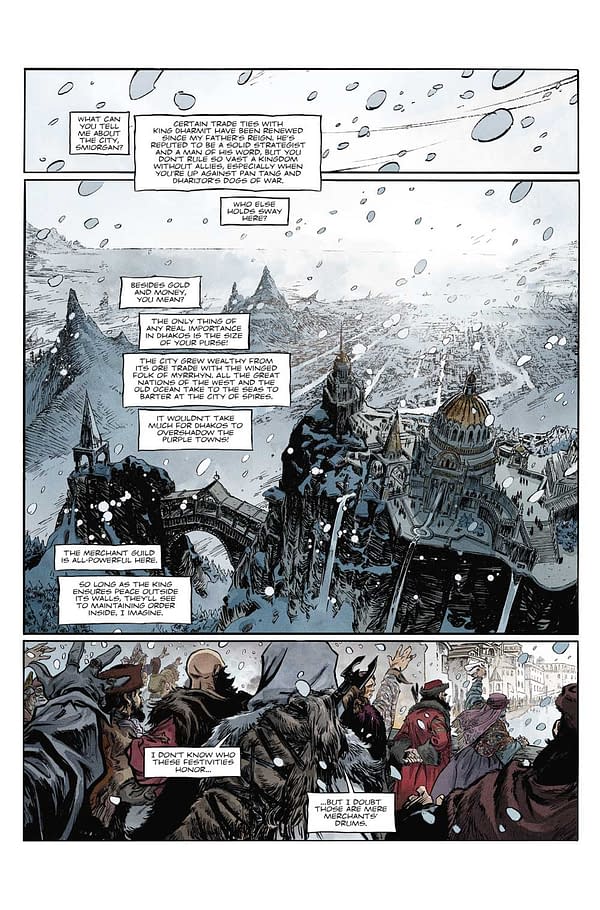 The scripting duties were handled by Julien Blondel (Actor's Studio) and Jean-Luc Cano (Elric: The Ruby Throne). Adapting novels to comics can be arduous work, but Blondel and Cano do an admirable job of bringing Moorcock's words to life. There is a lot of story to cover in this volume, but the writers navigate difficult story terrain without leaving the reader lost.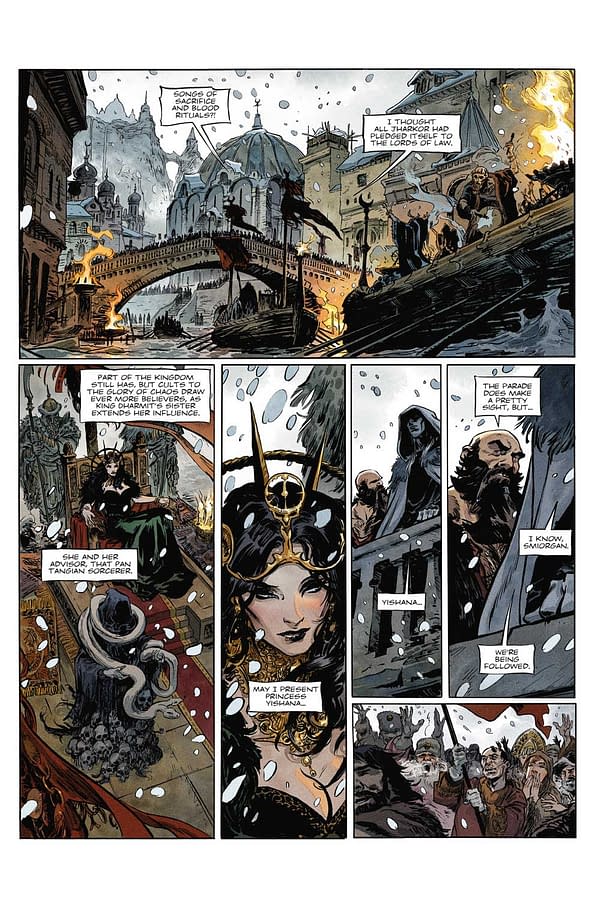 There is so much magic and spectacle in this book. I try not to gush too much, but Elric: The White Wolf is exceptional in so many ways. Every once in a while, a fan of fantasy gets an unexpected twist, and this is definitely one of them. Moorcock himself is a fan of the adaptations Titan Comics has published of his work!
SUMMARY: Writers: Julien Blondel and Jean-Luc Cano; Art: Robin Recht and Julien Telo, Colorist: Jean Bastide, Letterer: Kirsten Murray, Editor: Jake Devine, Publisher: Titan Comics, Release Date: Physical Edition Out Now, Digital Edition on December 19, 2018, Price: $14.99. Page Count: 63 Pages.
Enjoyed this article? Share it!