More big books from Marvel Comics towards the end of 2019. We've already had a look at the Omnibuses, Jim Starlin's last Thanos story, Jim Lee's oversizedness, Marvel postcards, sketchbooks and the like. But so much more to barrel through…
Daredevil By Frank Miller Box Set contains 1896 pages of Frank Miller Daredevil in one set.
Visionary creator Frank Miller's complete saga of Matt Murdock and his first love, the lethal assassin Elektra Natchios – in a single, exhilarating box set! One of the greatest runs not just in Daredevil history but in all of comics, Miller also introduced Stick and the Hand to the DD mythos, and established the Kingpin and his sadistic marksman Bullseye as Matt's deadliest foes. Plus the stunning graphic novel Love & War, Miller's revolutionary revisit of the origin of the Man Without Fear, the starling continuation of Elektra's story, and much more!
Spider-Man: The Many Hosts of Carnage collects a bunch of Carnage series over the years for September, 480 pages worth.
Serial killer Cletus Kasady isn't the only one to bond with Venom's sadistic offspring, Carnage! In fact, there's a whole host of hosts – and they're all here! First, Jonah's son John Jameson succumbs to the symbiote, until Ben Reilly offers a more tempting meal – becoming Spider-Carnage! But the cosmic Silver Surfer may prove the most appetizing host yet! Dr. Tanis Nieves takes a turn, then joins the fight against Kasady when he transforms a whole town into Carnage, U.S.A.! Even the Avengers fall prey to symbiosis – but who will be the Superior Carnage? Karl Malus? The Wizard? Or Norman Osborn, whose perverse partnership transforms him into the Red Goblin! Collecting: Amazing Spider-Man (1963) 361, 410, 431; Spider-Man (1990) 67; Spectacular Spider-Man (1976) 233; Carnage (2010) 3; Carnage USA 1-5; Superior Carnage 3-5, Annual 1; Amazing Spider-Man (2015) 798-800
Marvel has a new Select Edition format of hardcover titles, including, in September, Thanos Rising Marvel Select Edition.
Thanos, scourge of the cosmos, rises to dominance as the unrivaled rogue of wretchedness in this gripping tale of tragedy, deceit and destiny! Witness the Mad Titan's dark origin, and discover the hidden truths of his disturbing history! Where did this demi-god of death and destruction come from – and, more importantly, what does he want? Death has been shadowing Thanos for his entire life, watching his inner darkness grow – but why? And when the Mad Titan flees his home, how many lives will he take to find what he seeks from the universe? True love begets a river of blood as a journey begins that will not only alter the course of one boy's life, but will soon change the face of the galaxy – and the very nature of the Marvel Universe! COLLECTING: THANOS RISING 1-5
In October, Fantastic Four: The Coming of Galactus Marvel Select Edition.
Three of the greatest Galactus stories of all – by a fantastic foursome of comic book titans! First, Stan Lee and Jack Kirby introduce the World-Eater and his enigmatic herald, the Silver Surfer, as the Fantastic Four stand in defense of Earth in one of the most beloved comic book sagas ever told! Next, John Buscema's powerful pencils illustrate the arrival of new herald Gabriel the Air-Walker, signaling doom for the human race! Then, John Byrne takes over as Terrax leads the Devourer back to Earth – and the entire Marvel Universe pitches in to help save the planet from becoming his next meal! The FF plus the big G spells cosmic action in the Mighty Marvel Manner! COLLECTING: FANTASTIC FOUR (1961) 48-50, 120-123, 242-244
and Ultimate Spider-Man: Power & Responsibility Marvel Select Edition.
"With great power comes great responsibility." In 1963, these prophetic words launched one of the most successful and recognizable characters of the 20th century – Spider-Man! The powers granted to bookish Peter Parker by a radioactive spider have fueled the imaginations of fans worldwide for decades. With the dawning of a new age, however, comes a hero for a new millennium…an ultimate take on Spider-Man for a new generation! With the brilliant minds of Brian Michael Bendis and Mark Bagley reinventing Peter Parker for the 21st century and breathing new life into this legendary mythos, Spider-Man has reasserted himself as one of the most popular characters in the world! Witness the rebirth of a legend as young Peter Parker learns the hard way that with great power, there must also come great responsibility! COLLECTING: ULTIMATE SPIDER-MAN (2000) #1-7
Then in November, Iron Man: Extremis Marvel Select Edition.
It's the beginning of a new era for Iron Man! Renowned scribe Warren Ellis joins forces with acclaimed illustrator Adi Granov to redefine the armored Avenger's world for the 21st century – a landscape of terrifying new technologies that threaten to overwhelm a fragile mankind! What is Extremis? Who has unleashed it? What does its emergence portend for the world? And how will it change Iron Man's life – forever?! COLLECTING: IRON MAN (2004) #1-6
The X-Men Milestones books add the Fatal Attractions storyline in November.
They also have something called Marvel 80 For 80. Out in October, 168 pages, hardcover, no idea, but 80th Anniversary-relayed no doubt.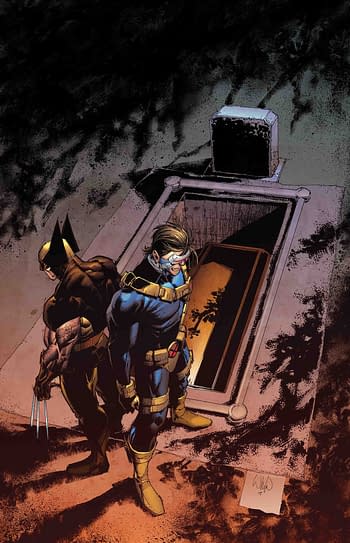 Delving into the listings of upcoming collections also reveals that Uncanny X-Men #17 to #22 by Matthew Rosenberg and Salvador Larocca will be titled 'The Hellfire Club'. And we get confirmation of what we already knew, that Marvel Team-Up will be a second ongoing Ms Marvel lead title.
Kamala Khan steps into the starring role of one of Marvel's all-time classic comic book titles – yes, she's putting the "Ms." into Marvel Team-Up! And, fittingly, the ever-sociable Spider-Man swings by to hand over the mantle! After a science demonstration at Empire State University goes awry, Ms. Marvel and Spidey find themselves tangled up in the same chaotic adventure. Is it destiny? Or disaster?! And can the two heroes put their heads together and find a way to save the day? The Marvel Universe awaits Kamala in this mind-bending and magnificent new series!
There are a couple of other complete collections. Man-Wolf: The Complete Collection is out in September
When J. Jonah Jameson's astronaut son, John Jameson, brings a strange red gemstone back from the moon, he finds himself transformed into the macabre Man-Wolf! Becoming a lycanthropic creature on the loose, the Man-Wolf battles Spider-Man, Morbius, Kraven the Hunter and more – while investigator Simon Stroud comes ever closer to the Man-Wolf's true identity! Jameson soon discovers the truth behind the gem – but does his destiny lie in Other Realm, wielding the sword of the Stargod? Or will the parasitic stone mean his destruction? Man-Wolf takes on Frankenstein's Monster, She-Hulk and more -but can Spider-Man save him from a fate worse than death? COLLECTING: AMAZING SPIDER-MAN (1963) 124-125, 188-190; GIANT-SIZE SUPER HEROES 1; CREATURES ON THE LOOSE 30-37; MARVEL PREMIERE 45-46; MARVEL TEAM-UP (1972) 36-37; SAVAGE SHE-HULK 13-14; PETER PARKER, THE SPECTACULAR SPIDER-MAN ANNUAL 3
And Infinity Wars by Gerry Duggan: The Complete Collection out in October, 592 pages.
The full saga of Requiem and the Infinity Wars! The Infinity Stones are back. Individually, they grant their wielders great power. Together, they bestow the power of a god! As each stone's location is discovered, forces converge for a battle that will send the universe down a dark path…to the end! Featuring the Chitauri, the Raptors, the Nova Corps, the Guardians of the Galaxy, Adam Warlock and more surprising Stone-wielders! But who, or what, is Requiem? When she warps the Marvel Universe in half, what surprising heroes will assemble to stand against her? And when death comes at last, who will fall? Collecting: Infinity Countdown Prime 1, Infinity Countdown 1-5, Infinity Countdown: Adam Warlock 1, Free Comic Book Day Amazing Spider-Man/Guardians of the Galaxy 2018 (Guardians of the Galaxy Saga), Infinity Wars Prime 1, Infinity Wars 1-6, Infinity Wars: Fallen Guardian 1, Infinity Wars: Infinity 1, Thanos Legacy 1 (B story)
And the Marvel Masterworks hardcover line begin to publish Ghost Rider with Vol. 1 in October, 328 pages worth. Collecting Marvel Spotlight (1971) #5-12 and Ghost Rider (1973) #1-5.
Enjoyed this article? Share it!