While Breaking Bad was made and broadcast in the USA by AMC, it was Netflix who took it global and their existence helped the show survive and prosper. Creator Vince Gilligan thanked Netflix at the Emmy Awards in September 2013 saying that Netflix "kept us on the air". And the show also became a model for the kinds of TV shows that Netflix wanted to do.
And maybe the comics it wants to do as well.
Kick-Ass wasn't part of the Netflix purchase of Millarworld, and it – and Kingsman – are now published copyright Dave And Eggsy Ltd without Millarworld on the comic – though there are ads for Millarworld collections and the upcoming Magic Order comic with the Netflix logo. But this first issue of Kick-Ass by Mark Millar and John Romita Jr do show some signs of such Netflix thinking.
Because just as Breaking Bad gave us a story of a high school chemistry teacher diagnosed with terminal cancer, with his family in debt, decided to make and sell crystal meth to make the difference, this new Kick-Ass makes a similar choice.
Also faced with family debts, her life plans fallen through and unable to see another way out, she justifies a way to break the law. And dresses as Kick-Ass.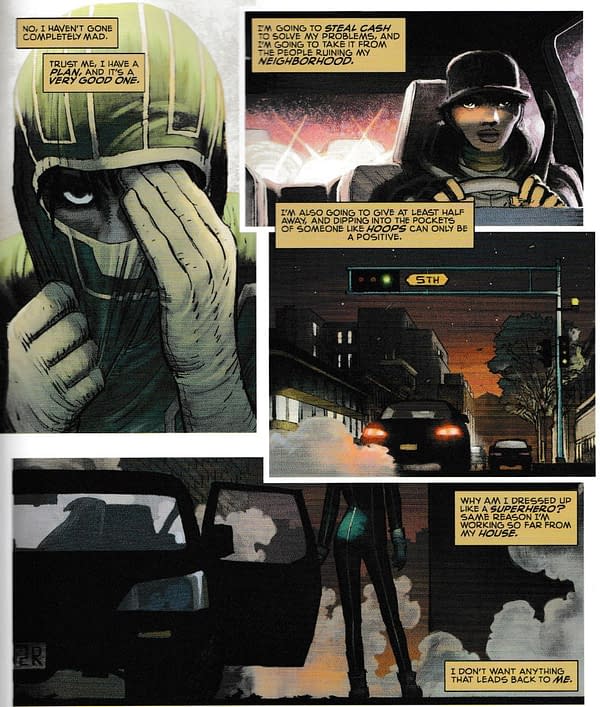 It isn't clear whether this is set in the fictional world of Kick-Ass, or if she experienced Kick-Ass as a comic or a movie. These kind of things can make a difference.
But I mean, Walter White still died, right?
KICK-ASS #1
(W) Mark Millar (A/CA) John Romita
KICK-ASS IS BACK-ready to wipe out the city's criminal lowlives, destroy its gangs, and save its communities from decay. But there's a new face beneath the old mask, a new figure wearing that famous green and yellow spandex. Who is this new vigilante superhero? Who can fill Dave Lizewski's shoes? WHO IS THE NEW KICK-ASS? Find out in the first issue of this new, ongoing monthly series. Comic book legends MARK MILLAR and JOHN ROMITA, JR. reunite for the next chapter of the greatest superhero comic of all time.In Shops: Feb 14, 2018
SRP: $3.99
Also to note, with this new Kick-Ass, previous Kick-Ass volumes are now labelled "Kick-Ass: The Dave Lizewski Years" and the upcoming Hit-Girl first four issues are labelled Hit-Girl In Colombia.
Enjoyed this article? Share it!