Next Week… I'll Be At London Super Comic Con. Will You?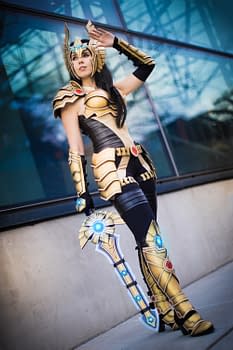 It's my gaff. My manor. My part of the world. The London Super Comic Con, the largest comic convention in the UK that's dedicated to comic books, is happening next weekend at the ExCel Centre. Bob Layton once told me that he earned more money at that show than any other. It's where the wallets of bigtime fanboys open as those who can't to San Diego, spend spend spend…
I'll be there, often hanging around the Avatar Press booth, bothering folk in artists alley, sitting at the back of panels, and ending up in the bar. The Fox is always popular. If you see me, say hi, I always appreciate it.
Here's a look at what's waiting for me.
Attending creators include Brian Bolland, Frank Cho, David Finch, Humberto Ramos, Mike Zeck, Marv Wolfman, David Aja, Heather Antos, Mahmud Asrar, Jeremy Bastion, Simone Bianchi, Mark Buckingham, Howard Chaykin, Ian Churchill, Katie Cook, Steve Dillon, Duncan Fegredo, Meredith Finch, Gary Frank, Juanjo Guarnido, Emanuala Luppachino, Alex Maleev, Clay Mann, David Messina, Ben Oliver, Tom Palmer, Yanick Paquette, Sean Phillips, Sara Pichelli, Esad Ribic, Maria Laura Sanapo, Alex Saviuk, Ryan Stegman, Cameron Stewart, Babs Tarr, Jill Thompson, John Totleben, Scott Williams, Laura Braga, Lawrence Campbell, Michael Dialynas, Rahsan Ekedal, Lee Garbett, Adi Granov, David Lloyd, John McCrea, Tim Perkins, Roberto Poggi, Rodney Ramos, Sabine Rich, Matteo Scalera, Alex Sinclair, John Timms, Chris Uminga, Christian Ward, JK Woodward, Chrissie Zullo and more.

While the artist Alley contains 3rd Phase Studios, Adam Cheal, Al Davison, Alessandro Micelli,Amas Bansal Art, Amrit Birdi Illustrator, Anastasia Catris, Apes n Capes, Awesome Comics Podcast, Ben Oliver, Beyond the Bunker, Jon Lock, Nich Angell, Christian Ward, Colin Bell & Sam Read, Davide Gianfelice, Leomacs, Luca Bertele, Dammaged Comics, Dani, David Roach, David Roman, David Stokes, Dead All Over, Dean Beattie, Des Pop, Elena Casagrande, Elias Chatzoudis, Fly Comics, Gerben den Heeten, Girl in the Rain, Giuseppe Cafaro, Grant Perkins, Achilleas Kokkinakis, Babisu Kourtis, Guillermo Mogorron, Guillermo Ortego, Huy Truong, Lam, Jackademus, Javier Gonzalez Pacheco, John Allison, John McCrea, John Watson, Bleeding Cool's very own Joe Glass, Joseph King, Kate Ashwin, Lee Garbett, Lee Townsend, Liam Shalloo, Limbo, Lloyd and the Bear, Lou Scannon, Mauro Antonini, Marc Ellerby, Marco Santucci, Maria Laura Sanapo, Martin Griffiths, Michael Georgiou, Mike Collins, Mike Krome, Mirka Andolfo, Mister Hope, Neptune Factory, Orful Comics, Outfield Press, Petitecreme, PrintCat Studios 1, Rachael Smith & Adam Cadwell, Rahsan Ekedal, Reabault, Reva Comics, Roach Comics, Roberto Poggi & John Timms, Robot Zombie Comics Phil Buckenham, Roller Grrrls, Rubus, Ryan G. Browne, Ryan Jenkyns Sabine Rich, Sean O'Conner, Sebastian von Buchwald Simon Birks, Solo Endeavour, Sonesh Joshi Comics, Steven D Quirke, Laura Braga, Paolo Pantalena, Tanya Roberts, The Art of Tommy Castle, The Heart of Time, The Rogues Gallery Creation of a Super Villain,The Wildlands and WJC.
And the exhibitors will include Bleeding Cool's owners Avatar Press (with publisher William Christensen manning the booth), CGC, Comic Geek Speak, Markosia, Comicana Direct, 2000AD, A Place In Space, Aces Weekly, Alex Trench Comics, Allonsy Art, Alternate Universe Comics, Anadapta Art, Andrew Hickinbottom, Aneurin Wright, Animetal, Art Of Comics/Marc Mokken, Art To Astonish, Art4Sale, Astral Gypsy, B.A.D., Backwards Burd, Batman Rory Story Cubes, BBT Clothing, Beads Of Time, Ben Krefta Artwork, Brixilated Lego Mosaics, Bubba Loves, Canime, Card Collectors & A1 Comics, Clive's Comic Shack, Close 2 Immortality, Close Encounters, Cohaku, Coiledspring Games, Comic Art Store – Papyrus, Comic Parade, Comiclink, Comicworld, Crios, Crypt Of Geek, Curious Treats, Dead Canary Comics, DieGo Comic Publishing Ltd, DT Watson Limited, E Shop Toys, Eleven to the Wire, Estatic Arts, Fan Art Farm, Flints, Forbidden Planet, Forbidden Planet International, Forg3d Props, Geek is Chic Limited, Geekology – Its A Science, GG Comics, Gobsmack Comics, Gosh! Comics, Great Toy Hunt, Guizang, Hana Comics, Handmade By Me, Harley Yee Rare Comics, Hellbound Media, Heritage Auctions, Heroes Unlimited, Highgradecomics.com, Hotflips, Humanoids UK, ID Toys, InkShot.com, Innocent Clothing, Kals-Comic-Mart, Kat's Komics, Kent Comics, Killer Bunny, Kings Comics, LaFrenchCollection, Laser Moon, Legend Distribution, Limited Edition Comix, Little Terrors! & Toyburg Press, London Horror Comic, Lovarzi, Lucky Target Comics, Mark Hossain, Matt Dixon, Mayamada, Metropolis Comics, Mike Maydak, Mild Frenzy, Mongkol Saesue, Naomi Indigo Transmedia Limited, Neil And Tony's Comics, Nostalgic Investments, Orang Utan Comics, Panda Island, Panini UK Ltd, Parallel Worlds, Parallel Worlds: Dreams Collide, Paul Malone Arts, Pedro Delgado – The Kid Kaos, Phoenix Fantasy Comics, Planet Fantasmic, Poppys Collectibles, Psycho Comics, Quantum 6 Ltd, RB Replicas, Realms of Fantasy, Resurrection Comics, Retrocomix, Robert Fleming, Rokoro Art, Scotts Collectables, Silver Realm Comics, Skywolf, Smart Arts Gallery, Stevens Comics, Super Betty, Superhero Tastic, T Pub , The Art of Kevin Fitzgerald, The Comic Alchemist, The Comic Box, The Cosplay Company, The Westies of West London, Tintreas Illustration, Titan, Tog Out, ToiBox Collectables, Twilight Zone, Undo Entertainment, Vitagliano-Greco, Volstor, Wicked Comics, Wolfskulljack Illustration, Zenescope, Zombies Hate Kung Fu
Here's the programming….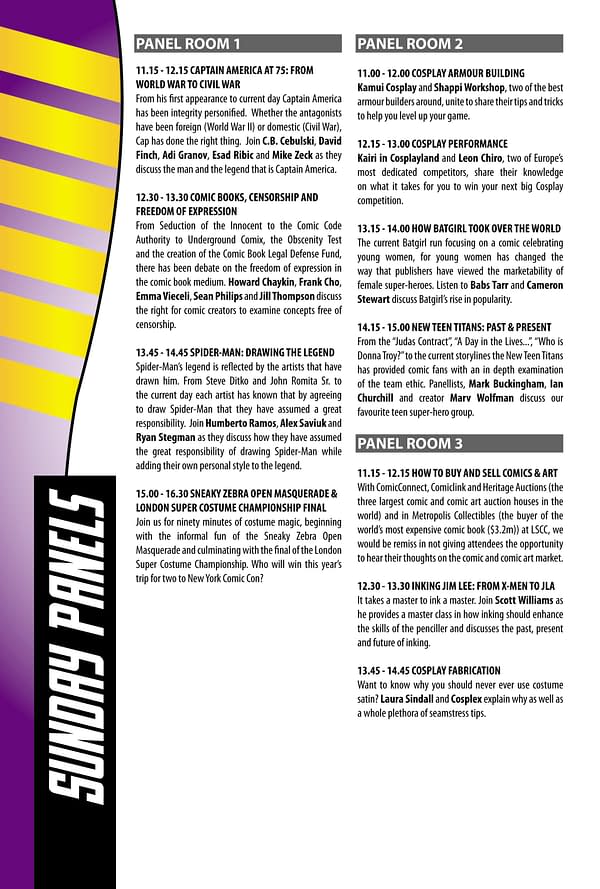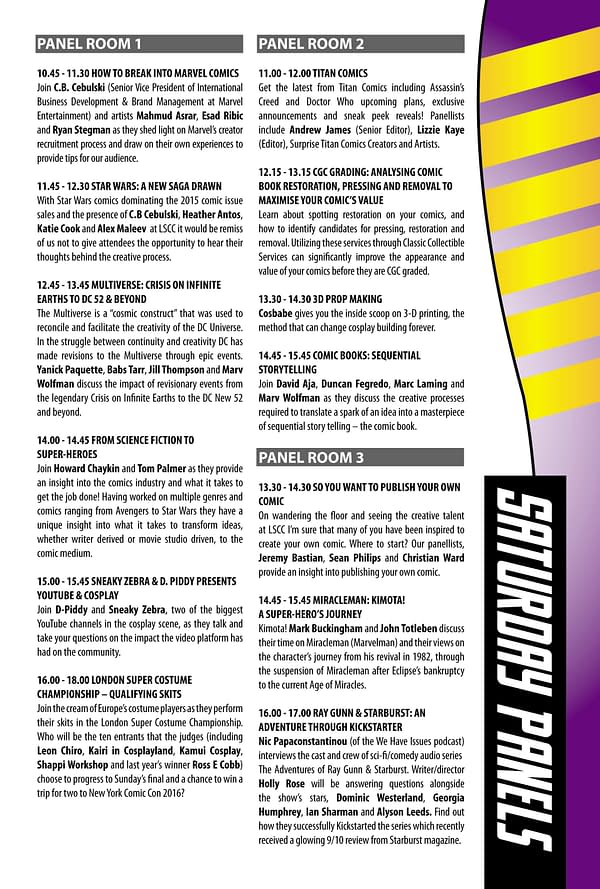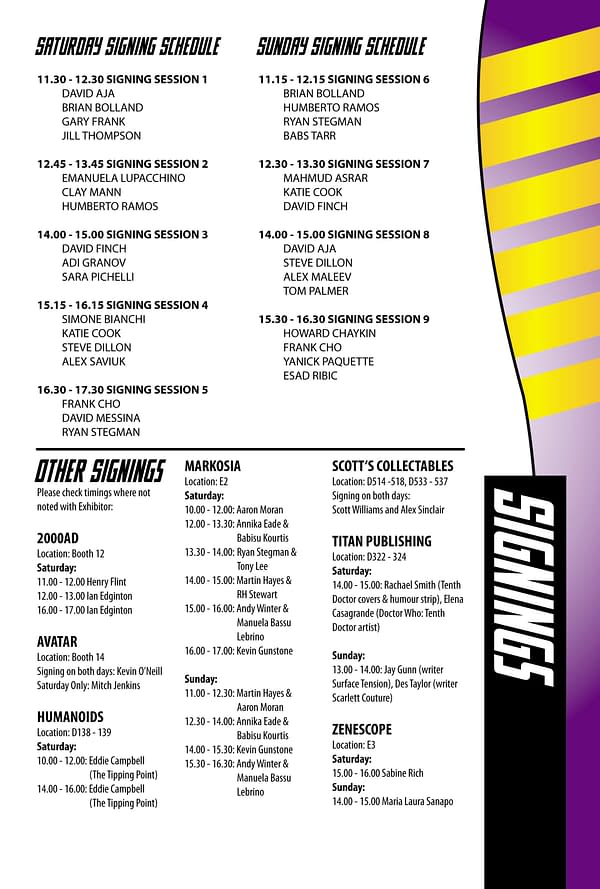 And then there's all the star cosplay, including D-Piddy, Enji Night, Vampy Bit Me, Kamui Cosplay. Kairi In Cosplayland, Leon Chiro, Ross E Cobb, Shappi Workshop, Cosbabe, Cosplex, Laura Sindall, Ireland Reid, Aigue-Marine, Calssara, Miss Hatred and Sneaky Zebra