By Sofia Annunziata
The Biggest Attack on Titan Manga Announcement Ever Panel definitely ended up living up to its name!  The panel was moderated by Ben Applegate (Director of publishing and the Editor of the Attack on Titan English editions) and included speakers Genevieve Valentine (Catwoman), Brenden Fletcher (Batgirl), Jeanine Schaefer (Assistant Editor for Marvel Comics) and Afua Richardson (Captain America and the Mighty Avengers). It started off with the announcement that Kodansha Comics will be releasing Volume 17 of Attack on Titan in December, for which they showed a rather awesome mini trailer!
I was on the edge of my seat with excitement about this upcoming announcement, but I didn't have to wait very long because soon it was announced that they will be releasing the Attack on Titan Anthology in the U.S!!! It is going to be 250 pages in full color and it will be created by top- shelf Western Comic creators like Tomer and Asaf Hanuka, Faith Erin Hicks, Kate Leth and Jeremy Lambert, Cameron Stewart, Brenden Fletcher and Babs Tarr, Paolo Rivera, Michael Deming Genevieve Valentine, Afua Richardson, Jeanine Schaefer, Cameron Stewart, Kevin Wada, Ronald Wimberly and more to come!! The guests on the panel then went on to talk about what influenced them to want to work on this project, Richardson said that one thing that drew him?? to the Attack on Titan universe was the real world parallel of the idea of war versus the reality and seeing how the characters are changed by their experiences. Valentine gave an answer that I can definitely relate to — gore and "Titan Barf" being what drew her into this universe.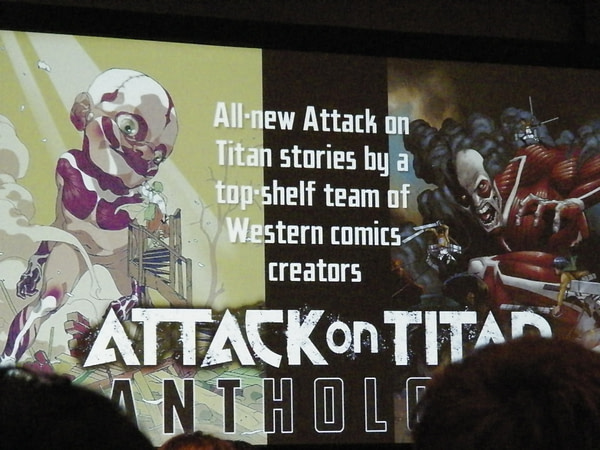 The Anthology will include storylines that take place in the past, as well as ones that take place in the current manga timeline. There will also be storylines that take place in completely separate timelines and universes with new characters being introduced. The wide variety of material will include stories that are mainly for humor as well as mystery, drama and, of course, it wouldn't be Attack on Titan unless there were a boatload of feels included. The panel attendees even got to view part of the creative process as the writers spoke about potential storylines and fan question brought new ideas to the forefront. In one storyline, it is a possible that we will be seeing Eren's mother make a reappearance (well more like a resurrection, really).  The twist is this time she will be a titan (and we all know what that means)!  One of the other stories will possibly be a travel guide from before the fall of the wall, and we will be seeing a lot of exploration into what daily life in the towns were like.
But wait! There's more! We were all surprised when Scott Singer ( Batman and Swamp Thing New 52) showed up at the panel to confirm that he will also be joining the collaboration with some stories of his own! I think it's safe to say that I am definitely looking forward to this and will continue fangirling till it is released in the Fall of 2016!