NYCC '15: The Vertigo Panel On Survivor's Club, Twilight Children, Lucifer, Red Thorn, And More
The Vertigo Panel at NYCC 2015, hosted by Shelly Bond, started off with a discussion of Survivor's Club, which is currently on sale, the panel commented on the ways in which this series harks back to "Vertigo of yore". Writer Lauren Beukes said that this does have an 80's feel, looking at 80's horror films for inspiration. They have pushed against clichés, Beukes said. The series has Bill Sienkiewicz covers, and issue #2 will be available on November 4th.
Speaking about the different "cast members" of the comic, there were characters like Simon who we will "love to hate", and plenty of "badass" in the female characters.
There will be 12 new number 1 issues in the next couple of months from Vertigo, like Twilight Children written by Gilbert Hernandez and drawn by Darwyn Cooke. Asked how they met and planned such an unusual book, Hernandez said he was asked if he wanted to do a project with Cooke and then the two of them went back and forth to determine what type of story to create. Hernandez was keen to "put an edge on it" and take a middle path between sci-fi and mystical elements by basing it on a mystery. He describes it as a "mystery" set in a town where things get complicated, and it's partly based on how characters react to this mystery. Cooke said that he didn't feel he had anything "in his writer's bag" to suit Vertigo, and looked around for writers. Hernandez occurred to him, and he had done Vertigo books before, so it was his first thought. Cooke assumed it wouldn't work out since he doesn't consider himself as high brow as Hernandez, but they realized they were "amenable" in collaboration. Their collaboration is based on "not bothering each other", Cooke said, and today they met for the first time. They are happy with the book, so it feels like a "perfect marriage", Cooke said. He feels it has helped him "stretch" himself "creatively". Cook praised colorist Dave Stewart for being "half the art", as well.
Shelly Bond wanted to give her side of the story on the book's origins, and said she had wanted to work with Cooke for many years but they had never found a good time. When she contacted him, Cooke said he didn't have any writing ideas, so she asked who he might want to work with. Bond asked if there was anyone he really really wanted to work with but hadn't yet. He eventually admitted that he wanted to work with Hernandez, but doubted it would ever happen. Bond had set the whole project up within a matter of minutes since Hernandez readily agreed. Cooke said that he "feels" himself "growing as a storyteller" working on the story, praising Hernandez' economy of style and avoidance of too much backstory in the narrative. Hernandez described the series as "the most visual thing" he's "ever written".
Holly Black was on the panel to talk about Lucifer coming back on December 16th. Asked what she might be trying to do differently than things have been done in the past, she said that Gaiman's version of him, and Mike Carey's version of him focus on what a "bastard" he is, with isolated moments of "kindness". Trying to find her own way into the character and figure out "who I think he is", does involve change. Her Lucifer is about growing up and learning to lead, and then posing the question "what happens when you come home?" after that. Asked if working as a prose writer was a very different experience from comics collaboration, she said that she had worked on illustrated books before, but also has come to realize that you have to give up some degree of control when writing comics to the artist. The mood and atmosphere can be described, but you are relying on someone else. She found a Gorey panel and showed the artist Lee Garbett, and found that he "totally did it", and was surprised by his willingness to take suggestions. Bond said that Gaiman and Carey were "delighted" to hear that Holly Black would be working on the book.
Art Ops, written by Shaun Simon, and illustrated by Michael Allred, was up next for discussion. Simon said that in the first issue we have a classic superhero character writing a screenplay. It's taking "something you know and putting a twist on it, not what you expect". "Shit gets weird, you know", Simon admitted, about the premise of the book. He said that in the story "art is real" and can step out of its frame and off its pedestal, and like Men in Black in style, they must be policed. One of the central characters has an "art arm" that will rebel and has to be kept at bay. This is another book that Shelly Bond brought together after meeting with Simon. A few years ago, he showed her a short story, and it grew to become a series. It's in the spirit of Doom Patrol under Morrison, Bond said. She said that Vertigo rarely does "team books" and needs to have something "unexpected" to make her do it.
But once Simon pitched it to her, she knew this was the "next Vertigo team book".
The Sheriff of Babylon is coming on December 1st, and it's written by Tom King, and illustrated by Mitch Gerads. Tom King spoke about his strange memories that seem "different" to other memories of time spent at war himself. After 10 years he finally felt he could "return to where he started in comics" with Vertigo and to try to write about it. He wants to convey the senses of being there, and he wants this series to be in the tradition of Preacher and Scalped. It's about an American contract, a Suni female warloard and a Shia cop trying to solve a crime. Gerads spoke about his time researching this book, especially knowing that King was in the military and in this place using real-world locations in his writing. It's hard to find photos and information about the time period, actually, but it's "super important" to both of them to try for accuracy. It's a book full of "diverse characters", he said. It's about "real people" and "everyday lives" as well as the big crime concept.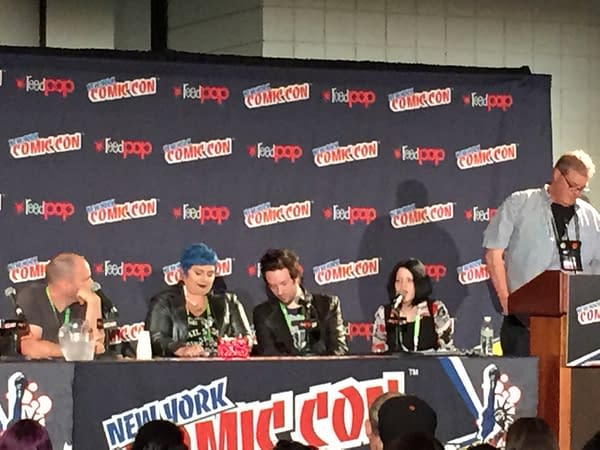 Lastly, the panel spoke about other upcoming titles, like Gail Simone's Clean Room, Unfollow, written by Rob Williams, illustrated by Mike Dowling. The latter is about a dying millionaire who decides to leave his fortune to a group of 140 random strangers. He says that the fewer there are, the fewer have to split the money, so a thriller ensues. Then there's Slash & Burn, about a firefighter who is a recovering pyromaniac. It's part crime thriller, part psychological thriller and a "relentless ride" said Bond. There's also Jacked, by Erik Kripke and illustrated by John Higgins, a "hilarious, heart-breaking, nasty tale", according to Bond.
There's also New Romancer, by Peter Milligan and Brett Parson. Bond said one of the things she loves about the 12 new books is that there is total diversity of subject matter. The book supposes that the real Lord Byron is brought back to life in modern day and "hilarity ensues". Though it's "light in tone", it's "whip smart", said Bond. Last Gang in Town arrives on December 23rd, drawn by Rufus Dayglo, bringing "verve and style". Simon Oliver, the series is about a group of criminals getting together for "one last heist". Last of the books to be discussed was Red Thorn, coming on November 18th. Writer David Baillie took the podium to talk about his series, illustrated by Meghan Hetrick. It's a 21st century occult story akin to Sandman, but also to Trainspotting, according to Baillie. Seeing the art on the series made Baillie up his game and set aside all of his other projects to do justice to the "very sexy comic". It's full of Scottish mythology, as written by the Glaswegian Baillie. He found the "weirdest edges of Scottish mythologies" that he could, he said, to include. The central character "thorn" is a "swaggering demigod", according to Bond. Baillie said he's been "imprisoned for 1600 years" underground.
Get Jiro's return will be celebrated at an event at Book Court in Brooklyn with a signing.
Sandman Overture is arriving in November and the night of the 9th, Neil Gaiman will be doing a night with Junot Diaz in conversation in New York.